Cars
Frankia Platin Final Six tested
All goodbyes hurt. In the future, Mercedes will no longer offer its creamy six-cylinder engine in the Sprinter on the German market. Frankia takes this as an opportunity to launch an exclusive special model called Final Six. As a thank you, so to speak, because the Franconian mobile home manufacturer has been working with the Swabian automotive group for more than 48 years.
That's him: A richly equipped Frankia Platin with a lot of power under the noble hood. The special model Final Six is ​​presented in a very exclusive way in bright white with subtle exterior decals. As with the series platinum, the superstructure scores with a stepless and heatable double floor. Frankia grants an eleven-year impermeability guarantee on the high-quality insulation and structure. Another plus point: the interior of the eight-meter-long vehicle impresses with a headroom of 2.03 meters throughout. So much exclusivity costs, let's start with a basic price of 179,900 euros.
Frankia Platin Final Six: The large self-sufficiency package comes as standard

He has: More standard equipment than some manufacturers offer in their complete optional equipment list. Among other things, the following are on board: Alde hot water heating including electric heater for the chassis for faster heating of the interior, drop-down bed, air suspension and wheel spacers on the rear axle, electric awning, air conditioning, apothecary pull-out for the rear storage space as well as exclusive exterior design and upholstery fabrics.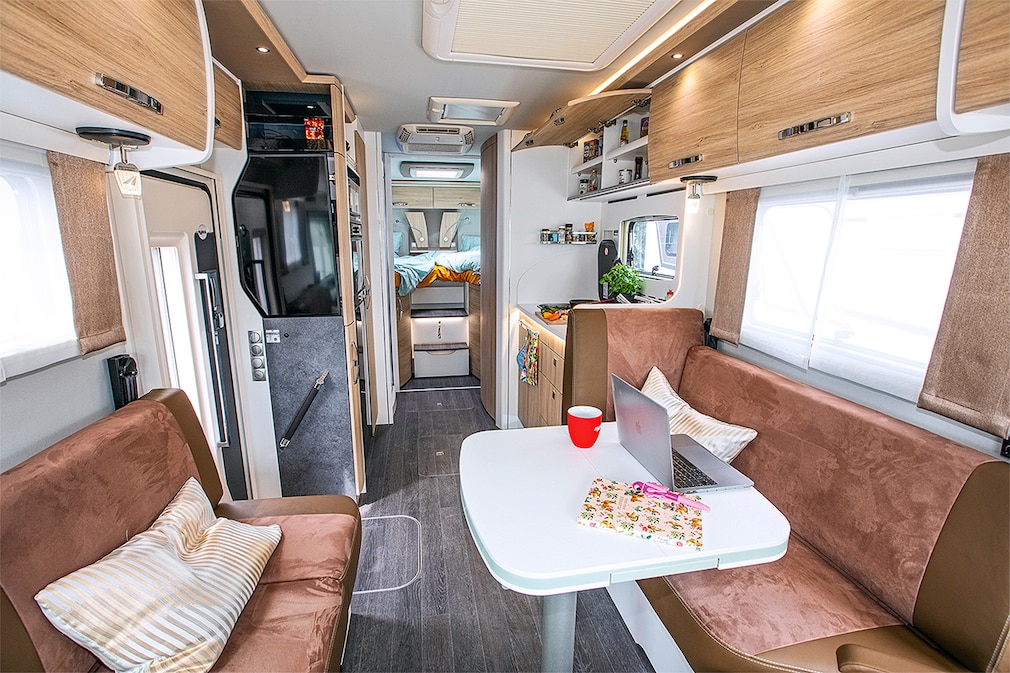 The entire living room has dimmable LED ambient and spot lighting. A highlight in the Final Six is ​​undoubtedly the all-round carefree self-sufficiency package from Büttner Elektronik, including four solar modules with 110 W each, two 120 Ah lithium batteries, sine wave inverters and power charging boosters.
Curb weight ready to drive/load
Trailer load (braked/unbraked)
Lifting bed lying area L x W
140 kW (190 hp) at 3,800 rpm
Nine-speed automatic/rear-wheel drive
As is known and proven at Frankia, the Final Six also has a central supply with water drum and self-retracting cable drum including a 15 meter long power cable. A total of four 230 volt and four USB sockets are located in the living area, plus two sockets in the 1.24 meter high rear garage.
Despite 5.5 tons, it is surprisingly light, uncomplicated and clear
The list of extras in our test vehicle, on the other hand, is clear: bed extension (450 euros), gas filter with Truma DuoControl (215 euros), fan instead of roof heki in the kitchen area (390 euros), front extension instead of a drop-down bed (590 euros) and the Final Six socket package with three additional 230 V and a USB socket (290 euros).
This is how he drives: Despite its considerable total weight of 5.5 tons, it is surprisingly light, uncomplicated and clear. Of course, the fully equipped Mercedes base also contributes to easy operation. The special model rolls out as standard with 190 hp, a nine-speed automatic transmission and the state-of-the-art MBUX navigation infotainment system. On top of that, there is factory cruise control, auxiliary heating, leather steering wheel and much more. The vehicle is based on the original Mercedes high-frame chassis with rear-wheel drive.