Life Style
From 'quarantining' to 'zumpen', that's how we date during the corona crisis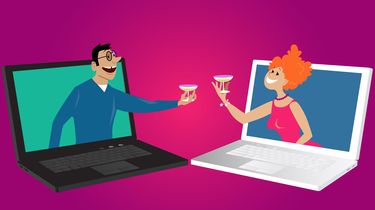 Covid-19 changes our love life and you can hear that in our language. Image bubbling, quarantining and boozing are some of the original language finds.
Quarantationships and coronalingus are also some of the original language discoveries that have emerged as a result of the impact of the corona measures on love and dating.
Language learning app Babbel recently listed a list of English terms. Each and every one shows how corona affects how we date, love and dump.
Image bubble and quarantationships
The Friday afternoon drink has been replaced by a video chat with a beer, that is to say, "picture drinks". But then quickly dive into bed with someone? The government also thinks that this is not allowed. But maybe a real relationship is flourishing, called a "quarantationship". If you would rather break up during the crisis, you now have an excuse to do so over the phone instead of personally. Or simply via Zoom, then it is called "zumpen".
Image bubble: Having a drink with one or more people via an online video connection. Drinking is allowed, but not touching.
Coronafit: Stay sporty, despite having to sit at home a lot. This way you keep the corona fans under control and you can start dating fresh and healthy again after the crisis.
Coronalingus: That's the term dirty talk was renamed in honor of the crisis. It is also currently the most acceptable way of having sex.
Quarantationship: A relationship that has come about during the lockdown, whether it has been established through the digital channels or through personal contact.
Quarantine: Despite the one and a half meter distance rule, dating apps such as Tinder are frequently used. It may run out less often or never on a date, you can always chat. And do coronalingus if desired.
Zumpen: Dump via Zoom chat. Although it doesn't sound very brave, it is a nicer alternative than ignoring (ghosting) or dumping someone via a text message.
As useful and original as these corona terms are, we don't have to assume that they will make it to Van Dale. Vivien Waszink of the Institute for the Dutch Language explained to RTL4 Nieuws that the original words that pop up during corona times are likely to be forgotten.