Cars
GT World Challenge: Rossi switches to four wheels
Actually, only the number of wheels changes – four instead of two. "But that's a different world – braking is different, the lines are different, acceleration is different," explains Valentino Rossi (43). In the motorcycle world championship, he has clinched 115 victories and nine titles in 432 races. And made himself a legend. In 2022 he is a rookie again – in the GT World Challenge, a racing series with GT3 cars that takes place on April 3rd and 4th. September also comes to Hockenheim.
Rossi drives an Audi R8 LMS GT3 Evo 2, equipped with a 5.2-liter V10 naturally aspirated engine, for the WRT team (26 titles), which has been accustomed to success. The long-distance championship starts in Imola at the weekend. 56 cars are registered. Many drivers have been greats in GT racing for years. But Rossi's ambitions are high: "I want to fight for a podium."
The expectations are high – from himself, but also from his team boss Vincent Vosse. After the tests, he says: "Valentino has a natural sense of the grip level on the track. I was impressed, but we know he's a natural." Rossi himself takes a similar view: "Of course we still have room for improvement. But the feeling is good."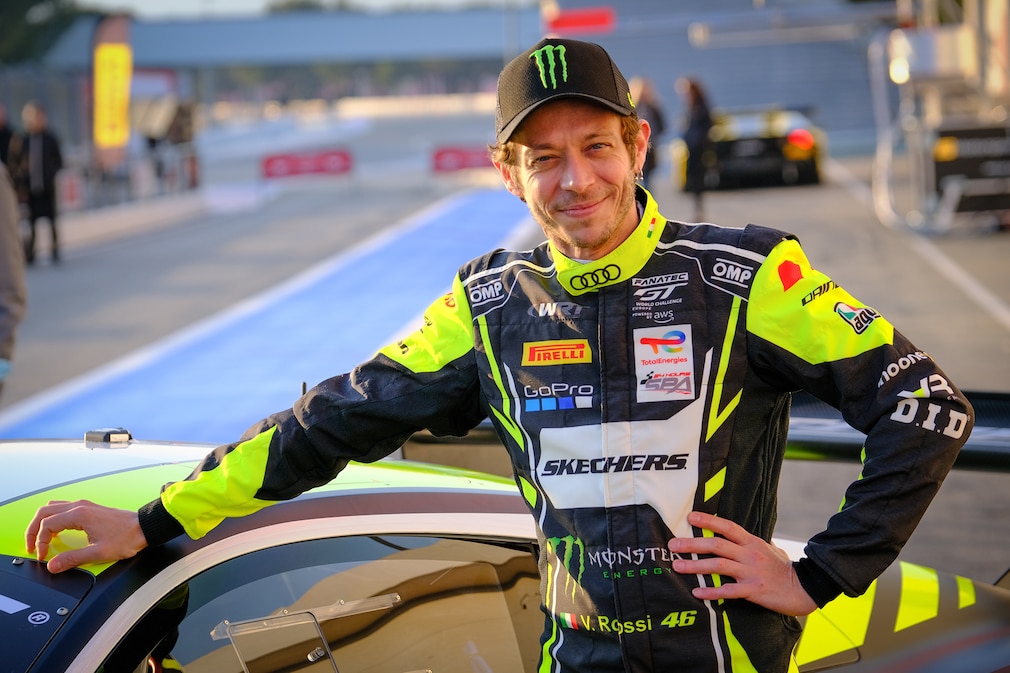 Michael Schumacher noticed that Rossi has talent in the car. The Italian tested a Formula 1 racing car for Ferrari several times from 2006 to 2010, and was about a second slower than the seven-time champion. "He has enormous talent, would undoubtedly be able to switch to Formula 1 and be competitive quickly," Schumacher said at the time.
But Rossi wanted to stay true to his motorcycle sport until he outgrew the two-wheeler seat. That is the case now at 43 years of age. Rossi is now focusing on racing classics: at the end of July he will be taking part in the 24 Hours of Spa, and in the future he is drawn to Le Mans.
Many motorcycle stars have shown Rossi how to do it and have switched to cars. Most successful: John Surtees, who was world champion on the bike and in the Formula 1 racing car.
Rossi can now learn from the best in the GT3 scene. His teammates are GT3 greats with Frédéric Vervisch (35) and Nico Müller (30). Müller was DTM runner-up in 2019 and 2020, while Vervisch won the 24-hour races in Dubai and at the Nürburgring in an Audi GT3 in 2019.
Rossi is also not a completely blank slate in the car: In addition to his F1 tests, he has already contested races or test drives in a Ferrari GT3, rally, NASCAR and DTM. But that was all PR and fun so far. Now things are getting serious on four wheels. Rossi's second career (alongside his own MotoGP team VR46) begins – and it should lead him to success again.