Cars
GTI Clubsport S: Perhaps the most ungolfing Golf of all time
At that time gas was still given. In 2016, the topic of e-mobility at VW was still a long way off. And because they were celebrating the 40th birthday of the Golf GTI, they gave themselves an extremely refined Clubsport S and its best-in-class time on the Nordschleife.
With 7:47.19 minutes, the Wolfsburg company finally overtook the sportiest compact cars to date, the Civic Type R and the Mégane RS. The fans were at least as delighted as we editors.

A Golf that could also pass as a racing car. Limited to 400 pieces, the 100 cars for Germany were sold out quickly.
The Clubsport S also set an example at the Sachsenring
Equipped with the 310 hp turbo engine from the Audi TT S, manual transmission because of the heavier DSG gearbox, lighter brakes with special pads, modified wheel carriers for more negative camber (-2.0° front; -2.15° rear), superglue Michelin rubber, gutting of the interior, all together under 1300 kilos. (
The A1 quattro also borrowed parts from the TT S
)
After the green hell, would it also be enough for a record at the Sachsenring? In mid-2016, the Super Golf took part in the super test. And ironed down everything that was standard and had front-wheel drive. At 1:38.00 minutes, the GTI set a long-lasting best time in its class, almost two seconds faster than club racing without the S.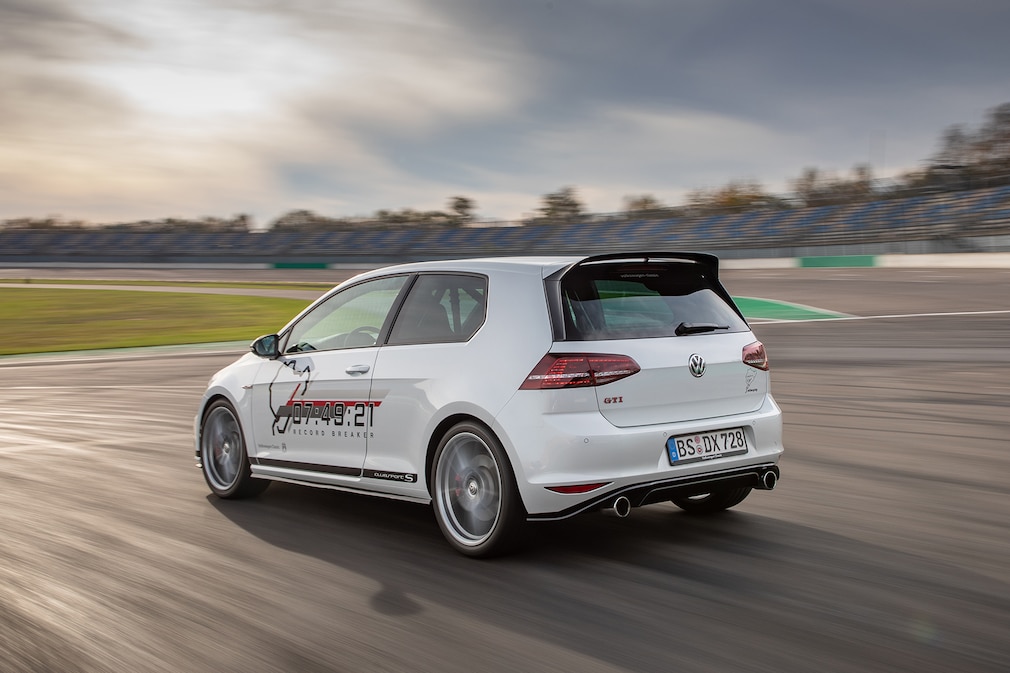 Colleague Manuel Iglisch wrote at the time: "With simply sensational lateral dynamics, a gigantic brake, the burly high-pressure TSI and the entire lightweight construction, it sets new standards in its class."
Specifications: VW Golf 7 GTI Clubsport S
Engine: R4, turbo, front cross
Displacement: 1984 cm3
Perfomance: 228 kW (310 hp) at 5800-6500 rpm
Max. Torque: 380 Nm at 1850-5700 rpm
Drive: Front wheel/6-speed manual
L/W/H: 4268/1799/1442mm
curb weight: 1285kg
0-100km/h: 5.6s
Top: 265km/h
Consumption: 10.2L SP
Price: 40,000 euros (2016)