Cars
GTI, ST, Cupra and Co: Cars for little money with a lot of performance
VW has GTI, Ford ST and Hyundai N. But there are a whole host of other vehicles that put a lot of performance on the tarmac while remaining affordable. And best of all: These nine high-horsepower vehicles are offered at Carwow for a slightly lower price!

Selected products in tabular overview

| | | |
| --- | --- | --- |
| Ford Mustang GT | 449 hp/RRP EUR 55,500/savings of up to EUR 6,543.00 | |
| Honda Civic Type R | 320 hp/RRP EUR 41,790/savings of up to EUR 3112.00 | |
| VW Golf GTI | 245 hp/RRP EUR 39,310/savings of up to EUR 8,394.00 | |
| Cupra Leon | 245 hp/RRP EUR 38,420/savings of up to EUR 9,433.00 | |
| Toyota GR86 | 235 hp/RRP EUR 33,990/with savings of EUR .00 at carwow | |
| Audi A1 Sportback S Line | 207 hp/RRP EUR 30,950/savings of up to EUR 4179.00 | |
| Hyundai i20 N | 204 hp/RRP EUR 25,490/savings of up to EUR 3,574.00 | |
| Ford Fiesta ST | 200 hp/RRP EUR 21,900/savings of up to EUR 3,814.00 | |
| Abarth 595 | 165 hp/RRP EUR 24,990/savings of up to EUR 5,444.00 | |
Ford Mustang 5.0 GT: the brute force

The Mustang 5.0 not only has a lot of car, but also a lot of performance for a relatively manageable price. For 55,500 euros you can heat up over the asphalt with 449 hp. For comparison: An Audi RS 5 with 450 hp costs at least 87,000 euros! The maximum torque of the five-liter American is 530 Nm. In the face of the bare facts, the V8 is not to be forgotten!

The bolide manages 0 to 100 km/h in 4.8 seconds (with the six-speed manual transmission). If you drive the GT with a ten-speed automatic, it reaches 100 km/h in 4.4 seconds. And that despite a curb weight of 1842 kg. If you want to experience the power of the GT on a daily basis, you can save money by buying through Carwow!

Honda Civic Type R: the extravagant

A real sports car slumbers under this body. And Honda doesn't hide that either with the striking and brutal design of the Civic Type R. The front-wheel drive with a manual six-speed gearbox puts 320 hp and up to 400 Nm on the road. A top time of 7:43.800 minutes on the Nordschleife is not surprising. It is just under a minute slower than the current record of 6:43.30 that Lars Kern set on June 14, 2021 in the "road-legal production sports car" category with a 700 hp Porsche 911 GT2 RS.
But the Hot Hatch is also doing well off the racetrack. And with a base price of 41,790 euros, it is significantly cheaper than cars with a similar performance! The Golf R, for example, also puts 320 hp on the road, but cost at least 51,835 euros – that's 13,285 euros more! At Carwow there are attractive discounts on the extravagant Honda!

VW Golf GTI: the icon

An absolute classic that should not be missing from this list: the VW Golf GTI. Already in its eighth generation and for 46 years, the Sport-Golf has been inspiring young and old. And every era of the GTI has its own charm. It used to be the angular, subtle Golf, the middle generations (three to five) can be bought quite cheaply and are popular project cars, especially among young people, and the newer generations have continued to develop into real sports cars.

In the basic version, the compact sports car already has 245 hp and costs 39,310 euros. And there is still a lot of room for improvement. Because if you spend a little more money – 5335 euros to be exact – you get 55 hp more with the GTI Clubsport! At Carwow there is a discount on the new GTI models!

Cupra Leon: the newcomer

Cupra has only been around for four years and they already have five popular models on the market (The Tavascan and Urban Rebel are next.) From compact cars to station wagons to SUVs, the brand covers everything. All cars focus on design and a sporty driving experience. This is also the case with the Cupra Leon. The compact sports car as a petrol engine in the base makes 245 hp. The starting price is 38,420 euros.
But as you know, there are no upper limits! The Leon's top model, the VZ Cup 2.0, delivers 300 hp and costs at least 48,370 euros. The Leon is only available with front-wheel drive – if you want to drive all-wheel drive, you can use the Leon Sportstourer. As a VZ Cup, it delivers 310 hp and costs 50,630 euros. At Carwow there are interesting discounts – whether as a station wagon or not!

Toyota GR86: the exotic

With the GR86, Toyota impressively shows that there is still (or again) a market for JDM cars in Europe. The compact coupé could be ordered from mid-March 2022, and the order break for 2022 was announced at the end of March. Currently you can only secure a place on the waiting list for the annual production 2023. Still, Toyota fans are better off than Subaru lovers. Because the sibling of the GR86, the new and structurally identical Subaru BRZ, is not coming to Europe.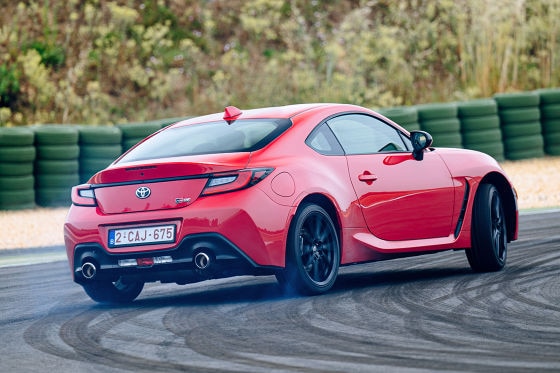 And what makes the GR86 so popular? First of all, Toyota has left a lot of resemblance to its predecessor, the GT86, which was replaced after nine years. So there is already a fan base. And the compact athlete also impresses with its technical data: 235 hp, 250 Nm maximum torque, an unladen weight of 1275 kg, a top speed of 226 km/h and a 0-100 time of 6.3 seconds. That's something to be proud of. In the base, the Japanese athlete costs 33,990 euros. At Carwow there will be attractive discounts as soon as the GR86 is available again.

Audi A1 Sportback S-Line: the inconspicuous

You might not see it directly, but the Audi A1 Sportback S-Line can blow up many a car at the traffic light. This is due to the 207 hp and 320 Nm maximum torque, which bring the Ingolstadt from 0 to 100 km/h in 6.6 seconds. So nothing more from the cute car for leisurely city trips. The A1 S-Line manages 245 km/h at the top.

If you also value a luxury class feeling in a sporty small car in addition to the guarantee of driving fun, then the A1 Sportback 40 TSFI is the right choice. The starting price is at least 30,950 euros. At Carwow it's getting a little cheaper!

Hyundai i20 N: the provocative

Hyundai 2021 came around the corner with the i20 N out of nowhere. Suddenly there it was, a new, very serious competitor to the hitherto reigning Polo GTI and Fiesta ST (in the small car category). In 2017, Hyundai already brought a competitor to the compact athletes with the i30 N. And now the little ones continued. The design already makes it clear: This is not just an i20. Apart from the characteristic N blue (which costs 570 euros extra), the i20 N comes with a roof edge spoiler, a thick tailpipe and an evil eye. And above all with a lot of driving pleasure.
The bare facts speak for themselves. Manual six-speed gearbox with 204 hp, 275 Nm (with overboost 304), 1.6-liter four-cylinder, a curb weight of 1190 kg and front-wheel drive. The little athlete can be driven in five different modes: Eco, Normal, Sport, N and Individual). If you want to try it out, you can save up to 3574 euros on the Hot Hatch at Carwow.

Ford Fiesta ST: the value for money

The abbreviation "ST" is just as familiar to every car fan as "GTI". And it is also immediately clear that there is a lot of power under this hood. The Ford Fiesta ST has exactly 200 little horses. The three-cylinder creates a maximum torque of 290 Nm, drives with a six-speed manual transmission and comes with an empty weight of only 1262 kg! It is not for nothing that the ST is also a popular model in the rally scene!

With a new car price of 21,900 euros, the Fiesta ST is also very affordable and brings a lot of driving fun. And at Carwow there is another discount, so that the price falls below the 20,000 euro mark.

Abarth 595: the racing dwarf

This Fiat has nothing more to do with a smooch ball. If you think of an Abarth, you shouldn't think of the typical Fiat 500 anymore. There is a certain resemblance in the bodywork, but that is secondary. The focus is clearly on the 165 hp and 230 Nm maximum torque, which brings the Abarth 595 to a fighting weight of 1110 kg. That's pretty much forward.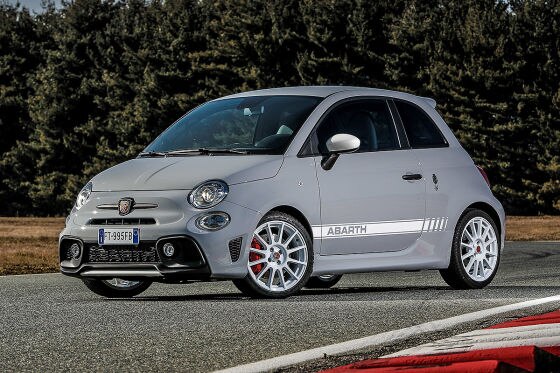 By the way, the most powerful Abarth is the 695 Biposto. 190 hp and 250 Nm maximum torque meet 997 kg. The 0 to 100 km/h cracks the most powerful Abarth in 5.9 seconds. When it came onto the market in 2014, it cost 39,900 euros. The Abarth 595 is priced at 24,990 euros. And you can get it a little cheaper at Carwow!