Cars
Heico XC60 T8: 427 hp plug-in hybrid SUV on test
You really can't accuse Volvo of discouragement or inconsistency. After switching to turbocharged four-cylinders with a single cubic capacity, the Swedes took another step in 2021 and only offer all models ex works with a top speed of 180 km/h.
That might seem reasonable, especially for an SUV that weighs over 2.1 tons live. But it gets a bit strange when you consider that the top model of the XC60 series with "Polestar Engineered" label sends 405 horses to the standard all-wheel drive. With 670 Nm, the 100 km / h fall after 5.4 seconds, and the limit at 180 km / h feels pretty violently slowed down.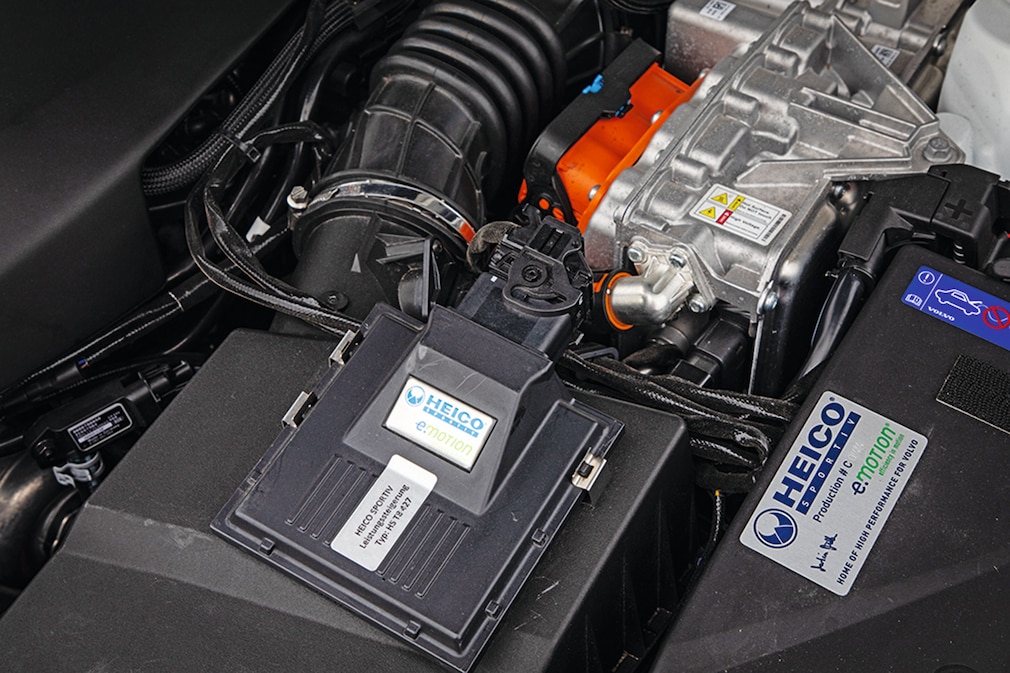 Despite its small displacement, the cultivated four-cylinder sounds a bit strained at best just before the speed limit, it shakes its power loosely onto the drive axles and hangs sharply on the gas. This is mainly due to the hybrid technology, which provides 87 hp and 240 Nm for boost. This trick breathes additional temperament into the four-cylinder, which is basically forced-ventilated by a turbo-compressor duo, without a trace.
Heico to 100 km/h in 5.3 seconds

Heico Sportiv goes one step further with its "e.motion" performance kit, which adds another 22 hp and 40 Nm for 2,490 euros and, according to Heico, ensures an even more powerful suit, especially in terms of torque values: Heico promises the kit to reach 100 km/h a tenth of a second saving, credible nine tenths it should be when sprinting from 80 to 160 km/h. Our measurements confirmed this: instead of the 5.4 seconds for the factory XC60 Polestar, the Heico does 100 km/h in 5.3 seconds. Whether you actually feel it is a question of personal sensitivity. (Heico tuning for the Polestar 2)

In any case, there is nothing wrong with the interaction between the electronic Heico power treatment and the transmission. The Recharge T8 also appeals with the option of driving purely electrically. When the system is fully charged, there are about 45 e-kilometers in it, if you use the maximum electric speed of 125 km/h more often, it is significantly less.
In addition to an increase in performance and a body kit (front spoiler and rear apron including four-pipe tailpipe trims), the Heico also had a valve-controlled exhaust system (3,454 euros) that can be activated by remote control and provides a sound that doesn't look too natural, but is more voluminous. On the chassis side, Heico intervenes in the driving dynamics with sport springs that are 30 millimeters lower and 22-inch tires instead of the standard 21-inch tires on the Polestar, creating a sportier driving experience that is communicated through the steering and the reduced body roll. And you could say that the Heico conveys a little more lateral dynamics and thus more driving pleasure.
But that is not possible without slight losses in driving comfort, which is less well developed than in the standard model simply because of the pretty but sensitive 22-inch wheels. The steering, which is very insensitive ex works, is a little more dynamic due to the measures.
Heico XC60 T8 with six-piston sports brake system
If an increase in performance from 405 to 427 hp brings only a little longitudinal dynamic gain, maybe the Heico XC60 will have a head start over the production model thanks to the built-in six-piston sports brake system (5,988 euros)? In fact, the larger dimensioned stoppers not only have a very good braking feel suitable for everyday use and can be dosed well. The Heico-T8 comes to a standstill after a decent 35.2 meters. Warmed up, the average of the following ten measurements is 33.9 meters – a good, but not outstanding value.
The bottom line is a whole chunk of money that you pay for little extra power and a fuller exhaust sound. The sports brake system is effective, but also expensive, and the cheap sports suspension (springs) tickles a little more lateral feeling into the steering wheel. What remains is the strange feeling of running into an invisible obstacle when you reach 180 km/h.
But that could be solved: For an additional payment of 1,850 euros (plus installation and registration), Heico Sportiv also offers a Vmax cancellation up to 250 km/h. However, it was not installed in our test car.
Conclusion
The Heico XC60 T8 Polestar leaves us a bit perplexed. A small gain in sporty handling and better driving performance is offset by quite high costs. The sports brake is worth the money.
Specifications and price: Heico XC60 T8
• Engine type R4-Electronic
• Charging turbo compressor
• Valves/camshafts 4 per cylinder/4
• Displacement 1969 cm3
• Bore x stroke 82.0 x 93.2mm
• kW (hp) b. RPM 314 (427)/6000
• Output per liter 217 hp/l (incl. electric motor)
• b. rpm 710/2500
• Drive type all-wheel drive
• Front brakes 396 mm vented/slotted
• Rear brakes 302 mm internally ventilated
• Brake disc material steel
• Wheel size front – rear 9.5 x 22
• Tire size front – rear 265/35 R22
• Tire type Pirelli P Zero
• Dimensions L/W/H 4708/1902-2117*/1623
• Wheelbase 2865mm
• Tank/trunk volume 70/468-1395l
• Standard consumption / CO2 3.3 l/100 km / 73 g/km**
• Emission standard Euro 6d temp
• Base price: 84,850 euros
• Test car price: 110,379 euros