Cars
Here you can find the used Kia Optima Sportswagon cheap
If you are looking for a vehicle with a good price-performance ratio, then you almost inevitably end up with Kia. A look at the Kia Optima Sportswagon shows that this does not only apply to the current generations: The station wagon (1686 liters of trunk volume), which was discontinued at the end of 2020, was remarkably inconspicuous and combined great equipment with high utility value and an appealing design. However, demand remained below expectations, which is why the fifth generation of the Optima did not make it to Europe.
On the used car market, however, there are still a few appealing specimens of the family-friendly, 4.85 meter long station wagon. If you don't like the plug-in hybrid models sold recently, you should be happy about the few diesels that are still on the market. Like this Optima Sportswagon 1.7 CRDi with 141 diesel hp.
Less than 50,000 km in five years

The Kia Optima Sportswagon 1.7 CRDi Spirit has two previous owners and comes in "Aurora Black Pearl" exterior color. The station wagon was first registered in May 2017 – so the Korean is now just over five years old. During this time, the diesel has moved the spacious station wagon 46,000 kilometers. Not nearly enough to push the engine and transmission to their limits.
The Sportswagon with the 141 hp diesel engine is shifted manually to a six-speed gearbox, and the four-cylinder engine provides its maximum torque of 340 Nm from just 1750 rpm. The low engine speeds also help to keep consumption low: in 2017, Kia specified the (NEDC) consumption of the Sportswagon 1.7 CRDi as 4.6 liters per 100 kilometers. Maximum can drive 200 km/h fast.
Well equipped family station wagon

The model offered here was ordered in the "Spirit" equipment variant, which was the second highest equipment variant for this engine at the time. Anyone who knows Kia knows what that means: The Optima Sportswagon is equipped with all the features that you wouldn't want to do without in a new vehicle. The new owner can look forward to a 360-degree camera, LED headlights, an electric tailgate, a navigation system with a touchscreen and much more. Even ventilated leather seats are on board the Optima.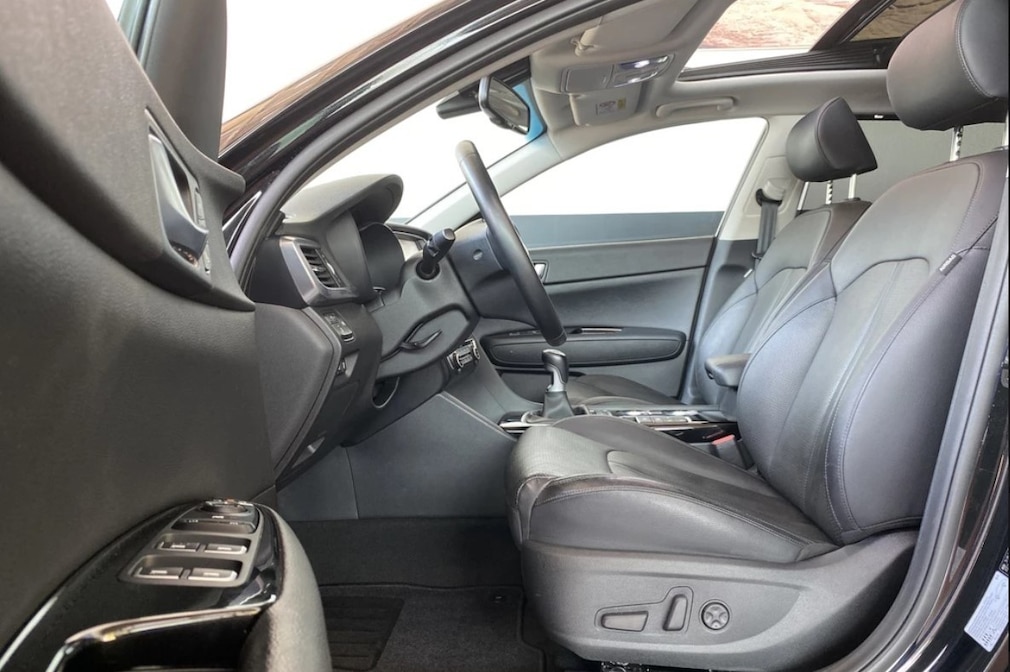 Even as a new car, the Optima was comparatively cheap at just under 40,000 euros. And when it comes to used cars, you can be amazed at the pleasantly low purchase price, especially in view of the lavish equipment: Today, with 46,000 kilometers on the clock, it is available from Motor Center Heinen in Werne (NRW) for just 22,299 euros. A real bargain!