Cars
Honda CRF-E2: electric motocross bike for kids
When a Honda motorcycle is labeled CRF, die-hard two-wheeler off-roaders know immediately which model it is: a motocross machine with a square four-stroke engine. This familiar nomenclature is now expanded with the letter E. That means nothing other than that it is the electric version of the motocross classic.
Accessories for motocross

However, the Honda CRF-E2 is an electric motorcycle for children with an output of 2.5 kW (3.4 hp) and 35 Newton meters of torque, which is the equivalent of a 50 cc internal combustion engine.
In order to implement this project, the Japanese have teamed up with the e-motorcycle specialists from Greenger Powersports. The complete drive package is housed in the aluminum frame, the power of the motor is transmitted to the rear wheel in the classic way via a chain.
As is usual with electric motors, the Honda CRF-E2 does not require a manual transmission. Two driving modes allow the top speed to be limited: mode 1 allows a top speed of 16 km/h, mode 2 is twice as fast.
The batteries are charged in 2.5 hours

The energy comes from a lithium-ion battery with a capacity of 20 AH/960 kilowatt hours, which is enough for a maximum of two hours of driving. After 2.5 hours, the batteries are refilled with a fast charger. Thanks to an optional replacement battery, you can continue working in no time if necessary.
The look of the motocrosser, which stands on twelve-inch wheels, is based on the design of its big brothers with a combustion engine. A hydraulic 33 mm telescopic fork is installed at the front, and a 23 centimeter DNM damper at the rear, where the rebound and preload can be adjusted. Two disc brakes guarantee a corresponding deceleration.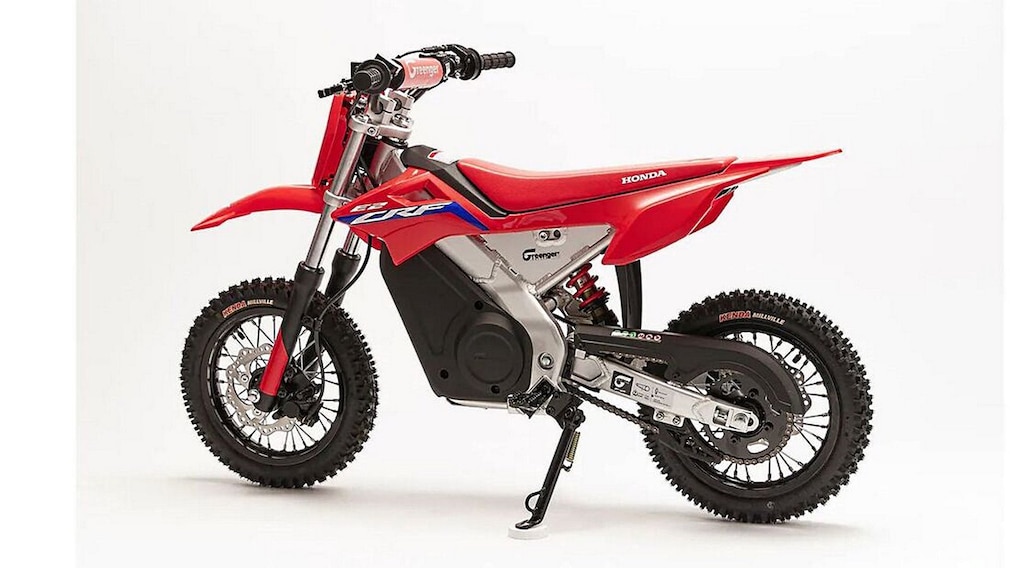 The seat height can be adjusted between 63 and 65 centimeters so that the little motocross pilots can get the most out of the 48 kilogram machine. The drivers must not be heavier than 45 kilograms and should measure their skills in the supporting program of the American AMA Supercross series.
Currently, the 2950 US dollars (around 2725 euros) is sold out and each order is limited to two copies. Honda and Greenger Powersports want to continue the cooperation and develop more electric motorcycles.
Wolfgang Gomoll; press-inform