Cars
Hymer Car 302 Streetline: Motorhome test
Only a few motorhomes manage to successfully combine leisure and everyday life. The little camper from Hymer is at home in the tiny niche between VW California and Pössl. The Hymer Car 302 was a new attraction with entry-level prices starting at EUR 28,290. Then it was pretty naked too. Our photo vehicle from the mobile home gallery in Hohenaspe has all kinds of equipment packages that are subject to a surcharge and which significantly increase travel comfort and the price.
That's him: An all-rounder from a good company. At just 4.99 meters in length, the recreational vehicle from Bad Waldsee tries one optimal compromise between everyday quality and high recreational value to offer. Atypical for the industry, the fully glazed bus version of the Fiat Ducato. Externally, decorative accents strive for a van-like look. After ten years and 55,000 kilometers, the condition is gratifying. We discover neither rust problems nor oil leaks. Smaller quirks in the interior are typical in tightly packed, smaller motorhomes and can hardly be avoided.
Technical data Hymer Car 302

Tank capacity / type of fuel
Empty weight ready to drive / payload (test mobile)
Trailer load (braked / unbraked)
Material wall / roof / floor
Lying area in the middle L x W
Base price (2009, 100 PS M-Jet)
88 kW (120 PS) at 3600 rpm
Six-speed manual / front-wheel drive
The Hymer Car 302 is also suitable as a mobile office or as a replacement for the family station wagon
He has: Sense of the essential. Behind the swiveling front seats there is a well thought-out living and sleeping area with light veneer surfaces and matt aluminum accents. The front-facing Vario bench is pleasantly contoured and features two seats, three-point seat belts and a folding table. In theory, the Hymer can also be used as a mobile office or as a replacement for a family station wagon. The version we tested offers two berths in the rear. However, a little practice is required before the bed is up. And even those who have it need a few minutes: In addition to the folding mechanism of the bench, a lowerable folding slatted frame in the trunk area complements the construction. After all, it still takes place after the renovation a good part of the load space under the lying surface. The accessibility of the lower part of the cabinet row is then severely restricted, so that Smart packing before going on holiday is strongly recommended is.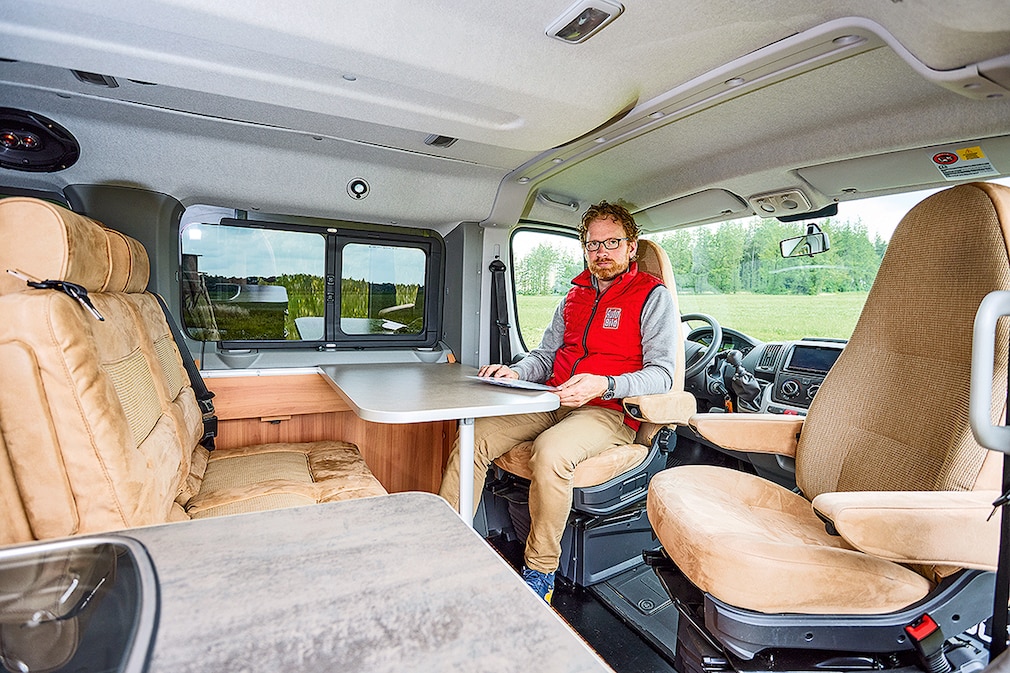 Was on board for a better feeling of space A lifting roof can be supplied on request. There was also a maxi roof bed with a two-meter-long and 1.50-meter-wide lying surface. And how do you cook in the Mini-Hymer? The compact block is on the passenger side in front of the sliding door. The hob, sink and refrigerator are of the space-saving variety. The module compensates for this also as an open-air kitchen to be able to use. With the once also subject to a surcharge Electrical package passengers have access to two 12-volt sockets at the table, two additional 230-volt sockets and a 230-volt shore power supply. Extras such as the large awning, the bicycle rack on the rear door and the electrically extendable entry step are practical. They increase comfort and save several thousand euros in retrofitting costs.
A track wider and higher than California and Marco Polo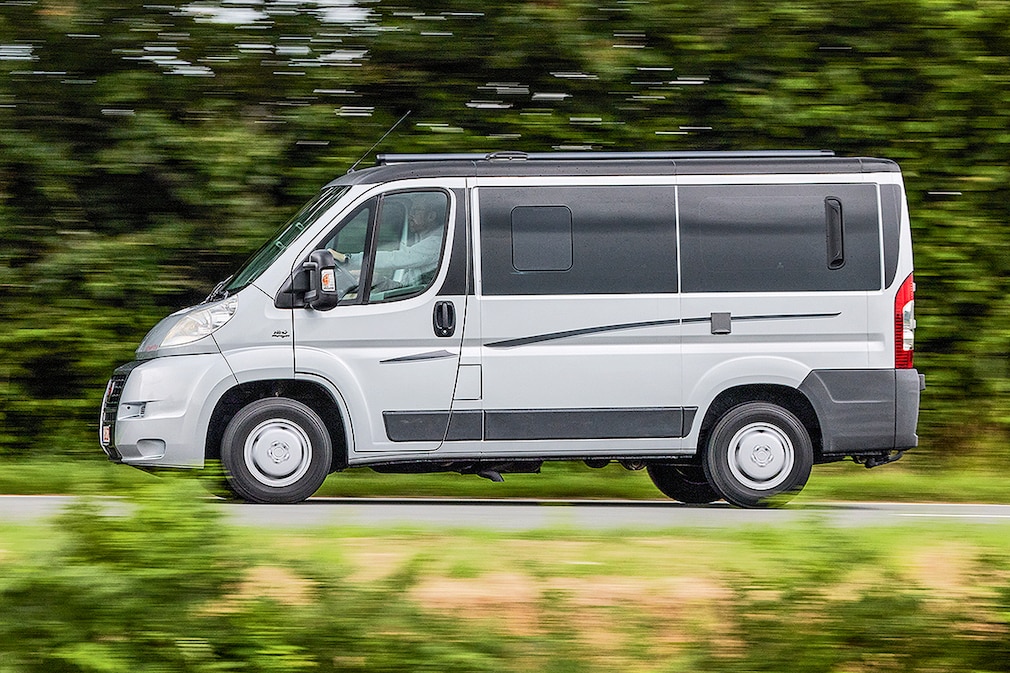 This is how he drives: For a ten year old Ducato unexpectedly lively. The heart built across the front is a 2.3 liter MultiJet diesel with 120 hp. It has, not least because of its moderate frontal area, with the a maximum of 3.3 tons Vehicle no effort. A travel speed of 130 is easily possible thanks to the well-stepped six-speed gearbox. Slopes are thanks 320 Newton meters of torque no reason to switch to the truck lane. Its moderate external length and the relatively short wheelbase ensure amazing handinesseven when it comes to city centers. Standard parking spaces are not a problem. The Hymer Car 302 only has to fit in most underground car parks: it is just a bit wider and higher than the California and Marco Polo. By the once surcharge Streetline package there is an airbag on board for the front passenger, traction control (ASR), electric exterior mirrors, manual air conditioning and one for enormous ranges 120 liter diesel tank. Not a bad overall package for going on long tours with the surprisingly quiet Hymer Car 302.
Maintenance costs for the Hymer Car 302

Vehicle tax (S4, mass 3300 kg)
Brake discs and pads, front
4 summer tires 215/70 R 15 C