Cars
Hyundai Seven Concept (2021): Corona-proof study of the Ioniq 7
Market launch: the series version will come in 2024

Hyundai's electrical division Ioniq has already got off to a wonderful start with the Crossover 5. Sedan 6, which was announced with the Prophecy, is due to arrive at the end of 2022. 2024 This is followed by a large SUV called 7. The Koreans are now showing what this could look like with the Study "Seven Concept", which has a lot of surprises in store. This is how the car should, for example protect against viruses and bacteria, which is of course particularly interesting in times of COVID-19.
Dimensions: About the size of a Santa Fe

The Seven Concept has something like that Dimensions of a Hyundai Santa Fe, but looks a bit more beefy. In addition to the long wheelbase and the short front overhang, the front design in particular contributes to this. Below the continuous strip of lights sits a huge black area, which is criss-crossed by illuminated rectangles. These form the side of the headlights and take that Pixel design by Ioniq 5 and the Prophecy study. Retractable Cameras replace the side mirrors and, together with the sloping roof, improve air resistance. The rear is shaped by LED pixels in a 3D structure, which create a large, vertical disc frame. Like the unusually long rear overhang, it should optimize the space available for luggage and passengers.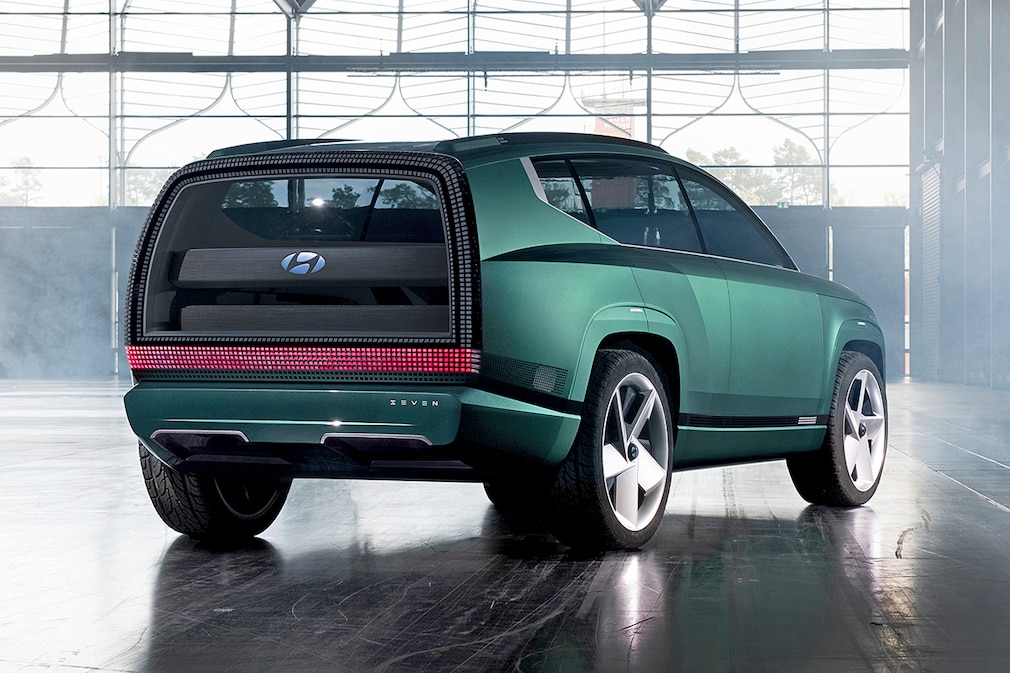 Interior: Everything here is reminiscent of a living room

The interior resembles a cozy lounge. Driver and passenger sit up
rotating and sliding armchairs,
while rear passengers on a kind
corner couch
Take a seat and look over
Incense sticks
to look forward to. Instead of a glass roof, there is a giant screen that can show journeys through forests, cities and so on. A colored lamp that shines through liquid is designed to imitate incident sunlight. The reason for the feel-good atmosphere: The study is designed for level 4 autonomous driving and is intended to make the unfamiliar experience of being chauffeured as comfortable as possible for the passengers. If you steer yourself, it happens via you instead of the steering wheel
Joystick,
with which the concept car can actually be driven. A monumental screen combines infotainment and digital cockpit and is via
voice control
operable.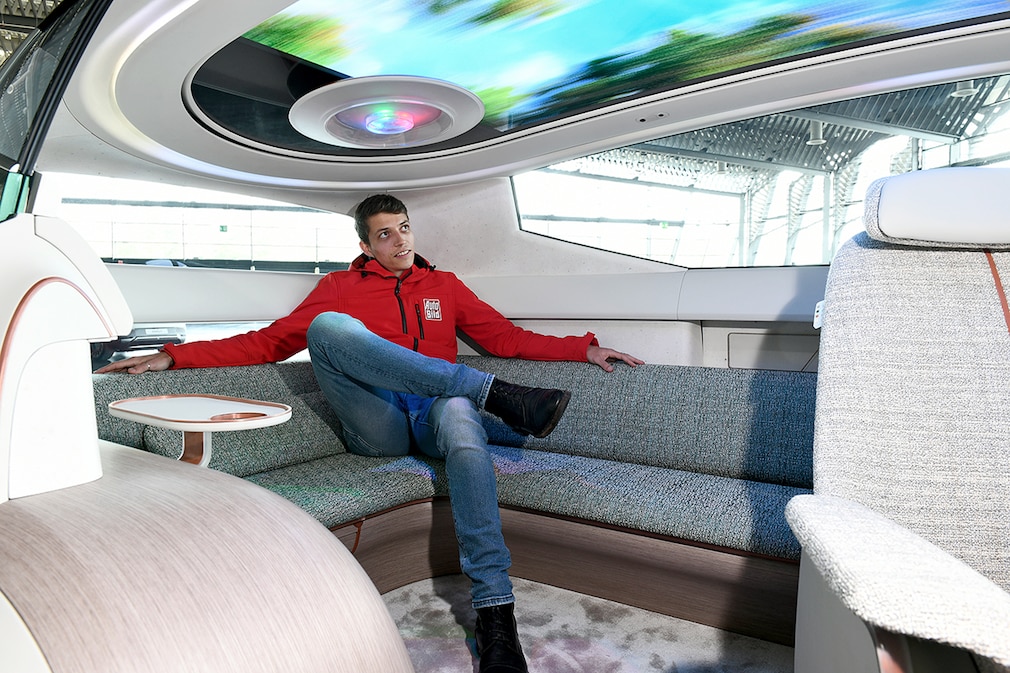 UV-C light to kill bacteria

In addition, the interior should particularly hygienic be. materials such as marble, copper, bamboo fibers and treated synthetic leather inhibit the formation and spread of bacteria and viruses. Copper is even added to the bodywork paint in order to keep it as germ-free as possible. A special air conditioning system prevents the spread of germs, and there are disinfectants in specially designed storage compartments. And if nobody is sitting in the car right now, it will Cockpit disinfected with UV-C light, that kills any remaining bacteria and viruses. The highlight are probably the two integrated UV-C lights Shoe cupboards, which free your own steps from germs. It remains to be seen which of these solutions will be adopted in series production.
Drive: 100 kWh battery for a range of 480 km

The electric Seven Concept is mobile, but only at walking pace and over short distances. The Ioniq 7 will then also be exclusively fully electric. At the presentation of the US version of the Ioniq 5, Hyundai also announced some data on the large SUV. Accordingly, there will be optional all-wheel drive, its two electric motors together 230 kW (313 hp) Afford. One 100 kWh battery should be around 480 kilometers range enable. Is well set 800 volt technology, the charging on 350 kW columns permitted. However, there is still a lot to do with the series and other performance levels are likely to be added.

The Ioniq 7 could get a similar infotainment
According to Hyundai, the Ioniq 7 designed for families and as Six and seven seater to be available. It should get the dimensions and the basic shape from the study. The surrounding rear lights and extendable side cameras will hardly make it into series production. The wide infotainment / digital cockpit screen, on the other hand, could be seen again as well as some of the hygiene solutions. Compared to AUTO BILD, designer Simon Loasby let it through that they would like to bring the copper paint to series production. We can look forward to them Development of drive technology and autonomous driving. Until then, however, you have to be patient. Of the Hyundai Ioniq 7 will not be available until 2024 at the earliest come on the market.