Cars
If 610 hp are not enough: Audi R8 with 1500 hp
the US tuning company Underground Racing is worldwide for their extremely wild Twin turbo conversions known. performance yields of over 2000 hp are not uncommon at "UR", but now the tuner from North Carolina not only has an Audi R8 V10 Decennium turbo kit, but also one manual transmission lost. The curious thing about it: The second generation of the Audi R8 was never offered with a manual gearbox!
When Audi 2006 den first R8 (construction code 42) presented was the 4.2-liter V8 optional to one Six-speed manual transmission with an open shift gate or that Rtronic so-called automated manual transmission (replaced by the S Tronic dual-clutch transmission from 2012). Also at the V10 version with an initial 525 hp and later 550 hp, customers could choose between both transmission options. In the case of the successor (construction code 4S), which was only offered as a V10 version in 2015 the manual transmission was omitted. Due to the better performance, Audi relied exclusively on a seven-speed dual-clutch transmission. Now Tuner Underground Racing has one limited to 222 copies 2020 Audi R8 Decennium subsequently converted to a manual switch. There is good news for all R8 drivers who have always wanted a little more driving fun, because Underground Racing wants to officially distribute the kit. But there is still a small catch!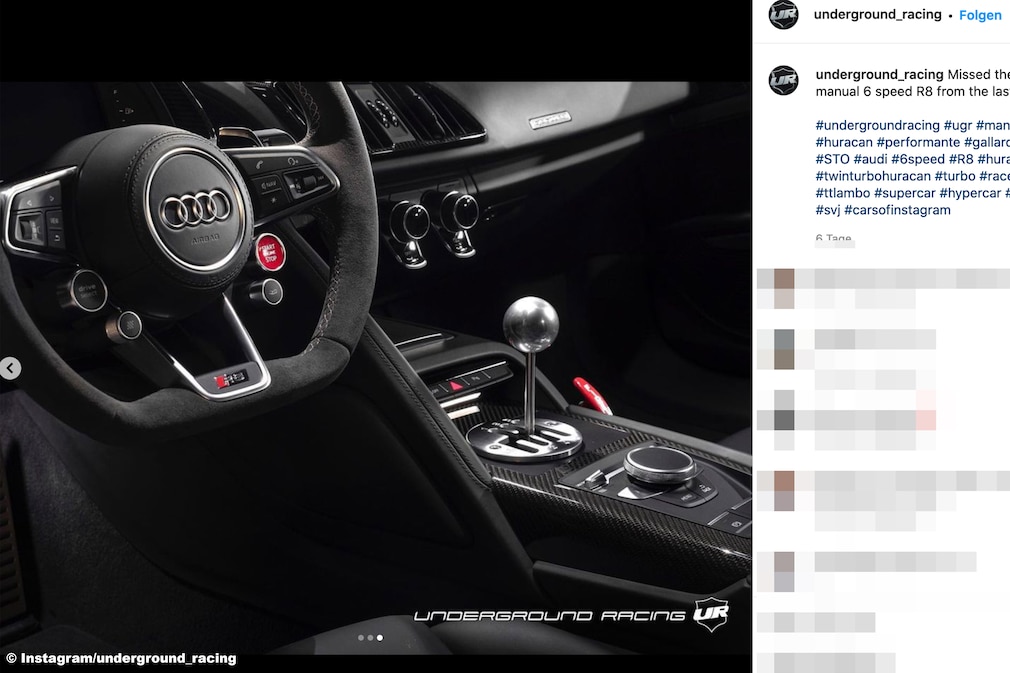 For many years, underground racing has been known for their heavy twin-turbo conversions, which tuners mainly use for different Lamborghini models like Gallardo, Huracán or Aventador offers. However, other models such as the Ferrari 458 Italia or the technology brother of the Lamborghini Huracán, the Audi R8 V10, can be pushed to well over 1000 hp with completely revised engines and turbocharging if desired.
The conversions start at over 40,000 euros

"UR" offers seven for the Audi R8 V10 that has been available since 2015 different power levels between 800 and unbelievable 3000 hp (only with racing fuel). 800 hp in the R8 start at the equivalent of 42,700 euros ($49,000) with a two-year warranty. For the 1400 hp version requires the tuner 152,500 euros (175,000 US dollars), which is pretty much the new price of a 570 hp Audi R8 V10 performance RWD. Incidentally, Underground Racing only reveals prices for the even more powerful twin-turbo conversions beyond 2000 hp if there is a specific interest.
The R8 V10 Decennium shown here is a recently completed customer vehicle. Before the R8, the customer is said to have already owned a 2012 Audi R8 V10 and a Lamborghini Huracán Performante – both modified by "UR" and both with dual-clutch transmissions. For this simple reason, he wanted something completely new for his next project: a handset! However, as we have already learned, the second generation of the Audi R8 was never available as a manual transmission and so Underground Racing got to work.
Six-speed manual transmission from the predecessor

The standard seven-speed dual-clutch transmission became against one Six-speed manual transmission exchanged with an open shift gate and a beautiful polished shift knob. What sounds relatively simple in theory requires a lot of time and adjustment work in practice, especially with regard to the control units. The gearbox comes from by the way off an R8 of the previous generation or the Lamborghini Gallardo, but could not simply be adopted "plug and play". Because underground racing not only has a new gearbox on this R8, but also a new one 1500 hp twin turbo kit installed.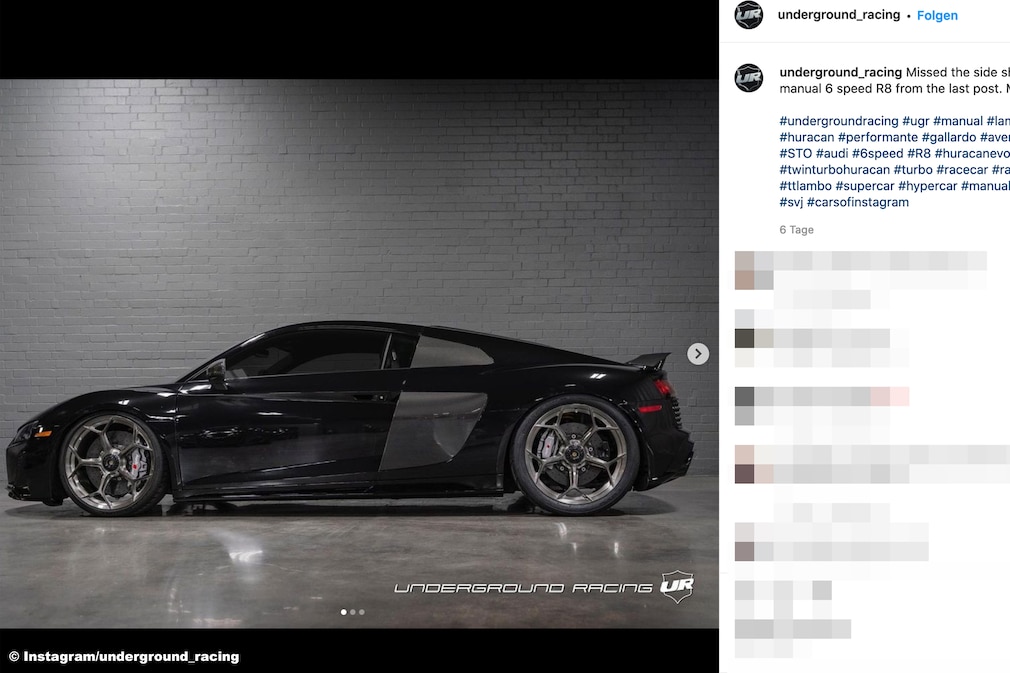 Transmission and clutch have been strengthened

Since the power was more than doubled from formerly 610 to now 1500 hp, Transmission and clutch are of course strengthened, in order to be able to withstand the brutal performance. the All-wheel drive was retained and visually the R8 is very reserved by American standards. The only change concerns the rims borrowed from the Lamborghini Huracán Performante, for which the wheel hub had to be reworked for central locking.
For all those who are now toying with the idea of ​​converting their Audi R8 to manual transmission, there is another hurdle in addition to the cost factor ("UR" has not yet announced the costs for changing the gearbox), because the Conversion is only offered in combination with a twin turbo kit and that alone already costs 42,700 euros in the cheapest version. By the way: The manual transmission with the elegant aluminum gear knob and the open shift gate is also available on request for the Lamborghini Huracán, and the Lambo is also only offered with a seven-speed double clutch ex works.