Cars
Inspection of the electric car: That's in the Kia EV6!
This workshop visit with the Kia EV6 is a bit like a trip to the family doctor without an appointment: "Now that I'm here, you can check me out too!" So up with the patient, even though it's not his turn. We have an appointment with Kia-Versteher Voigtländer & Meyer in Hamburg.
"15,000 inspection," we say on the phone, "according to the display, we're already 523 kilometers over it." When service manager René Peitzker (39) checks the papers, he says: "No, he has to come to us every 30,000 kilometers or two years." We reply, "Now that we're here, why not jack us up?" So we spend two hours in the workshop.
Sven Bahrs (41) is the head of the lifting platforms, before he presses the button and lets the electric Kia boot up, he pushes a dongle into the cockpit. As with all modern cars, he will not work with a screwdriver or ratchet, but with a tablet. "There are 45 readable control units in this car," he says. Then he drives it up.
Kia EV6: Rear brake needs special attention

With a Stromer like this, the visual inspection is just as important as listening to the ears of an asthma patient: If something is unusual here, then the alarm sounds! With the Kia, the rear brake is particularly important. Because the Stromer often decelerates by decelerating, i.e. recuperates, the rear brake could start to rust. Can be prevented by simply stepping on the left pedal from time to time, of course only when the road is clear.
Master Bahrs walks up and down several times, looking very closely at the battery casing with the lamp. It has 77.4 kWh and is enough for more than 400 kilometers if we drive a lot in the city and recover braking energy. After 300 kilometers on the Autobahn, you have to recharge your batteries. If the disguise shows signs of enemy contact, such as a curb, then things get tricky.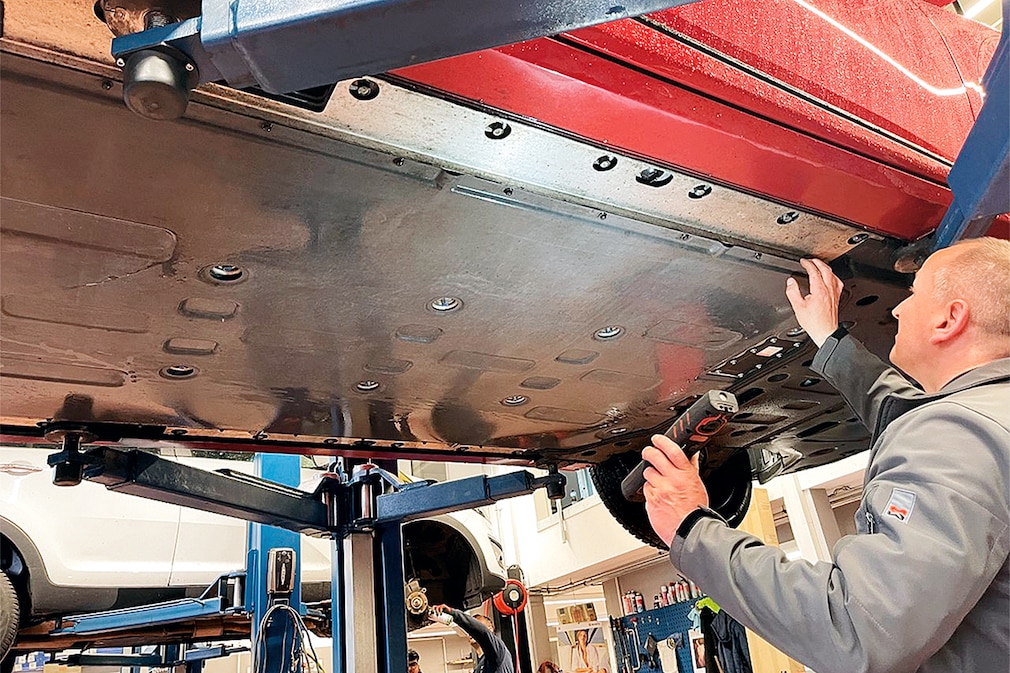 Everything is fine with our Kia, no scratches. Otherwise Bahrs would have unscrewed the floor paneling immediately. Everyone is allowed to do this in the Kia dealership, because everyone has level three, the highest level of training for electric cars. And even more: "We can penetrate deep into the battery with our tester and control each block and each cell individually."
The check costs around 300 euros at the end

Bahrs works meticulously through its service program on a tablet, resets the error memory ("nothing bad"), plays various updates for pre-air conditioning and navigation. And says: "Customers can also do it themselves with the navigation system, simply pull new software onto a stick and familiarize them with the car." If you don't want that, go to the dealer.
In the end, the bill is 301.43 euros, for the "correct" inspection with air conditioning maintenance it would be 431.51 euros. So that we won't be in the pits too early in the future, Bahrs is readjusting the system: every 30,000 kilometers or two years is enough for an e-car.
Kia EV6 AWD
• Power 239 kW (325 hp)
• Battery capacity 77.4 kWh
• L/W/H 4695/1890/1550 mm
• Trunk 490-1300 l
• 0-100km/h 5.2
• Top 185 km/h
• Consumption (WLTP) 17.2 kWh/100 km
• Range 506 km
• Price from 52,890 euros
The new everyday test from AUTO BILD
Our 100,000-kilometer endurance test has been in existence for decades – with final total disassembly. It will stay that way, but we will also introduce the everyday test. This is less about long-term quality and more about suitability for everyday use. The concept: Various testers drive the cars in their everyday lives for a longer period of time. They then evaluate some of the six categories in detail – and all with our clear heart rating. In this way you can find out exactly whether a car might also suit your everyday life.