Cars
IUV: Lightweight e-car to drive 1000 kilometers with hydrogen
How will we drive cars in the future without being dependent on fossil fuels? This question is being asked more and more in view of the climate crisis, the Ukraine war and horrendous fuel prices. Answer: ideally in a fuel cell plug-in hybrid vehicle. Like the Interurban Vehicle (IUV) from the German Aerospace Institute (DLR).
E-cars with the lowest power consumption

Selected products in tabular overview

| | | | |
| --- | --- | --- | --- |
| | Dacia Spring (test consumption: 15.8 kWh) | RRP from EUR 20,490, savings of up to EUR 9,614 | |
| | Renault Twingo Electric (test consumption: 16.4 kWh) | RRP from EUR 23,790, savings of up to EUR 11,961 | |
| | Hyundai Kona EV (test consumption: 18.8 kWh) | RRP from EUR 35,650, savings of up to EUR 13,689 | |
| | Fiat 500e (test consumption: 18.8 kWh) | RRP from EUR 26,790, savings of up to EUR 12,610 | |
| | Audi Q4 e-tron (test consumption: 21.1 kWh) | RRP from EUR 41,900, savings of up to EUR 12,895 | |
| | VW ID.3 Pro S (test consumption: 21.3 kWh) | RRP from EUR 36,960, savings of up to EUR 10,210 | |
| | Skoda Enyaq iV 80 (test consumption: 21.9 kWh) | RRP from EUR 44,750, savings of up to EUR 12,860 | |
| | VW ID.4 Pro (test consumption: 21.9 kWh) | RRP from EUR 38,915, savings of up to EUR 10,244 | |
| | Opel Mokka-e (test consumption: 21.9 kWh) | RRP from EUR 34,110, savings of up to EUR 15,341 | |
The research project, which is five meters long and two meters wide, combines an externally chargeable battery and a hydrogen fuel cell into an emission-free drive concept that promises a range of up to 1000 kilometers – and thus long-distance suitability. In addition, the clean man has special energy management and different lightweight construction approaches. Motto of the IUV: make sustainable progress (survey: this is how people want to drive in the future).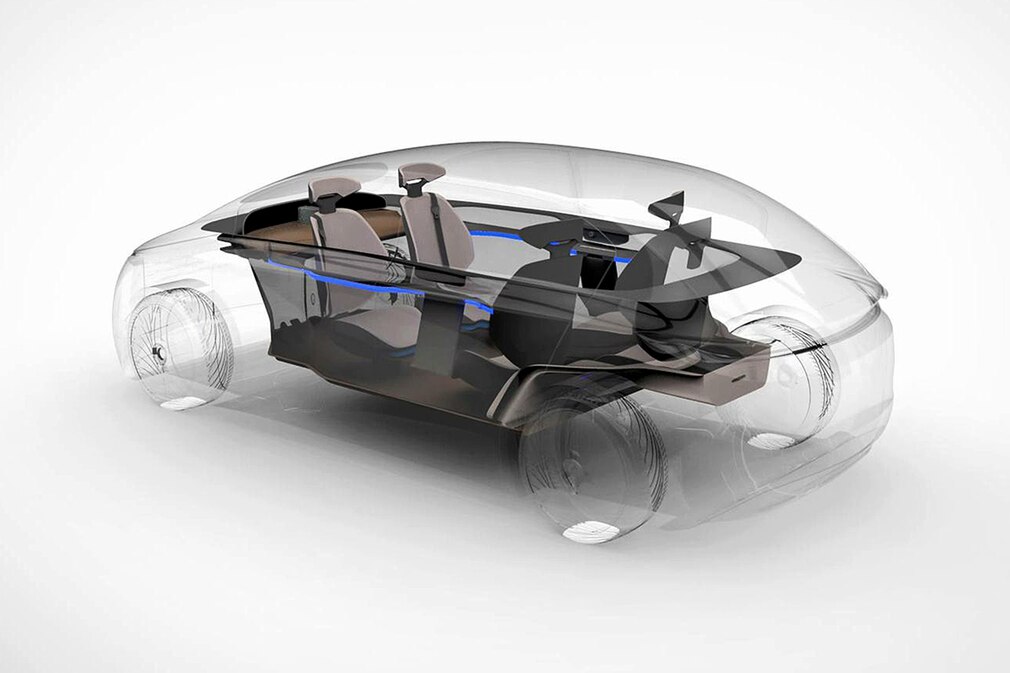 Several lightweight construction approaches combined in the IUV

According to the DLR researchers, the bodyshell of the travel-compatible e-car weighs just 250 kilograms, which consists primarily of fiber-reinforced plastics. This is about a quarter less than is usual in the upper and middle class. One of several lightweight construction principles is the so-called functional integration. For example, the floor structure not only carries all of the vehicle's superstructure, it also conducts electricity and data. This eliminates the need for additional cables, thereby saving weight. Overall, the IUV has an unladen weight of 1,600 kilos with energy storage.
Battery for around 200 kilometers – then hydrogen

The 48 kWh battery in the rear of the plug-in hybrid can be charged externally. If the electricity runs out after around 200 kilometers, the fuel cell in the front of the car comes into its own with 45 kilowatts. It is fed with 7.5 kilograms of hydrogen from a pressure tank with 700 bar, which is safely stored in the sandwich underbody. The big advantage: The refueling process only takes about as long as with a petrol engine or
diesel
. The electric motors with a total of 136 kW accelerate the IUV to up to 180 km/h.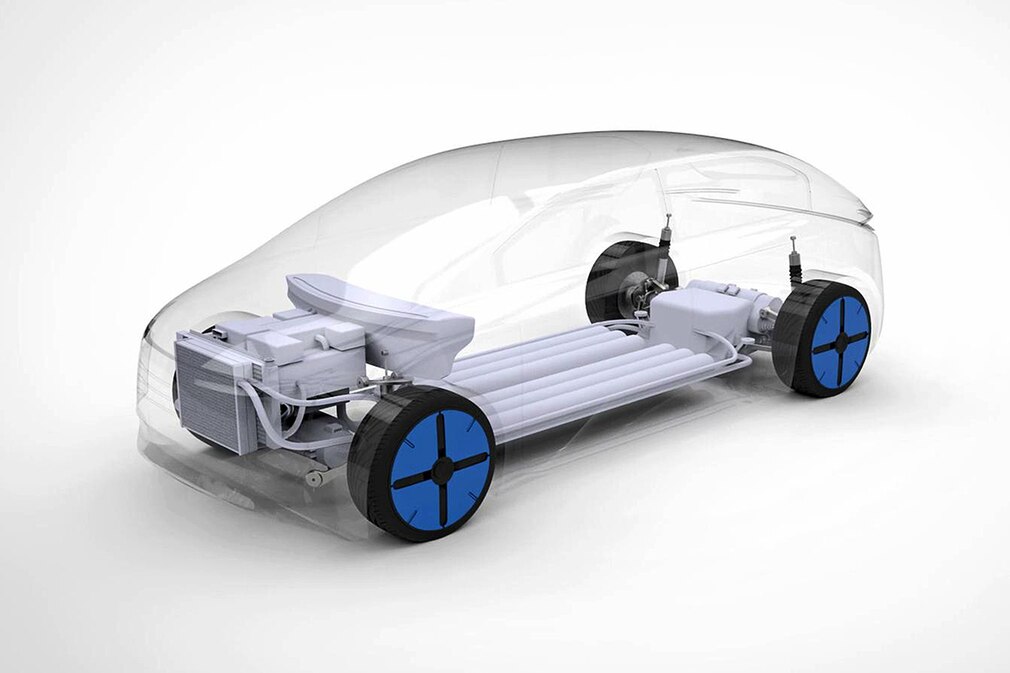 IUV drives fully automatically to level 4

"The aim of the IUV is to make long-distance traffic sustainable and locally emission-free," explains project manager Sebastian Vohrer from the DLR Institute for Vehicle Concepts in Stuttgart. In the future, electrification and automation would have an impact on drive technologies, but also on the interior, i.e. on the entire vehicle structure. Yes, automation. The IUV mostly drives itself, according to SAE level 4 (highly automated).
Automated driving in stages
Level 0: Driver only


definition: Driver performs longitudinal and lateral guidance continuously. No intervening vehicle system active. Called: The driver does everything alone. He drives, steers, brakes, accelerates and pays attention to his surroundings. The vehicle does not undertake any interventions or has no technical requirements for this.
Level 1: Assisted


definition: The driver carries out longitudinal OR lateral guidance continuously, the system takes on a different function in each case. Called: With assisted driving, the system supports the driver with certain assistance systems, for example with a blind spot warning, a lane departure warning or hill start assist.

Level 2: Partially automated


definition: Driver must constantly monitor the system. System takes over longitudinal AND lateral guidance in a specific application. Called: With semi-automated driving, the car can take over individual tasks for the driver. Most manufacturers are currently at this stage. Automatic parking or a lane keeping function are among the most common systems. The traffic jam assistant can accelerate, brake and follow the vehicle ahead in a traffic jam without the driver having to intervene.
Level 3: Highly automated


definition: Drivers no longer have to constantly monitor the system. Must potentially be able to take over. System takes over longitudinal and lateral guidance in a specific application. Recognizes system limits and requests drivers to take over with sufficient time reserve. Called: Level three is referred to as highly automated driving. For example, the car independently sets the indicator, changes lanes or adjusts its speed to the flow of traffic. The driver is no longer responsible for the vehicle and can divert his attention from what is happening on the road for a long time. However, the autopilot can always ask the driver to take back the wheel in order to steer the car himself
Level 4: Fully automated


definition: No driver required in specific use case. System can handle all situations automatically in the specific application. Called: Level four defines full automation. The car takes over all the functions and only releases them again when the system cannot cope with a situation.
Tier 5: Driverless


definition: System can automatically deal with all situations throughout the journey. No driver required. (Source in each case: VDA/Federal Office for Roads) Called: In principle, people and the steering wheel will become superfluous. The car and the system only need a destination input and the release to start. The vehicle then drives to the destination independently. Autonomous or driverless driving has been achieved.
Cockpit becomes lounge or office

Up to five people can have a good time in the flexibly designed interior after they have climbed in without any obstructive B-pillars. A classic back seat is missing, the front seats are rotatable, the controls can be retracted. On request, the cockpit can be transformed into a lounge or a mobile office with a work surface.
Clever air conditioning uses pressure difference

The IUV also has a sophisticated air conditioning concept so that the range is not unnecessarily reduced over long distances by an energy-guzzling air conditioning system. Among other things, part of the pressure difference between the hydrogen tank (700 bar) and the fuel cell (5 bar) is used to support the conventional chiller and thus save energy. The can be controlled
air conditioning
– similar to an airplane – from all occupants via the roof lining.
Production of the IUV without classic tools

And the production concept is also new. Additive manufacturing lacks classic machines and tools, and each component is built up layer by layer. Newly developed parts can thus be flexibly tested as prototypes.
So far, the Interurban Vehicle has only been a rollable body demonstrator. It is part of the overarching Next Generation Car (NGC) project, in which scientists from 16 DLR institutes are working on vehicle concepts, technologies and mobility solutions for the road vehicles of the future. Another member of the series is the lightweight two-seater Safe Light Regional Vehicle (SLRV), which caused quite a stir after its presentation at the IAA 2021.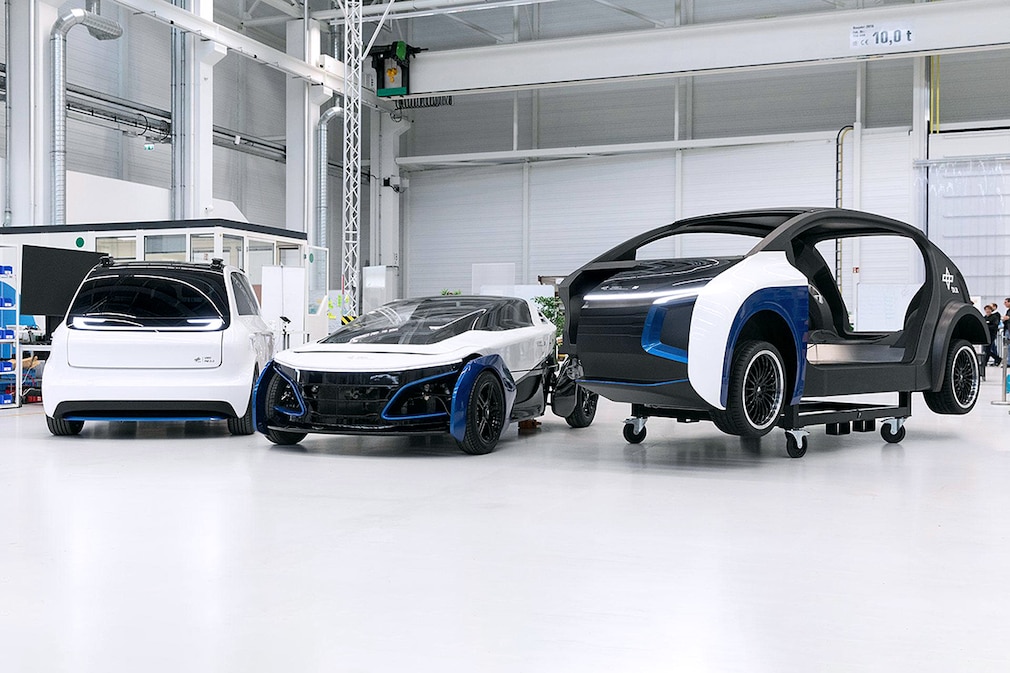 This project is geared towards the year 2030. It is still completely unclear whether the IUV will be on the road by then. In any case, the problems of hydrogen as a drive energy such as origin and energy balance would have to be solved by then so that the IUV really does run emission-free.