Food & Drinks
Jurgen can transform a vega snack bar into three companies in no time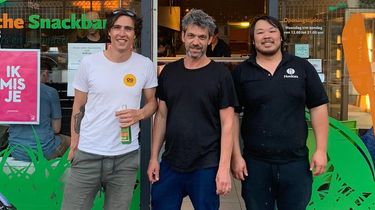 No, of course he didn't do it alone. But the idea "how can I save my vegetarian snack bar from the crisis?" Came from his brain. He and two colleagues now have three food companies in one building.
Jurgen Verwoerd from The Hague is the man of the "vega-snackbar" (in the photo he is in the middle, between his new partners Randy and Hong). Located directly at Hollands Spoor station, he started in 2013, in the middle of that other (financial) crisis, The Vegetarian Snack Bar. "Everyone thought it was a daring venture back then. Now, more than seven years later, we are in an even bigger crisis. "
I would actually stop already…
The catering industry has been and is being hit hard and many companies are expected to die. "I also thought at the forced closing first okeeeee, what now? If I go bankrupt, it's not my own fault. Those were my first thoughts, "Verwoerd says honestly. "And you know what? In January I actually decided to quit the catering industry. I planned to sell my business. It all turned out differently. The corona time has given me new impulses and I now only want to continue building and expanding. "
That was not going to be him
When the one and a half measures came into the picture, Verwoerd looked around his case. He had previously also added vegetarian pastries from a company he took over. All nice and nice, but his kitchen took up a lot of space compared to the tables and chairs. The Hague catering manager: "The measures would not be enforceable in my case as far as visitors are concerned. No, that was not going to be him. The helm had to change. "
"As soon as I realized that I could no longer operate my company as before, I started writing a new business plan. I came up with the idea to remove my tables and chairs and build a second kitchen in them. The Vegan Sushi Company was supposed to become next to De Vegetarian Snackbar. "
Third opening time order
And then it became, Verwoerd proudly reports Subway over the phone. In the meantime he occasionally shouts something towards the door. "Sorry, we are not open yet, sir," it sounds. Again in it Subwayconversation: "That is the third order today before opening time. Goes well."
Back to three weeks ago. That was when he asked his colleague and sushi specialist Hong from Enkhuizen to inquire whether he was interested in setting up a new company. With him in The Hague. "Hey Hong, what do you think?" I asked then. It was silent for a moment. And when they "do" Hong. No sooner said than done. The ideas flew back and forth. For online marketing, I brought in my friend Randy Hereman, who knows his way around the internet and reaches the customers who could no longer be in the business. "
Company prepared
Hong arranged the concept and Verwoerd took care of the operational matters, such as preparing his company for the two kitchens in the building. One for sushi, the other for The Vegetarian Snack Bar. Online technician Hereman made an online campaign and orders came in no less than three weeks later.
Verwoerd: "We started on Thursday, Friday and Saturday, with three entrepreneurs under one roof. We deliver and can be picked up. It went well right away, because our pre-sale promotion meant bringing hundreds of rolls of fresh sushi, loads of vegan fast food and vegetable pastries to the husband and wife. About 30 percent was collected and for the 70 percent delivery, two delivery drivers traveled 600 to 700 kilometers in The Hague. "
On to more cities
"We are ready to expand it to other cities," Verwoerd shouts – also on behalf of his colleagues – already. Is he not running too fast? "No, we are already writing plans," he says without looking or blushing (although you can't see that on the phone, of course). "We think we have a golden formula. We are thinking of one extra location in The Hague and further cities in the area, such as Rotterdam, Leiden and Delft. "
In the eatery slash cafeteria in Twente, the shoulders were once again put to good use during the corona period, instead of sitting down with the Twente suits.
NewsABC.net