Cars
Kia EV6 in everyday life: travel as always – only electric and cheap
I have never dared to travel in an e-car. Worrying about being stranded at a rest stop with an almost empty battery for hours because the electrons at a slow charging station only crawl like a snail into the battery.
The fast-charging EV6 simply blows away these concerns with its 800 V on-board system. My trip to Holland, the destination is the North Sea island of Texel, almost 500 km away, proves that charging can also be done during a coffee break. And with the right charging card, it can be quite cheap, more on that later.
Current electric car offers

Selected products in tabular overview

| | | |
| --- | --- | --- |
| Jaguar I Pace | Delivery time three to five months/ RRP from EUR 76,961, savings of up to EUR 18,730/ in leasing from EUR 580 | |
| Mercedes-Benz EQB | Delivery time four months/ RRP from EUR 52,342, savings of up to EUR 11,332 | |
| pole star 2 | Delivery time four to six months/ RRP from EUR 41,930, savings of up to EUR 9570/ Best leasing price EUR 278 | |
| Fiat 500e | Delivery time five months/ RRP from EUR 26,790, savings of up to EUR 11,090/ in leasing from EUR 111 | |
| Peugeot e-208 | Delivery time five to 5.5 months/ RRP from EUR 32,450 | |
| Citroën ë-C4 | Delivery time five to 5.5 months/ RRP from EUR 34,640 | |
| Mazda MX-30 | Delivery time five to six months/ RRP from EUR 34,490, savings of up to EUR 13,169/ in leasing from EUR 100 | |
I don't have enough courage for a trip without any travel planning, you can see that I'm the more cautious type. So I check in advance where there are fast charging stations along the route. According to the manufacturer, the large EV6 battery is fully charged for 430 kilometers, I plan the first charging stop much earlier.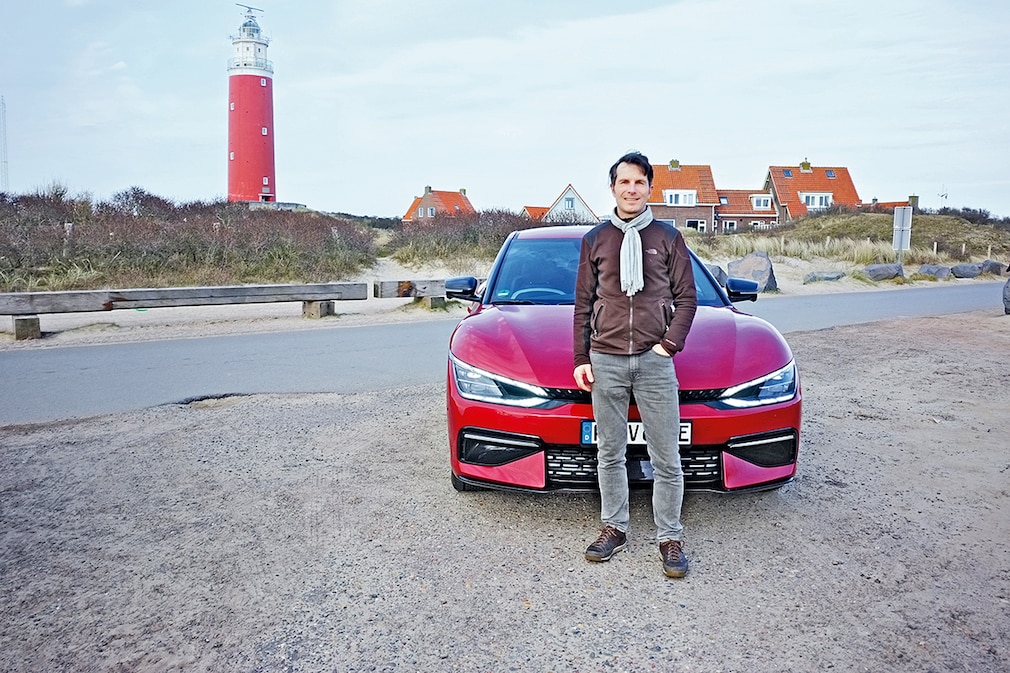 The holiday drive with the Kia EV6
We set off in Hamburg with a full battery. I want to see how economical the power Kia can be. Stroking the accelerator pedal, the spacious touring car needs only between 18 and 19 kWh per 100 kilometers at a speed of 110 on the motorway. After 360 kilometers I head for a fast charger in Holland – but it only offers charging with 50 kW. That's not a revelation yet, it takes 52 minutes to draw 42.63 kW at Fastned.
Because I want to arrive on the island of Texel with a reasonably full battery (there are no fast chargers there), I plan the next charging stop after 100 kilometers. This is where fast charging earns its name: With Shell NewMotion, the Kia draws 130 kW of electricity.
After 21 minutes, the Korean's battery is 80 percent full. The Kia has charged almost 40 kilowatt hours in this time, a strong performance! It gets even better later on the way home: A fast charging station in Oldenburg near Bremen pumps up the EV6 with up to 150 kW charging power in a fixed 24 minutes with 50 kWh. This is convincing, a coffee break is enough for charging on longer vacation trips.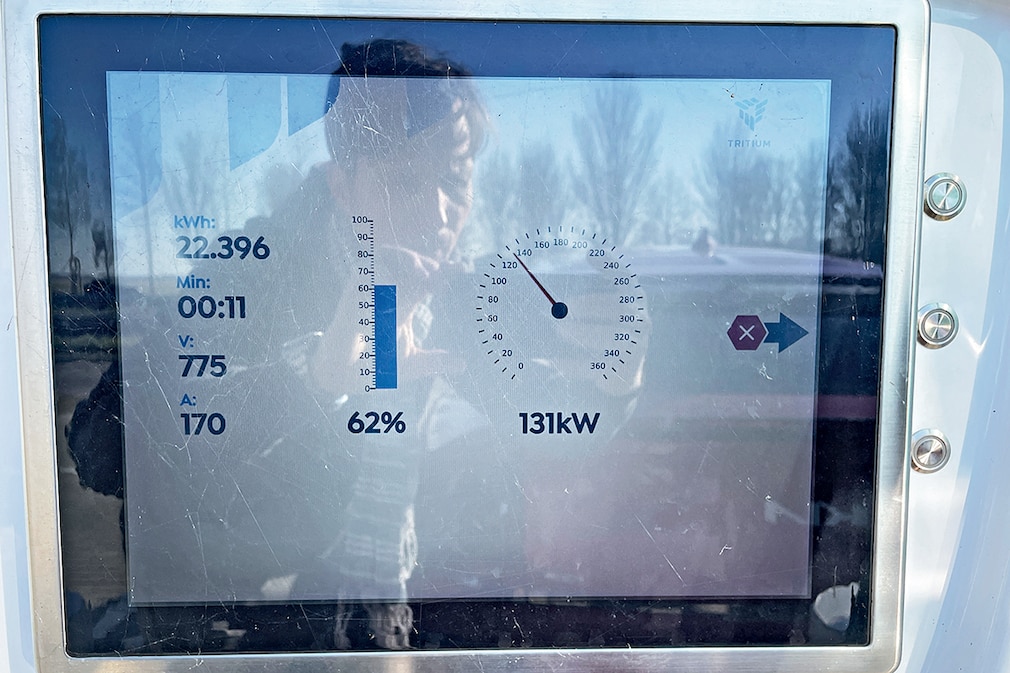 That's what the trip with the EV6 cost
And how much does fixed charging cost? Thanks to the charging card (Kia Charge Advanced tariff), a kilowatt hour in the Netherlands costs between 0.58 and 0.62 euros. Calculated over 100 kilometres, with a consumption of 18.5 kWh, this equates to electricity costs of just 11.50 euros. A petrol engine would have sipped fuel for 14.36 euros (consumption: 6.5 litres/100 km, price per liter in the Netherlands: 2.20 euros).
I don't want to compare the maintenance and inspection costs, E wins anyway. And in Germany? Here I could quickly charge for a slim 0.40 euros/kWh. For me it is now clear: From now on I like to travel cheaply electrically!