Cars
Kia Sportage (2022): first test of the popular Korean SUV
Is modern always better? We often ask ourselves that question. Again now. The Kia Sportage has become a household name now almost 30 years of construction has achieved a spotless reputation, firmly in the middle of the compact SUVs rooted. Because he's a decent guy all round, with down-to-earth driving characteristics and a no-frills appearance, he does his job just as well as he does inconspicuously.
Now there is one new generation at the start and looks fiercer than ever. There's also a lot of "newfangled" stuff in the new Sportage 1.6 T-GDI. The 48-volt electrical system with belt starter generator for example. Or a huge curved display for multimedia functions and more. Is it all just bling-bling or real improvement?
This is how he drives: emphasizes gently
Oops, nothing bounces here. The Koreans have the Sportage very soft feathers installed, the adaptive shock absorbers can not be made to tremble even by angular heels. At best, the 235 tires roll noticeably over rough surfaces. With visible body roll, the Kia sweeps around the corner – But it never gets nasty rocking. However, with plenty of momentum/loading and big bumps, the suspension sometimes bottoms out. The 1.6 turbo engine likes it casual, growling audibly to itself mechanically. Whole load? High RPM? Please not so often, here he chokes the last Newton meters out of his four cylinders with great effort.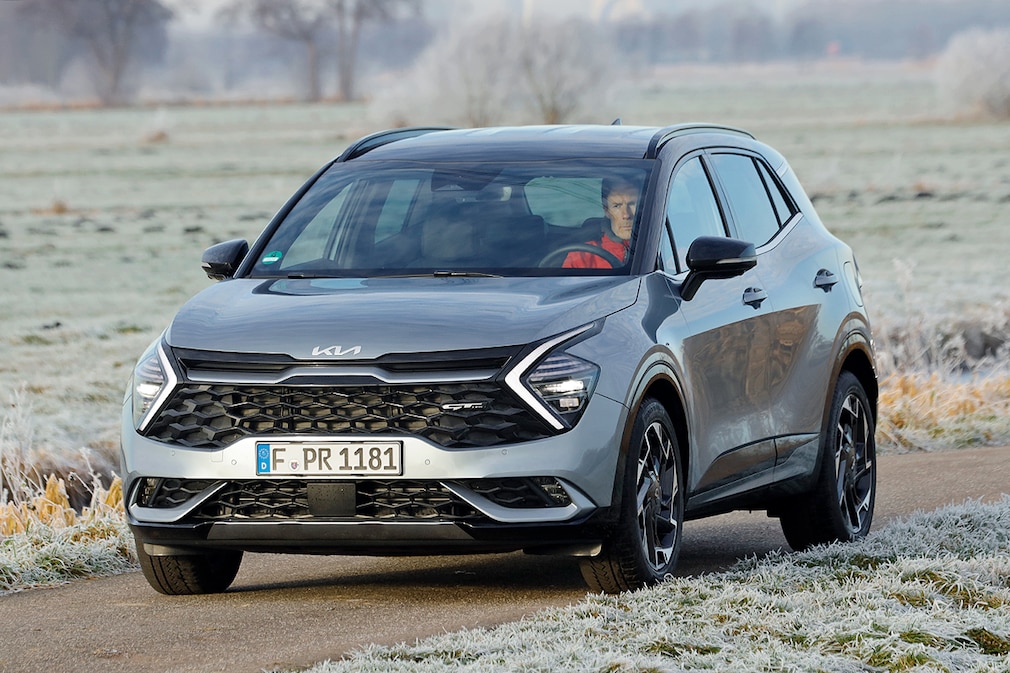 The gearbox could also use some fine tuning. Fast changes are noticeable, the automatic is not particularly fond of a shallow and finely dosed start-up, and in the case of more delicate acceleration maneuvers, the automatic sorts the gears in such a way that the Sportage seems unnecessarily fussy. He implements kick-down commands rather sleepily. Otherwise: The brakes are excellent both with cold discs and with plenty of temperature-controlled material, thanks to evasive behavior rigorous stability programming impeccable, the not too direct steering suits the weight and league. And of course, the traction stays thanks to the variable all-wheel drive error-free even on wet roads. Clean!
What it offers: lots of space
Seating position and lateral support of the very carefully sewn leather front seats vote (except for an unexpectedly short area), in the rear there's plenty of space and a comfortable bench with adjustable backrest angle. In all places, everyone is doing well. With plenty of assistance, the Kia guides you through everyday life.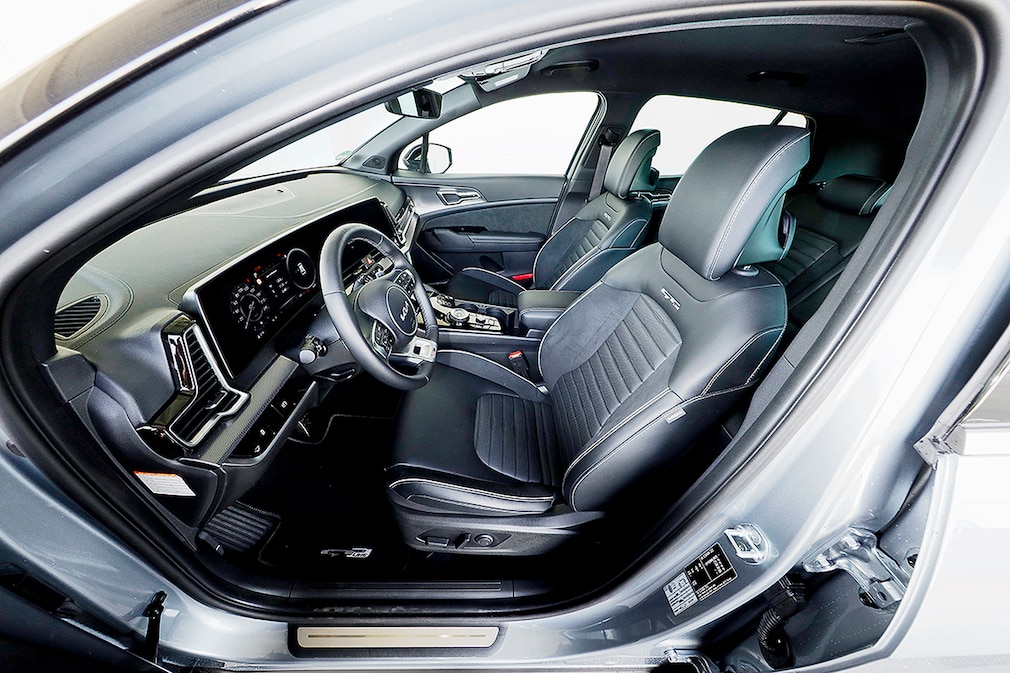 Extensive assistance systems, notchy operation

He works really outstandingly courteous blind spot warning. He uses cameras in the exterior mirrors to display images in the cockpit – it doesn't get any better than that. Driver displays themselves can be designed variably, and a classic clock layout with clear hands and large digits is also possible. Less useful: Kia occupies one of the very few key groups twice. So the driver has to switch (by touch!) whether he small mechanical knob below the main screen for temperature control or volume adjustment. Honestly, Kia, is there anything more complicated?
High price and lavish consumption
The hard summary first: The chic test car brings All-wheel drive and automatic are also standard with like the leather interior and also plenty of other comfort. But who still 19-inch alloy wheels, all assistance systems (1390 euros extra) and the big package for Navigation and smartphone connection orders, ends up with more than 48,000 euros! In addition: Despite the 48-volt electrical system, consumption is lavish (we determined 9.2 liters of Super). If you want less luxury: The 1.6 T-GDI is available from the Edition 7 equipment line for 27,790 euros. Seven year guarantee Kia always grabs it anyway.