Cars
Kia Sportage in the used car check: prices, strengths, weaknesses
While the clutch and steering joints wear out quickly on the Kia Sportage before model year 2016, the new one does not yet show any serious weaknesses – therefore it is expensive. The most important information for used car buyers from the AUTO BILD TÜV report!
Kia Sportage (type QL)

Construction time: 2016 until today
Engines: 115 PS (1.7 CRDi) to 185 PS (2.0 CRDi)
Price: from 13,600 euros
Occupant safety (Euro NCAP crash test 2015): 5 Stars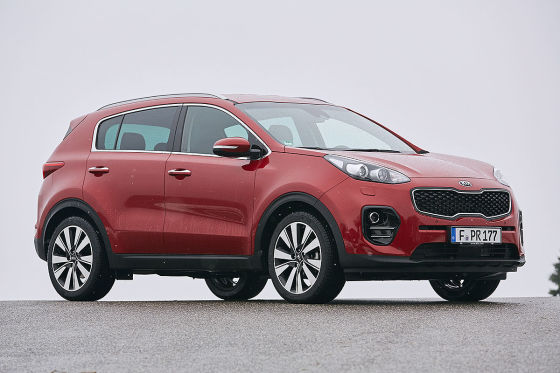 That's him: Not a cheap Korean homer: the 1.86 m wide and 4.48 m long SUV is firstly built in Slovakia. And secondly, with its lavish features, it is inexpensive instead of cheap. Generous: Kia's seven-year guarantee. The family SUV is more elegant than its predecessor, well processed, has a small turning circle, but modest all-round visibility.
He can do that:
Ensure happy faces on board on long journeys. Five people sit comfortably. The bearish 2.0 CRDi with 185 PS provides the necessary driving pleasure. In addition to this, two more diesels with 116 and 136 hp are available as well as two petrol engines with 132 hp and 177 hp. The all-wheel drive version is absolutely suitable for snow: Fourth place in the AUTO BILD ALLRAD winter test. For the 2018 facelift, the 2.0 CRDi was also released as a mild hybrid, with an automatic converter now with eight instead of six levels.

That causes trouble:
Little. In the AUTO BILD long-term test, he received the grade 1. The infotainment system is seldom troubled. Rear mufflers cost 900 euros if due. As is typical for an SUV, the brakes wear out faster than those of a normal station wagon. A recall in 2021 due to the risk of fire due to overloaded ABS / ESC control units in models without Smart Cruise Control.
Kia Sportage (type SL)

Construction time: 2010 to 2015
Engines: 115 PS (1.7 CRDi) to 184 PS (2.0 CRDi)
Price: from 4200 euros
Occupant safety (Euro NCAP crash test 2010): 5 Stars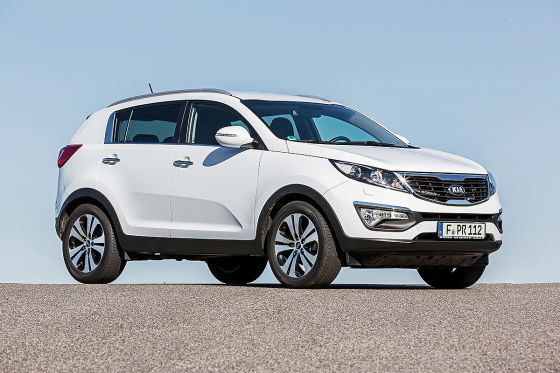 That's him:
Technically related to the Hyundai ix35 in the third generation, but stylistically more stylish. The beefy eye-catcher was developed in Germany, built in a modern plant in Slovakia, and drawn by ex-Audi designer Peter Schreyer. The independent design is at the expense of clarity.

He can do that:
Conveniently transport four people and their luggage: the chassis is comfortably tuned, and the workmanship is neat. The two-liter diesel available with 136 or 184 hp pulls through powerfully, consumes little. The more powerful diesel always drives all four wheels, otherwise front-wheel drive is also available. From 136 hp there is also a decent six-speed automatic transmission, and a facelift took place in 2014. Most important change: new four-cylinder gasoline engine with direct injection and 166 hp.
That causes trouble: Couplings that wear out too quickly. There were recalls about brake boosters and driver's seat belt tensioners. Older diesel versions up to April 2012 are not recommended; they stand out with engine damage. Malfunctioning engine controls or confused air conditioning systems also occur.

TÜV judgment
landing gear
There is a generation gap when it comes to axle suspensions. While the type QL is still below the class average, the predecessor slips into the red. The steering joints are criticized on both, and even more often on the SL. Springs / dampers, drive shafts and steering system are solid. Neither of them know about rust.

light
The type QL weakens at the first general inspection in terms of headlights and settings. With the SL type, the front and rear lights in particular are far too often dark.
Brakes
The biggest source of anger in this chapter is the parking brake function, it is objected to above average in both generations. The foot brakes are at the average level, and higher on the seven-year-old SL. Its brake discs also prove to be less durable. Top with all: brake lines and hoses.

environment
The examiners are pleased with the exhaust system: The current one has top marks
Sportage
, the predecessor also delivers. He is more often diagnosed with oil loss in the seventh year. The AU does not cause any problems.