Cars
Knaus Van I 550 MF: motorhome test
Everything that is narrow is now apparently called Van. So at least with the mobile homes. Partially integrated vehicles with a body width of almost 2.20 meters are called vans by many manufacturers, panel vans are often referred to as camper vans, and now the integrated vehicles are getting started. If only there were such a van trend in passenger cars too!
They're so much more practical, but there always has to be something to do with SUVs. However, such a van usually offers a much more efficient use of the traffic space that it takes up than other body types. Inside it always looks bigger than it really is outside. This is mainly due to its boxy shape.
And that's where we have the most important thing in common with integrated motorhomes. They convert the entire space that their chassis offers – from the front, which is still steeply in the wind in front of the engine, to the straight rear end. In between, everything is used for living.
Knaus Van I 550 MF: compact feel-good vehicle for four
This efficiency in the use of space is only topped by integrated vehicles that save a little on the width. Such is the new Knaus Van I. At 2.20 meters, it is over ten centimeters narrower than conventional integrated vehicles. And the 550 MF layout that we were traveling with is only 5.99 meters short.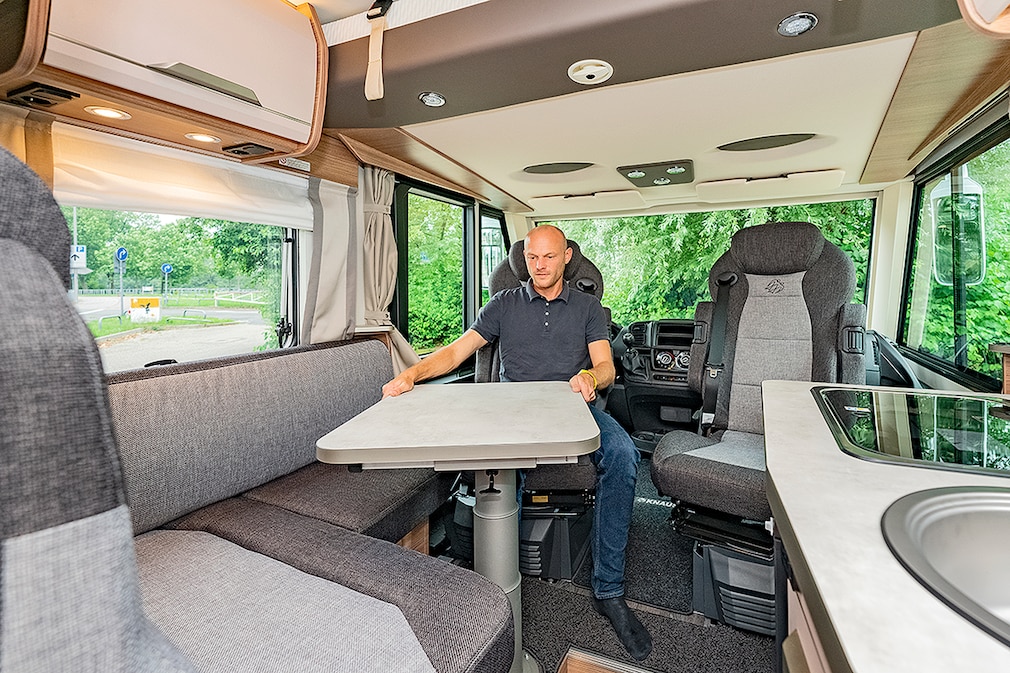 That's him: A very compact feel-good mobile for four. The easy-to-operate fold-down bed at the front is standard; underneath are the swiveling pilot's seats, which are adjoined by a cozy semi-dinette. The kitchen block is installed opposite on the passenger side. It doesn't offer much storage space, but everything else you need: fridge-freezer combination, stove and sink as well as a foldable worktop extension.
To the right of this, the entrance area with four coat hooks and a mirror forms the transition to the rear. This is mainly reserved for the comfortable bed, which is narrow in the foot area. Next to it is the shower room with bench toilet and slatted door as well as an open washbasin with many practical shelves. It is followed by a large wardrobe, on the side of which a TV can be installed (from 1195 euros).
Good standard equipment and various optional equipment packages

He has: Good standard equipment with two airbags, crosswind and emergency brake assistant, cruise control, air conditioning, cab blackout and the practical service box on the driver's side, in which the power and water supply are bundled. Optionally, there are various equipment packages such as "Media" (multimedia system, reversing camera, head-up display, 2280 euros), which always offer price advantages.
empty weight ready to drive/load (test vehicle)
Trailer load (braked/unbraked)
Wall/roof/floor thickness
Insulation wall/roof/floor
88 kW (120 hp) at 3500 rpm
Six-speed manual/front wheel
75 l/diesel + 19 l AdBlue
from 71,890 euros/83,571 euros
This is how he drives: Already pretty agile with the 120 hp base diesel. The noise insulation is efficient, the chassis tuning tight. Large panes and mirrors offer the best overview – together with the compact dimensions, maneuverability is perfect.