Cars
Lexus NX 450h+ (2022): Plug-in hybrid SUV under test
It should happen that he is whistled at. Don't panic, nothing sexist, we're talking about the new Lexus NX. The grill wildly jagged and huge – that's striking. And provokes. Especially the rather well-behaved German premium SUVs Q5, X3, GLC, which the NX is targeting.
With hardly any changes in external dimensions (length and width each plus two centimeters), 95 percent of the parts are new, says Lexus. The space is okay in the front and rear without being particularly generous, others in this class offer significantly more. The trunk is also below average at 545 to 1436 liters, as is the permitted trailer load of a slim 1.5 tons.
There is a nice atmosphere inside

The strengths of the Lexus are clearly in another area: the NX is elegantly furnished and processed carefully and with a love for detail. Nice atmosphere on board. The instruments are visually great, easy to read, offer a lot of information, and the menus on the huge 14-inch touchscreen are well structured, albeit very extensive.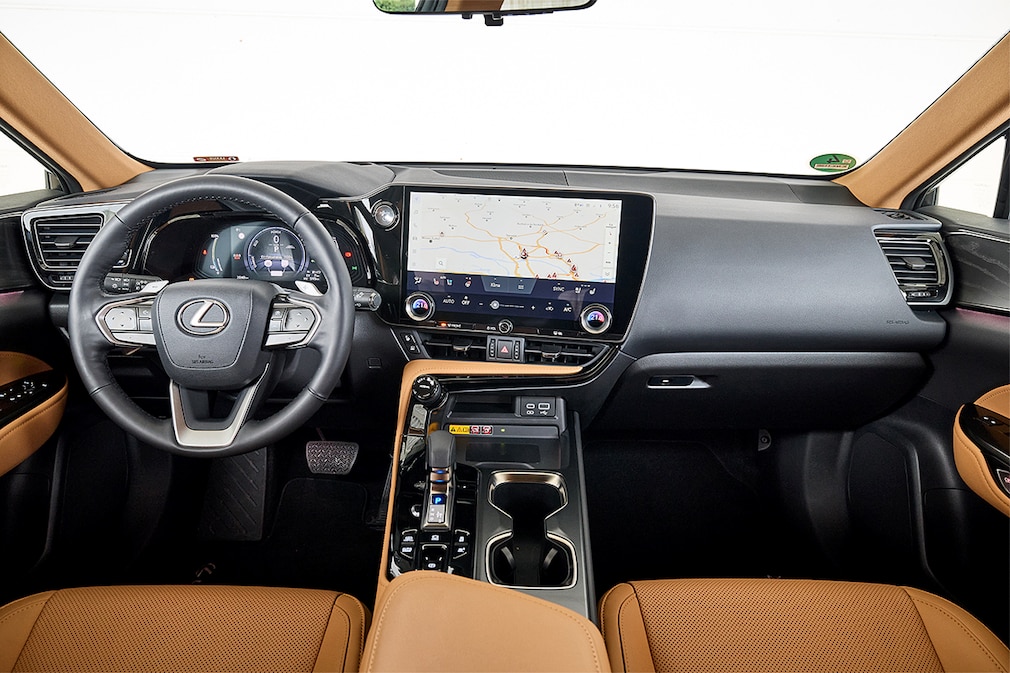 The nervous and multi-assigned sensor buttons in the steering wheel take some getting used to. Another special feature are the doors, which unlock electromechanically at the touch of a button – a bit unusual at first, but then very convenient.
Nm (combustion/E front/E rear)
Tank capacity/battery capacity
Trailer load braked/unbraked
Test car price*** (is evaluated)
1 electric motor each at the front and rear
stepless automatic (E-CVT)
Bridgestone Alenza 001 RFT
The NX is available as a 350h as a classic hybrid with 244
hp
and as the 450h+ as the plug-in hybrid tested here. The system consists of a 2.5-liter four-cylinder petrol engine with 185
hp
and two electric motors, front with 182, rear with 54
hp
, lithium-ion battery with 18.1 kWh and of course the Toyota planetary gear. The four-wheel drive is realized with the electric motor on the rear axle.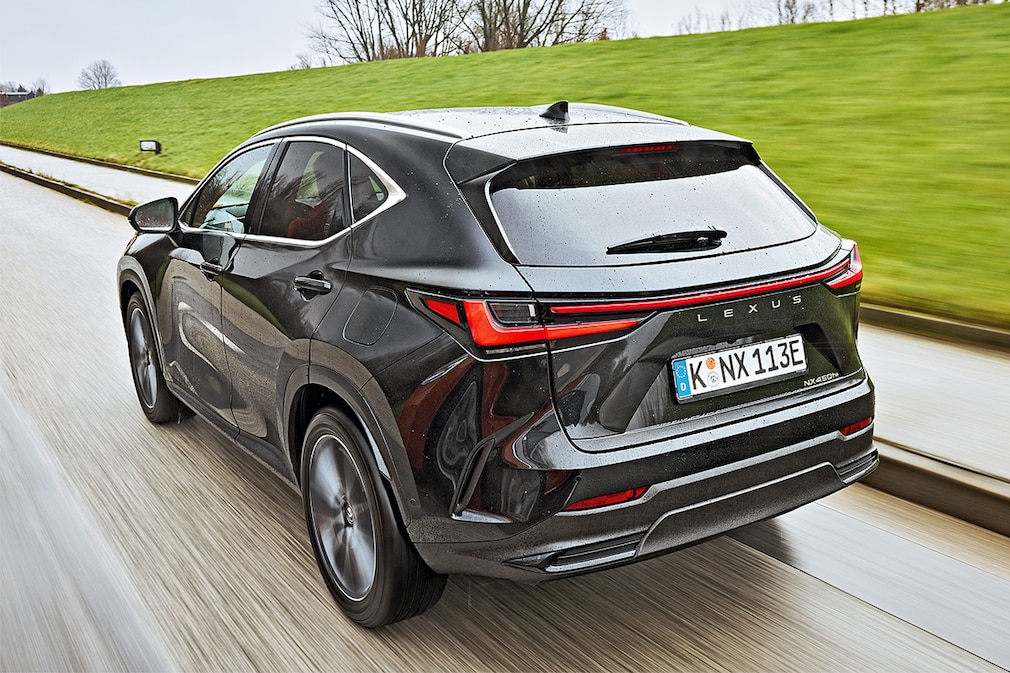 Purely electrically, 56 kilometers are possible

The system performance is 309
hp
, can be charged with 6.6 kW. Purely electrically, the NX managed 56 kilometers in the test, drives quietly and smoothly. If the petrol engine is added, the hybrid system, which is constantly being refined by Toyota, now reacts quite quickly to the gas, can be dosed well, and the transitions are smooth.
Front/rear weight distribution
Turning circle left/right
Power consumption (extrapolated)
test consumption
(60% Hybrid / 40% E share)
consumption with an empty battery
As always, you should get used to it and let the hybrid run, avoid hectic. Full throttle, for example, is acknowledged by the petrol engine with an agonized howl. If you trust the hybrid, you will be rewarded: The test consumption of 5.1 liters is really impressive.
Price: It gets expensive at the checkout

Because we're still talking about 309
hp
: The NX is quick when needed, the traction is very good, the 6.3 seconds for the sprint from 0 to 100 speak for themselves. The brakes, on the other hand, were not so great: the NX only stopped after more than 37 meters in the test. Like the BMW X3 30e (292 hp), the NX 450h+ only starts at 60,300 euros. That also provokes whistles…