Cars
Lights on the car: function, regulations, general inspection, fines
–
Car lighting: you need to know that
See and be seen: The lighting on the car is one of the most important safety features on the car. AUTO BILD explains all the facts about lighting to you – including the threat of fines in the event of violations.
Car lighting: These lights are on the car
Here is a list with all the important information about the different lights on the car:
Dimmed headlights: The low beam is white light shining forward. It not only serves to illuminate the street, but also for your own visibility. The low beam must be switched on at dusk, in the dark and in restricted visibility such as rain, snow or fog. Important: A light sensor can only differentiate between light and dark – in poor visibility or light conditions, the low beam often has to be switched on manually.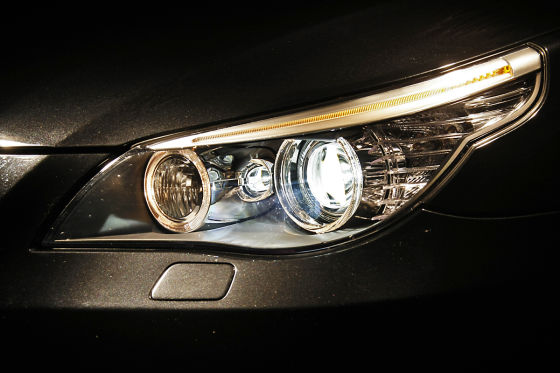 Xenon headlights usually emit a bluish-looking light.
© Dieter Rebmann
There are various technologies that can be used to illuminate the low beam. So-called bilux lamps can often be found in vintage cars. These are incandescent lamps with two threads that provide asymmetrical light. Halogen lamps were a step further in development. First came the H4 bulbs, a halogen lamp with two filaments. A little later the H7 incandescent lamp came on the market, a single-filament halogen lamp that, due to its different design, ensured better light output. Other single-filament halogen lamps are H1 and H3 incandescent lamps.
Car lamps
to offer

Osram Xenarc Cool Blue Intense NG (Xenon)

Price *: 159.00 euros

Osram Xenarc Night Breaker Laser (Xenon)

Price *: 112.79 euros

Philips Vision + 30% (H4)

Price *: 8.95 euros

CARTECHNIC (H4)

Price *: 9.99 euros

GE Megalight Ultra +90 (H7)

Price *: 18.99 euros

10x Luminizer 4040 HALO H7 (H7)

Price *: 15.29 euros
* Price: Amazon price on October 12th, 2021
If the low beam looks bluish, the car is usually equipped with xenon burners. Xenon is a gas discharge lamp that has a significantly higher light output and a longer service life. LED headlights are now installed in many new cars. The light-emitting diodes ensure an even higher light output and last even longer.
High beam: Compared to the low beam, the high beam continues to shine, illuminates the road better and enables the driver to see better in the dark. It may only be switched on if road users driving ahead or oncoming traffic are not dazzled. There is no obligation to switch on the high beam. But the high beam can also be used as a flasher, i.e. as a warning signal for other motorists. The switched on high beam is indicated by a blue symbol in the instrument cluster.
Daytime running lights: Since 2011, only cars with daytime running lights can be registered in Europe. However, at least in Germany there is no compulsory daytime running light – except for motorcyclists who also have to drive with their lights on during the day. In other European countries, daytime running lights are actually compulsory. As the name suggests, daytime running lights are used during the day in order to be better seen by other road users. Because, unlike the low beam, the daytime running lights are aimed at oncoming traffic and not at the lane. The daytime running lights only shine at the front and are not found in every car. Retrofitting is also not mandatory, but possible. It is only necessary to ensure that the retrofit lights are also approved, otherwise the car's operating license will expire. The parking light must not be used as a replacement for daytime running lights.
Fog lights: Fog lights may not only be switched on in fog, but generally in poor visibility conditions such as rain or snowfall. It doesn't matter whether it's day or night. They emit white or light yellow light and shine together with the low beam or (depending on the installation location) with the parking light. The exception is again for motorcyclists: they are only allowed to drive with the fog lights. But it is not mandatory to switch on the fog lights when visibility is poor. However, it is forbidden to use fog lights when visibility is good. While single-track vehicles such as motorcycles may be equipped with one fog light, cars are always equipped with two fog lights, but this is not mandatory either. The symbol for the fog lights lights up green in the instrument cluster.
Tail light: The tail light lights up red and marks the rear of the vehicle on the left and right.
License plate light: The license plate light shines white and, as the name suggests, illuminates the license plate so that it can be recognized by following traffic even in the dark.
Brake light: The brake lights are located on the rear of the vehicle and light up red as soon as the brake is applied. This allows other road users to see that you are braking. Vehicles as well as trailers must be equipped with two brake lights according to the road traffic regulations. The third brake light has been mandatory in cars since 1998, but there are still exceptions.
Reversing lights: Through the reversing lights, other road users can see that you want to reverse your car, and they also illuminate the way. They are activated when reverse gear is engaged. They cannot be switched on manually. Since 1987 it has been mandatory that a car is equipped with at least one reversing light.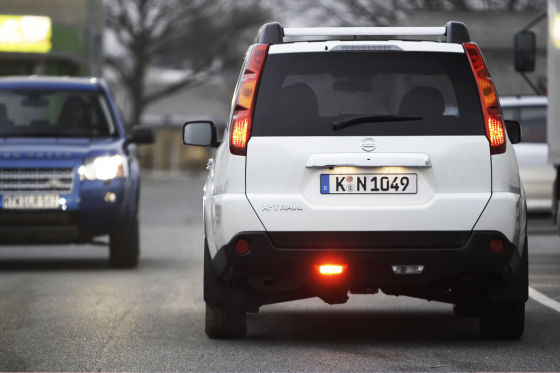 The rear fog light may only be switched on when visibility is less than 50 meters.
© Martin Meiners
Rear fog light: The rear fog light is located on the rear of the vehicle and emits red light. This light is stronger than a normal tail light and is intended to prevent rear-end collisions when visibility is poor. The rear fog light must be used when visibility through thick fog is less than 50 meters. For orientation: In Germany this is the distance between the delineator posts on the edge of motorways or country roads. The rear fog light is designed exclusively for fog and must not be switched on in any other situation. The symbol for the rear fog light in the instrument cluster lights up yellow. Important: If the rear fog light is on, you can drive at a maximum of 50 km / h!
Front and rear lighting
Indicator: The turn signal, also known as the direction indicator, is located on the right and left of the car and indicates a change in the direction of travel.
Hazard warning light: According to the road traffic regulations, the hazard warning lights may only be switched on if a vehicle has broken down or is being towed away. Both vehicles must switch on the hazard warning lights when towing. The hazard warning lights can also be used if you want to warn other road users of a danger, for example when the end of a traffic jam is approaching. Even classic cars have to be equipped with hazard warning lights; retrofitting is mandatory here.
Parking light: If a vehicle stops in a town where it is poorly lit or not easily seen, it must be made visible to other road users by switching on the parking lights. The parking light is either switched on via the turn signal lever, via an extra switch or switched on via the light switch and only lights up on one side of the car. However, there is no obligation, and not every car is equipped with parking lights.
Clearance lights: Clearance lights must be attached to vehicles that are wider than 2.10 meters. These include vans or mobile homes, for example. If a vehicle is between 1.80 and 2.10 meters wide, it can have clearance lights, but this is not mandatory. Vehicles less than 1.80 meters wide may not be equipped with clearance lights. Side markers can, however, be permitted.
These penalties are imminent in the event of improper use
Anyone who misuses fog lights faces a fine of 20 euros.
© Dieter Rebmann
If the lighting is not in proper condition or if it is used incorrectly, fines are quickly due. If a low beam is broken, a fine of 15 euros can be due. If you drive through a tunnel with parking lights instead of low beam or without low beam, 10 euros are due. If there is a hazard, the fine increases to 15 euros, if this leads to an accident, 35 euros are due. It is a little more expensive if you drive without the low beam, although the lighting conditions require it. Then a fine of 20 euros is due. If you endanger someone in the process, the fine increases to 25 euros, in the event of an accident even to 35 euros.
If you do not switch on the low beam in fog, snowfall or rain, 25 euros will be charged. In the event of a hazard, the fine increases to 35 euros and in the event of an accident to 60 euros. If the high beam is dimmed too late, you could face a fine of 20 euros. If the fog lights or the rear fog lights are switched on when visibility is clear, a fine of 20 euros is due. If this results in a hazard, the fine increases to 25 euros, if an accident occurs as a result, 35 euros are due. If the hazard warning lights are misused (e.g. parking in the second row), the fine is 5 euros. If no hazard warning lights are installed, the wallet is reduced by 15 euros.
Lighting during the main inspection
Lighting is still one of the most common reasons a car fails the general inspection. Defects in the lighting such as defective lamps, broken or blind lenses or an incorrect setting are significant defects and therefore automatically lead to failure. Basically: Everything that is present on the vehicle must function properly and be set. In addition, only lamps with an E-mark may be retrofitted, otherwise an entry is necessary so that the vehicle's operating license does not expire. In order to adjust the headlights correctly, it is advisable to go to the workshop. The adjustment of headlights must be carried out on a standardized, leveled parking space, sometimes special tools or software are required. During the light weeks, the lighting system of a car is checked and adjusted free of charge in all participating workshops.