Cars
Like the Polo Harlequin: Porsche Taycan Cross Turismo Art Car
Do you remember the VW Polo Harlequin? The colorful small car that looked like a mobile spare parts warehouse? Originally intended as a marketing gimmick, the Polo became an unexpected success in the 1990s – 3,800 units were produced. Today the Polo Harlequin are sought-after collector's items. Now Porsche has presented a Taycan Cross Turismo that is inevitably reminiscent of the colorful VW. The Art Car should remain a one-off!
The colorful Porsche Taycan 4 Cross Turismo was designed by designer Sean Wotherspoon. The 32-year-old, who became famous above all for the Nike Air Max 97/1 shoe he designed and now works with Adidas, has a penchant for bright colors and eye-catching patterns – which can hardly be overlooked in view of his Taycan.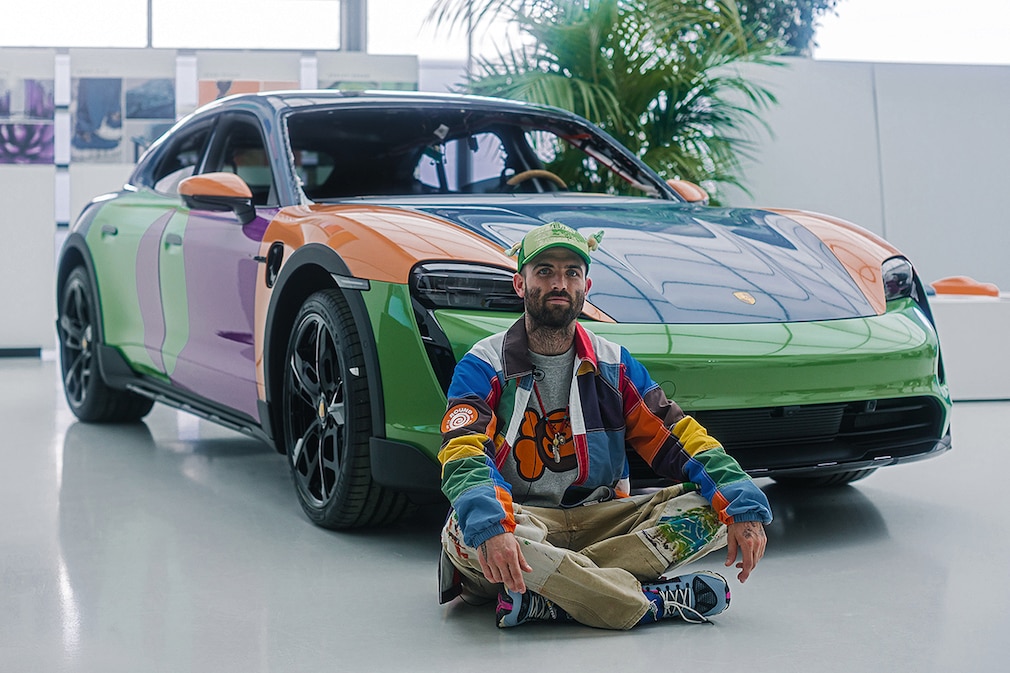 The color finding process was complex, because Wotherspoon is not satisfied with run-of-the-mill colors or materials. "When I look at something, I question how I can change it and take it to a new level," he explains. In several sessions in the design studio in Weissach, colors and patterns were tried out on a digital vehicle using virtual reality.
Ultimately, Wotherspoon sent Pantone codes to Porsche, which were then able to replicate the colors. A nice touch: the specially blended tones ("Nash Blue", "Sean Peach", "Loretta Purple" and "Ashley Green") are named after family members of the designer.
The interior is even more spectacular than the exterior

The electric Porsche designed by Wotherspoon and with a maximum of 350 kW (476 hp) was shown for the first time in March 2022 in Texas, now we can also take a look at the interior – and it is at least as eye-catching as the exterior: Green, blue and Purple leather meets cord and cork there.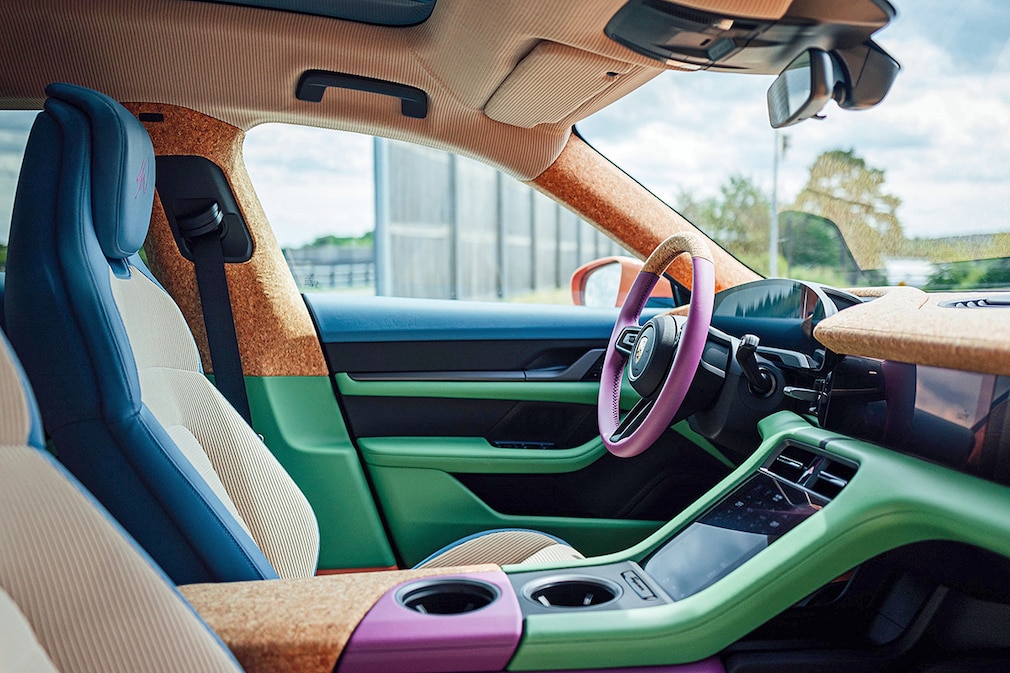 The materials, which are unusual in car construction, were adapted at the special request of Wotherspoon, who also regularly uses cord and cork for his collections. The processing of cork on the top of the dashboard, the armrest, A, B and C pillars as well as the steering wheel and the floor mats posed a number of challenges even for the Porsche upholsterers. They were already able to gain experience with the cord fabric in "Atacama beige" on the seats and headliner with the 911 (992) special model Targa 4S Heritage Edition.
Hardly any limits when it comes to customization

With this Art Car, Porsche impressively shows that there are now hardly any limits to individualisation. As part of the Design Manufaktur special request program launched in 2021, customers should have even more design freedom in the future. And who knows, maybe the colorful Taycan will not remain a one-off after all. After all, the VW Polo Harlequin was never intended as a production model.