Cars
Lucid Air Dream Edition: The e-car drives so brutally and economically
Shortly before Pescadero, where America ends and the Pacific begins, there is finally an end to restraint. "Holy Fuck!", that's all I can say. Full of rapture. The car just won't stop accelerating. The road in front of me is getting narrower and narrower, the sea on the right a blue stain, the coming curve a promise.
A look at the speedometer. No highway patrol, please. Just under 70 km/h, a brief twitch of my right foot, suddenly a good 200. In what? five seconds?
My life flashes by like Highway 1 in my car window. My driving life. 35 years, 25 of them professionally. Hundreds of models, very fast, very beautiful, many electric, some fascinating.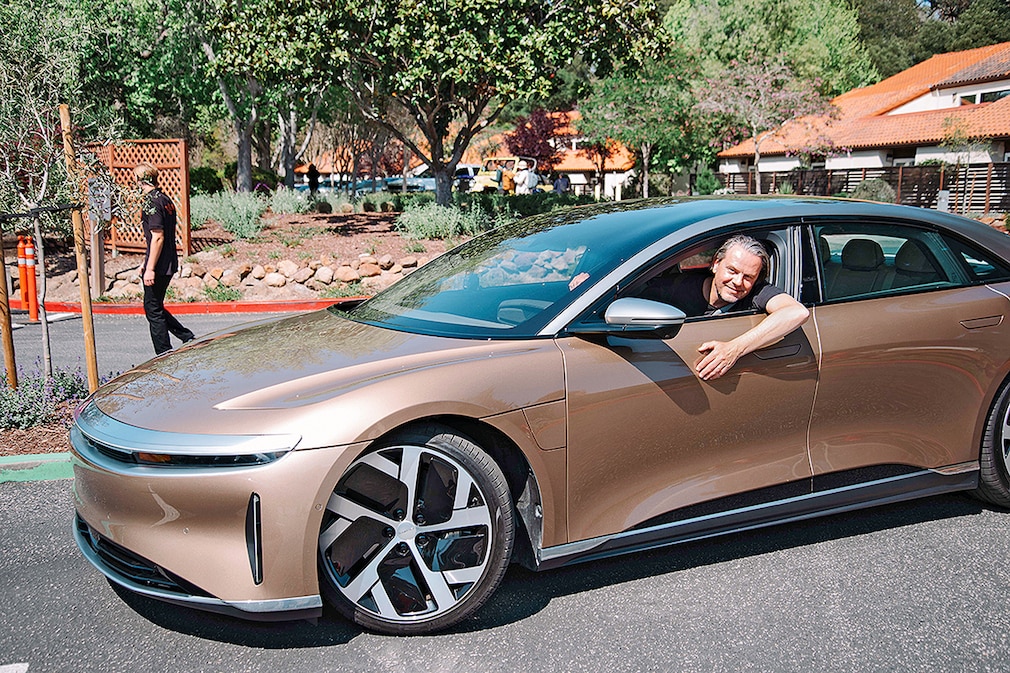 And now this: Lucid Air Dream Edition Performance. Five words for a hallelujah. The ride of my life. It leads from Lucid Motors' headquarters in Newark, California, through Silicon Valley, along the Pacific Coast Highway and along the winding, hilly Route 9 back through the forest. 263 kilometers of pure driving pleasure – in almost every car.
The 118 kWh battery is good for 721 kilometers

But especially in this one. One electric motor per axle, together 1111 hp. A drive like a small miracle: compact, light and, above all, ultra-efficient. The energy in the 118 kWh battery is sufficient for up to 721 kilometers (according to strict US calculation EPA).
If I had the 19-inch wheels on it instead of the 21-inch wheels – it would be 753 kilometers. And in the "Air" version with slightly less power, the range is even 832 kilometers. "The Mercedes EQXX study only exists because of us," Lucid boss Peter Rawlinson tells me before I get in.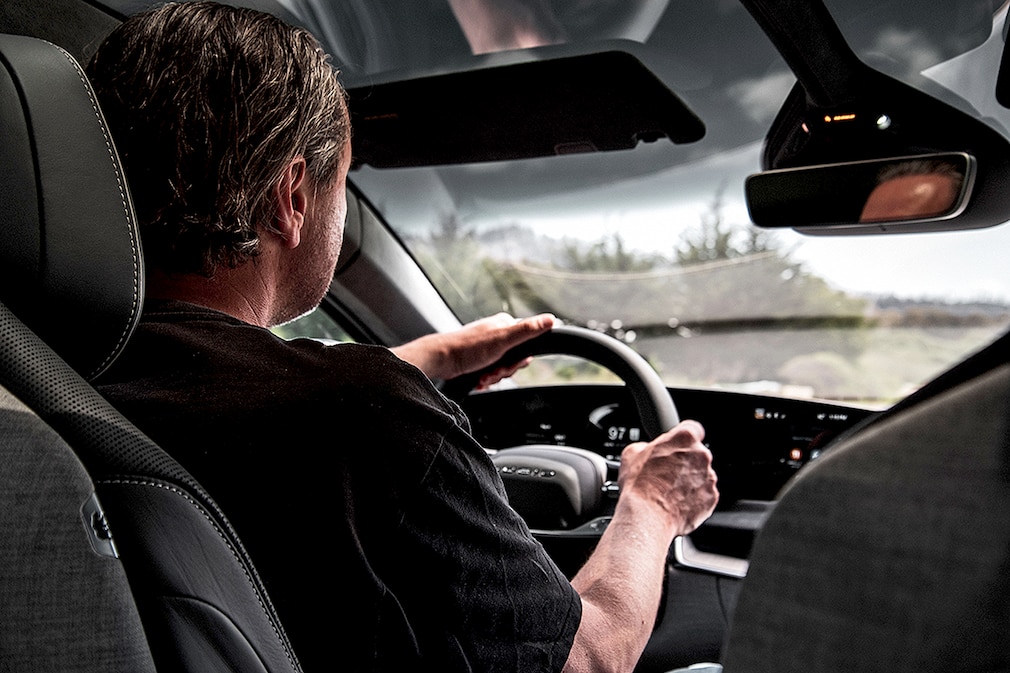 Lucid – that's mostly four men. The Brit Peter Rawlinson, boss and head of technology, is considered the father of the Tesla Model S. Design chief Derek Jenkins once drew the Mazda MX-5. The German chief engineer Eric Bach learned his trade at VW. And head of production Peter Hochholdinger also came from Tesla.
Lucid is financed primarily by the Saudi Arabian state fund. The Saudis just ordered 100,000 Air. This one is enough for me today.
The fun starts at $169,000

I sit in front of a slightly curved 34-inch instrument under a huge glass roof and drive the bridge over San Francisco Bay. I hear loud wind noise on the A-pillar and think: $169,000?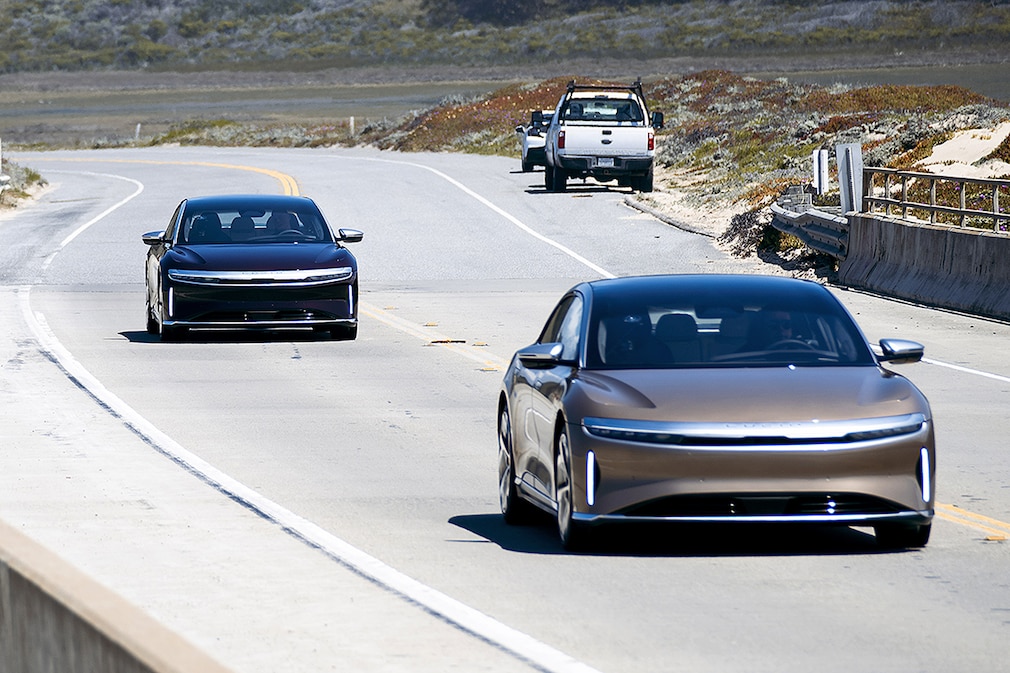 In addition, the bold decorative stitching behind the cockpit is reflected in the windshield. But the consumption (shown in kilometers per kWh on the display) is impressive. Converted to 14.3 kWh/100 km.
Acceleration is powerful and effortless

The steering is still a bit lacking in feedback, but that changes when I leave the "Smooth" driving mode and switch to "Swift". Suddenly, the five-meter sedan is as agile as a sports car. Especially when accelerating from 80 km/h upwards, I'm already dying of saliva.
I'm wondering: What happens if I put it on "Sprint"? I first have to confirm this speed level, which releases the full 1111 hp, on the touchscreen. What I then experience is a force that is different than in a Porsche or Bugatti: powerful, but effortless, casual. And consumption rises to just under 30 kWh at a speed of 200 km/h. What an Air experience!
I can drive the Lucid like a real sports car and roll around the next corner like a luxury sedan. On the country road in Swift mode, the Air feels shorter and lighter. Bounces around tight corners like a roadster, accelerates out like a supercar. The announcement that there could theoretically be an Air version with three motors at some point scares me a bit.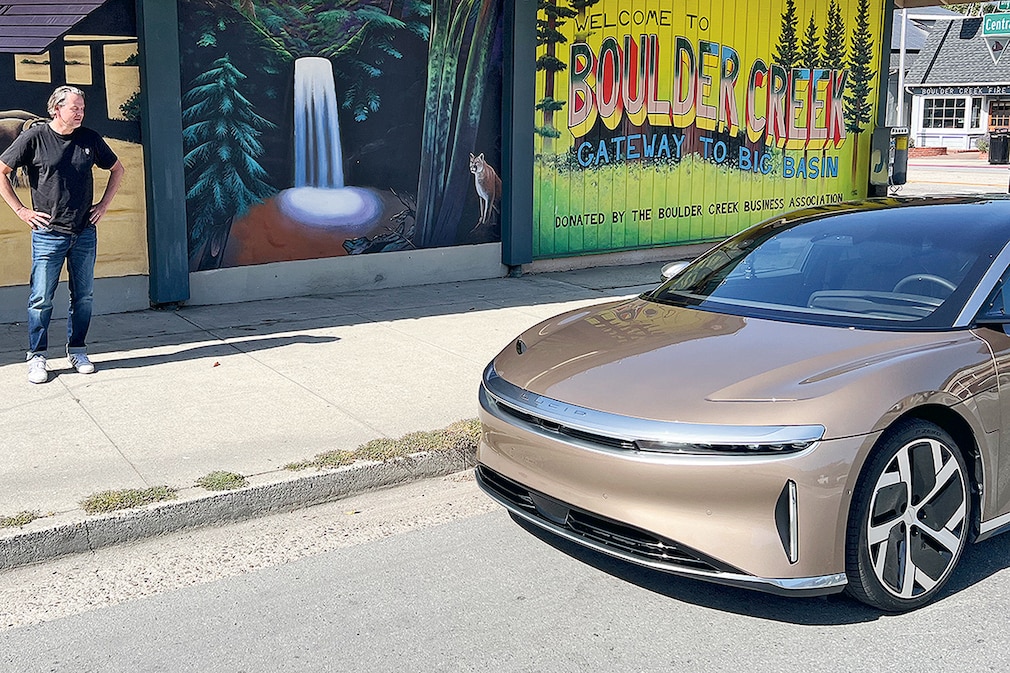 It can be charged with over 300 kW

Break at Pescadero. I charge it briefly for a photo, but the battery is still almost full. The charging power of the Air is enormous: ideally over 300 kW. The 924-volt electrical system ensures that the Air could cover a distance of 480 kilometers in 20 minutes. Bidirectional charging also works. So it's no wonder that Eric Bach christened the onboard charger "Wunderbox".
In Pescadero I meet a man named David Beswick in a café. He can't believe he's seeing a Lucid in the wild. A few hundred have been sold so far; the Lucid plant in Arizona is also suffering from the chip shortage, pandemic, war.
"I've already ordered it, it will replace my Volvo," says big, strong David, who still has endless space in the Air. Audi A6 dimensions, but A8-L space, that's how they measure it at Lucid. In addition, the driver assistance system "Dream Drive Pro" with lidar, radar, camera, a total of 32 systems.
Lucid Motors will start in Germany in 2022

"Today we challenge Mercedes," said Peter Rawlinson after my return. "But from 2025, when we have finished our much cheaper mid-size sedan after the Gravity SUV, then we will attack Tesla."
Also in Germany. Lucid Motors will join us later this year. The first showroom has just opened in Munich. The ride of my life, it's getting a sequel.
This trip was supported by Lucid. You can find our transparency and journalistic independence standards at go2.as/independence.