Cars
Mazda CX-60 e-Skyactiv PHEV AWD: the plug-in hybrid SUV under test
They build complex engines at Mazda. We've known that since the introduction of the Skyactiv-X drives. This robust petrol engine with the diesel ignition is amazing. Now the next stage is already burning. And we rub our eyes again. In the brand new CX-60 there is much more than a small ball of flame in the combustion chamber.
The plug-in concept (actually new territory for Mazda) with 327 hp system performance, for example. There is also an eight-speed automatic transmission with an oil-bath clutch, and the 175 hp electric starting aid is located on the transmission input shaft.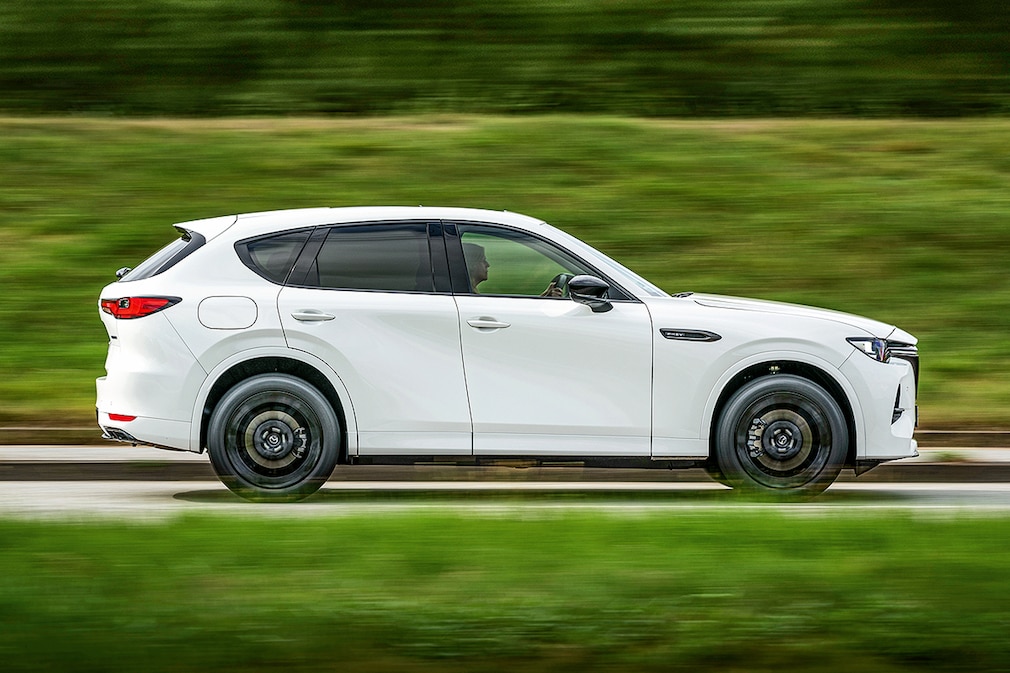 At the same time, the Japanese install a 4×4 system that is derived from rear-wheel drive. Mazda also wants to prevent increased roll tendency in curves via special kinematics of the rear axle and targeted braking intervention.
performance of the combustion engine

Basic price (before funding)

Test car price (is evaluated)

front lengthways, electric motor in front

141 kW (191 hp) at 6000 rpm

50 l/super/electric current

4745/1890 – 2134**/1686mm
Face recognition regulates the adjustment of the seats, and a camera system simulates an x-ray view over the front hood. So it's very clear: The CX-60 is complex, fully networked, lavishly protected by driver assistance and, thanks to a wheelbase of 2.87 meters, is particularly spacious. Sounds like a perfect all-rounder. Let's put it this way: perfectly special.
In terms of consumption, it should be less

Because the real consumption is too high for an all-rounder. On our test lap with a fast motorway portion, the 2nd
.5er
of the CX whopping 9.4 liters Super per 100 kilometers. Too bad: that
SUV
allows a maximum charging power of 7.2 kW when charging with electricity – so it takes two and a half hours to fill the empty batteries.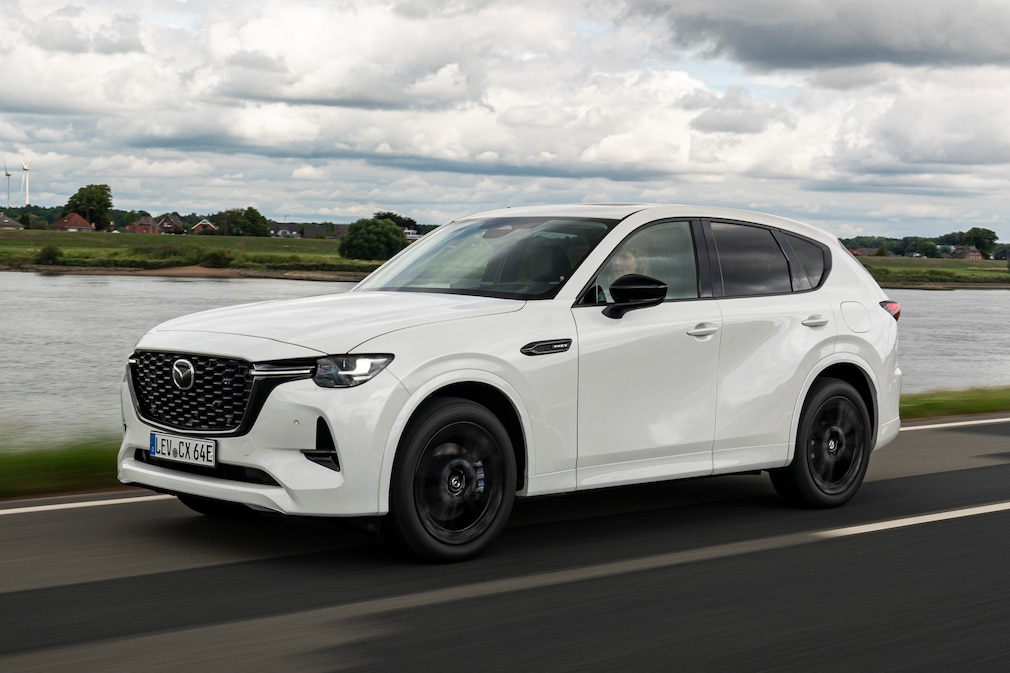 On the other hand, the drive mix of electric and petrol engines feels pleasantly powerful. Sure, the curb weight of 2.1 tons can't quite hide the 500 Newton meters of torque. But a good six seconds for the sprint to 100 km/h is impressive in this class.
Weight distribution v./h.
Turning circle left/right
Power consumption (extrapolated)
test consumption
(60% hybrid, 40% electric share)
consumption with an empty battery
At full acceleration, the engines are plentiful to hear, but under light load it is pleasantly unobtrusive with a shallow buzzing sound. However, the constant buzzing from the electrical path is irritating.
We also noticed that gear changes should be smoother in purely electric mode and when driving with moderate acceleration. Again and again, obscene jerks from the automatic can be felt. Other guys from the 50,000 euro league can do that better.
The chassis has pitfalls

The suspension also works reluctantly on roads with frost or edges, the large 20-inch wheels roll over such heels with stiff reluctance – a constant tremor in the interior is the result.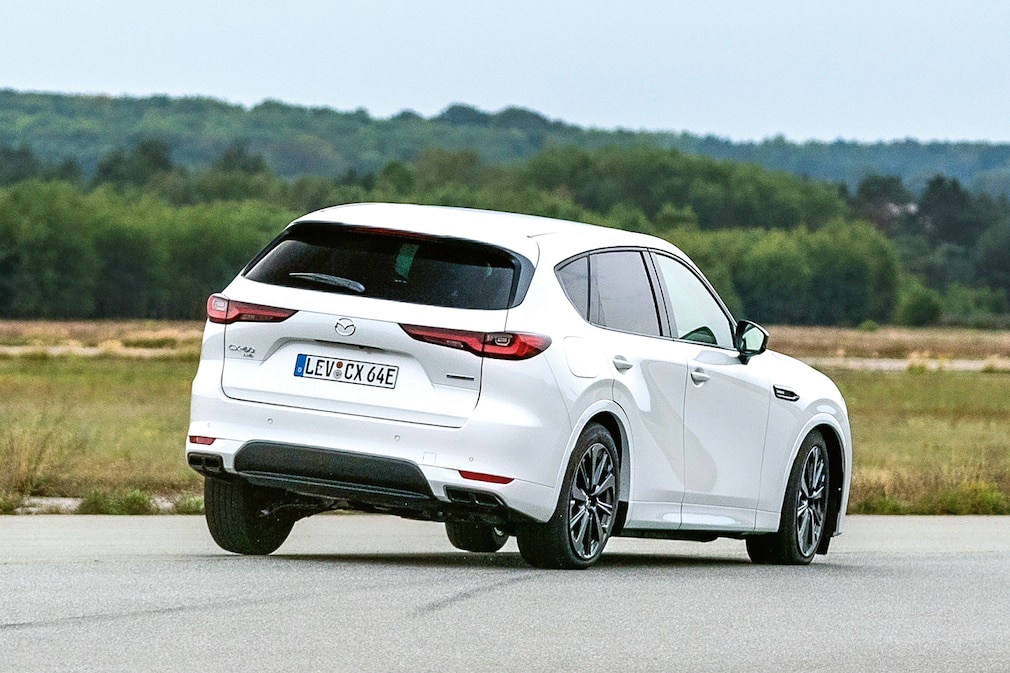 Much more tragic: Rough bumps bring the 60s completely out of step. Here, the rear of the car springs out too much and too quickly, vibrates, can hardly calm down, and even loses contact with the ground relatively soon. A fatal property as soon as such waves shift into a curve.
Inexperienced drivers could be overwhelmed

Thus, the CX-60 gets a big point deduction in the driving safety section and Mazda has a clear recommendation from us: Please get the shock absorbers on the ball! When dodging, a lightning-fast, pleasantly well-dosed ESP keeps the 2.1-ton truck on track. However, load change reactions in curves lead to an unnecessarily wide-angled rear end.
The steering works American-feeling, a bit doughy in the reset and almost too pointed at high speeds. In addition, our marking tests have shown that the CX-60 tends to have a remarkably strong steering oscillation. This means that inadvertent directional impulses on the freeway can put inexperienced drivers in quite threatening situations. (See also Mazda's statement at the end of the article.)

There is a feel-good atmosphere in the interior

Small consolation: the big Mazda behaves more courteously towards its passengers. Because the trick of bringing Japanese feel-good philosophies into the interior fits perfectly.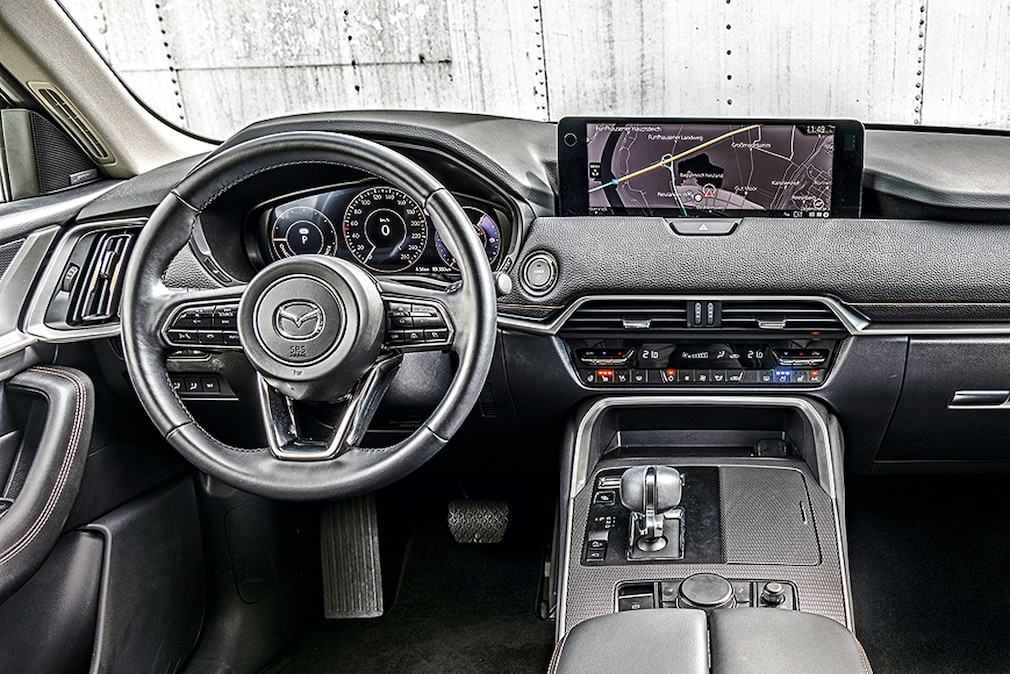 In fact, you quickly got used to the interior, orientated yourself between the three displays and snuggled up to the cleanly shaped backrests of the front seats. We particularly like the logical operating system – including the pleasantly clear climate control.
Lots of space, good sense of space thanks to the high interior width. Short front seats, uncomfortable rear bench.
Gasoline and electric motor acoustically present, elastic and strong in combination. Shift jerks noticeable.
Moderate steering, despite active kinematics noticeable body roll, overall heavy driving experience.
Full assistance only at extra cost, high level of multimedia equipment.
High car weight, usable electric range, high e-consumption in practice.
Despite short surfaces pleasantly shaped seats, overwhelmed suspension on bumps.
Basic model cheap, but poorly equipped with assistance. Six year guarantee.
Also there is a fixed button that selects the drive mode menu. So you can quickly find important settings such as the safe mode, which regulates the battery capacity while driving and maintains it if desired. In the rear, it is also spacious to match the exterior length – but Mazda has carelessly shaped the rear bench.
Let's summarize at this point: a modern, large car with lots of technology on board, tamed by clever assistance, quick to move, quiet and luxurious. So priceless? no
Mazda sells the "simple" CX-60 plug-in hybrid (Prime Line) for 47,390 euros. We could live with that very well, a BMW X3 xDrive30e with 292 hp starts at 62,150 euros. However, the CX-60 should be upgraded with additional packages for assistance and luxury – makes an additional 4400 euros. The lavishly decorated top model Takumi is then available from 56,250 euros.
That's what Mazda says about the conspicuous driving behavior
We confronted Mazda with the striking handling of the CX-60. The manufacturer came to our test site with a second test car to get an accurate picture of it on site. Mazda's statement:
"Mazda's development standards and test procedures are based on the requirements of the market and the responsible authorities with regard to the performance of vehicles. These development standards and test procedures are comparable to the test processes of AUTO BILD. In a detailed comparison, the test processes of AUTO BILD are based on the knowledge of Mazda, however, to more extreme driving maneuvers and operating conditions that push vehicles to their limits.We regret to note that some of such extreme driving maneuvers have led to a driving behavior of the Mazda CX-60 PHEV that was not expected by AUTO BILD, which led to a point deduction for this part of the test. Mazda takes this feedback very seriously and will take AUTO BILD's test processes even more into account as part of the continuous product improvement of the Mazda CX-60 and future vehicles in order to continue to offer Mazda customers the best possible driving experience." (Jochen Münzinger, Director of Press and Public Relations Mazda Motors Deutschland GmbH)