Cars
Mazda2 vs. Mazda3 in comparison: One size larger fits better
Mazda wants to go up – the CX-60 that has just been presented shows how this should go: fine workmanship, flowing shapes, modern multimedia. The Mazda3 also took this path in 2019. It looks high quality down to the last detail, with full-clicking buttons in the interior, good noise insulation and a standard head-up display. The available space seems less important, it quickly gets tight in the back.
Selected products in tabular overview

| | | | |
| --- | --- | --- | --- |
| | Mazda Mazda3 e-Skyactiv-G 2.0 Selection | RRP from EUR 27,690, savings of up to EUR 4,289 | |
| | Mazda Mazda2 e-Skyactiv-G 115 Sports Line | RRP from EUR 23,390, savings of up to EUR 3,134 | |
The Japanese have not only positioned the Mazda2 a class lower – it has also been on the market for seven years. And that is noticeable insofar as the old Mazda world still rules here. Means: Simpler materials, outdated infotainment, the doors in particular seem a bit thin. At that time, Mazda took lightweight construction very seriously, which also affected the noise level. The trunk remains small at 280 to 950 liters, but the two weighs only 1073 kilograms.
The smaller engine is livelier

And lightweight construction remains trumps: With its 115 hp from 1.5 liter displacement, the little one looks wide awake, accelerates to 100 km/h in 9.1 seconds. And dances so carefree and jagged through town and country that the driver often smiles at the lips flits. Consumption is moderate at 5.9 liters, and a mild hybrid has recently helped.
The two-liter vacuum cleaner in the
three
runs consistently quieter and less excited. The driving performance is worse despite a little more power (122 hp) – no wonder, the three brings 300 kilograms more on the scales. In the partial load range, however, it runs wonderfully smoothly and only vibrates slightly when two cylinders take a break.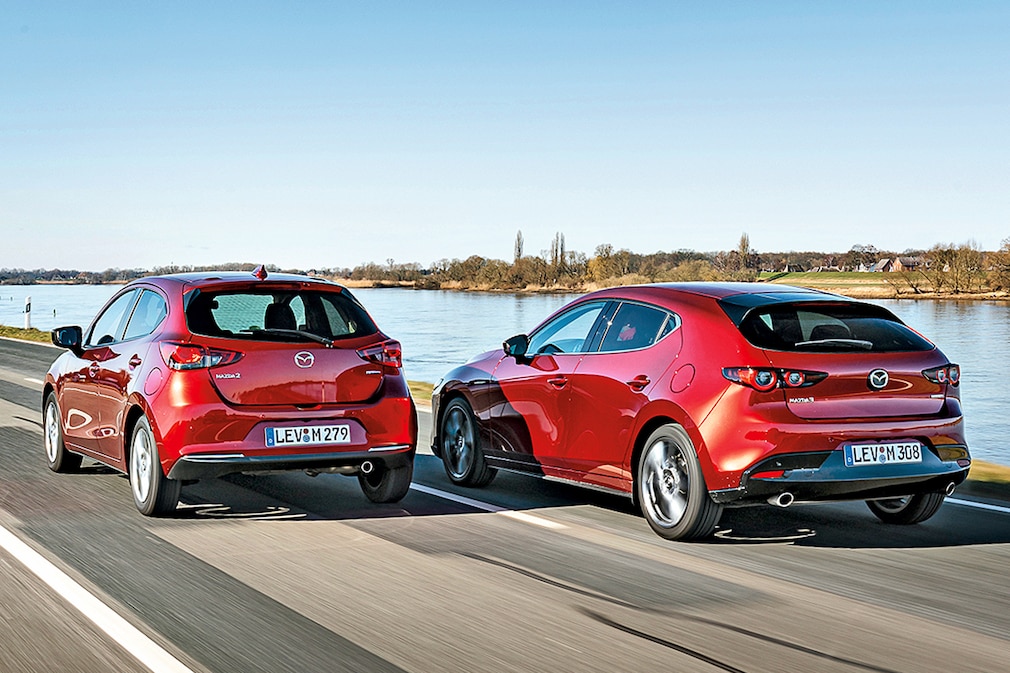 There is more to the Mazda3 chassis

We can only complain about the long gear ratio, which subjectively paralyzes the threesome. Too bad, the agile chassis and the feedback-friendly steering would even do with significantly more power. Consumption of seven liters is clear, and a small electric motor also helps here to save.
In the end, the small comes too close to the big in terms of price to knock him off the throne. The 115 hp engine in the two is only available as an expensive Sports Line (from 23,390 euros). For 25,890 euros in the base, the three simply offers more car for the money.