Cars
Mercedes-AMG C 63 SE Performance: Really with a four-cylinder?
The V8 is history! The fact that the new generation of the Mercedes-AMG C 63 comes with a four-cylinder hybrid has long been no secret. Now the C 63 SE Performance is here – with 680 hp and 1020 Nm but only half the cylinders. The question arises: How much C 63 is in the new?
● new C 63 SE Performance is a hybrid
● is offered as a sedan and station wagon
● Four-cylinder turbo plus electric motor
● Combustion engine delivers 476 hp
● System power 680 hp and 1020 Nm
● 0-100 km/h in 3.4 seconds
● Top speed 280 km/h (Estate 270 km/h)
● Fully variable all-wheel drive 4Matic+ series
● Rear axle steering standard
● drives up to 13 kilometers purely electrically
C 63 S is longer than a normal C class

The optics fit! At the front, the new C 63 is thick. Panamericana grille, large air intakes and a hood that now has an additional air outlet between the power domes. Of course, flared front fenders should not be missing. Other AMG ingredients are side skirts, C 63 logos with a red background, diffuser, spoiler lip and four square exhaust pipes.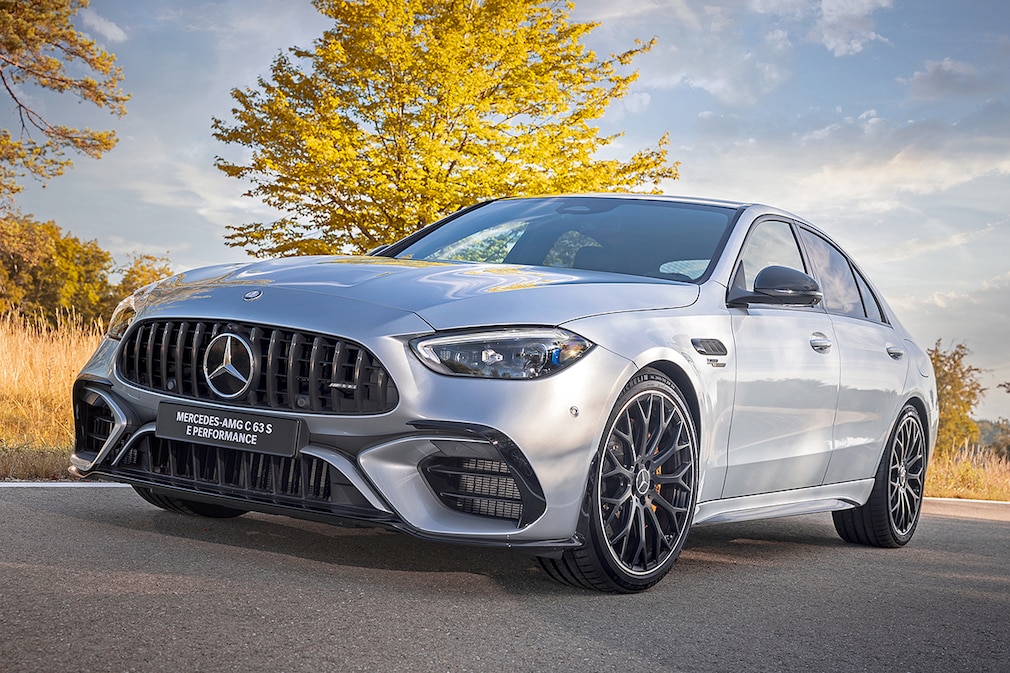 However, even die-hard Mercedes fans will probably not notice the biggest innovation until they take a second look: they have adapted the bodyshell for the C 63 S in Affalterbach. The front is five centimeters longer and 7.6 centimeters wider than that of a standard C-Class. Overall, the sedan and estate are each 8.3 centimeters longer and have a wheelbase that is one centimeter longer. This effort was made to accommodate the new drive unit. When asked whether there would not have been room for a V8 in the engine compartment, Mercedes-AMG CTO Jochen Hermann replies that a V8 in the new C 63 would simply not have been up to date.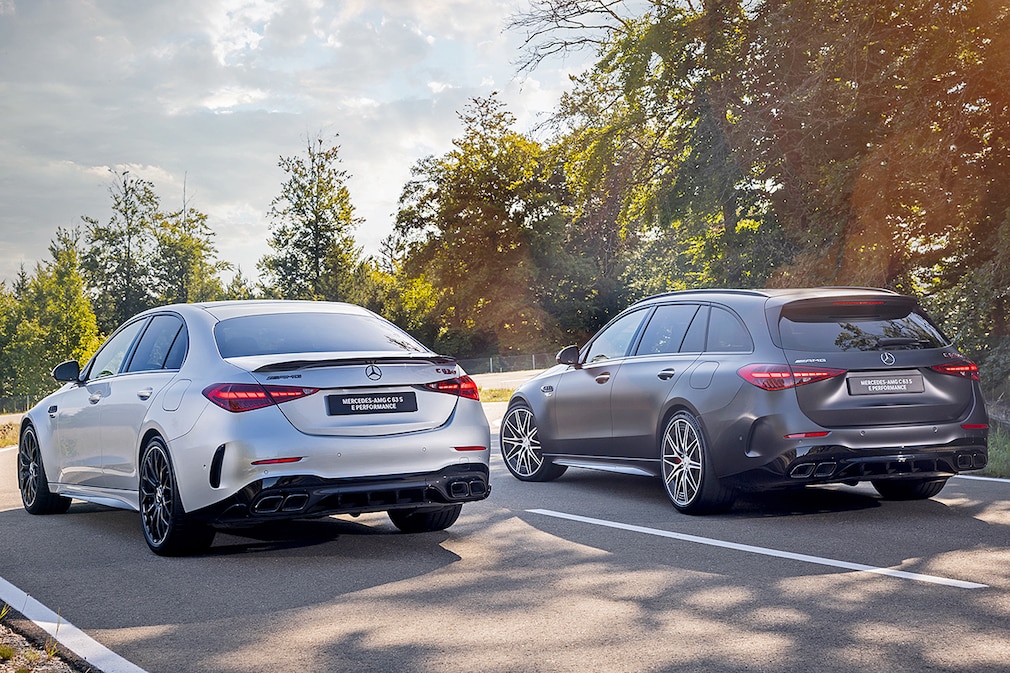 Four-cylinder turbo plus electric motor

Instead, AMG opted for a combination of a four-cylinder turbo at the front and an electric motor on the rear axle. All in all, the hybrid delivers a massive 680 hp and up to 1020 Nm system performance, making it much more powerful than all the competitors in this class!
The four-cylinder turbo produces 476 hp and 545 Nm. The two-litre engine familiar from the A 45 S is installed longitudinally in the C 63 S (M 139l) and is supercharged by an electric exhaust gas turbocharger. This not only makes it the most powerful series four-cylinder in the world, but also just as powerful in terms of horsepower as the discontinued C 63 without S but with V8 (which, however, had more torque).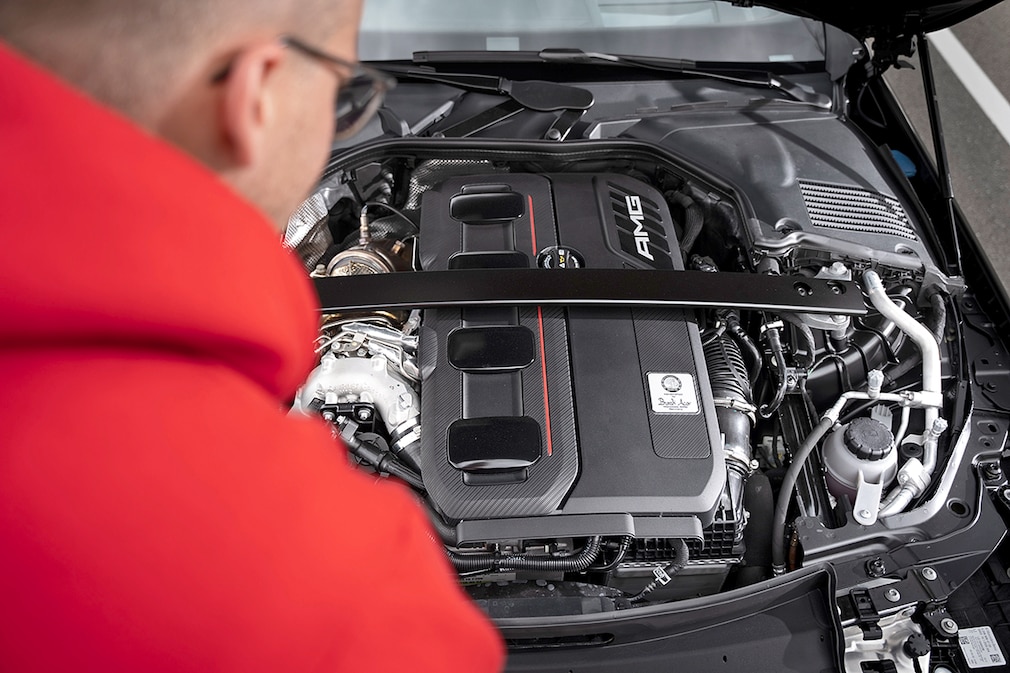 0-100 km/h in just 3.4 seconds

In addition, the new model has a 150 kW (204 hp) electric motor, which is placed on the rear axle in a so-called EDU (Electric Drive Unit) together with an electric two-speed gearbox and an electronically controlled rear axle locking differential. It sounds complex, and it is. Important: The fully variable 4Matic+ all-wheel drive and active rear-axle steering are standard. Armed in this way, the saloon and estate accelerate to 100 km/h in 3.4 seconds and achieve a top speed of 280 km/h (270 km/h for the estate), provided the AMG Driver's Package is ordered. Also in this respect the new one is a real C 63!
The C 63 S can also drive electrically

On the other hand, it is completely unusual that the C 63 can now also be driven fully electrically – a full 13 kilometers. Not much, which is because the 6.1 kWh battery is mainly intended for extra boost and not for maximum range.
However, the hybrid called P3 by experts does have one major disadvantage: it is anything but light. With EDU, all-wheel rear-axle steering and more, the C 63 SE Performance ready to drive weighs 2111 kilos (T-model 2145 kilos) – that's more than a current S 500 weighs (2045 kilos). (The Mercedes C-Class W 205 used car check!)
New AMG performance seats

In the interior, the innovations are kept within limits: for the top model, there are yellow stitching and the optional AMG performance seats of the second generation (we already know them from the C 43), which recently have breakthroughs, as we also know them from BMW , feature. There are also specific AMG and hybrid displays for the MBUX. Everything else is known from the normal C-Class.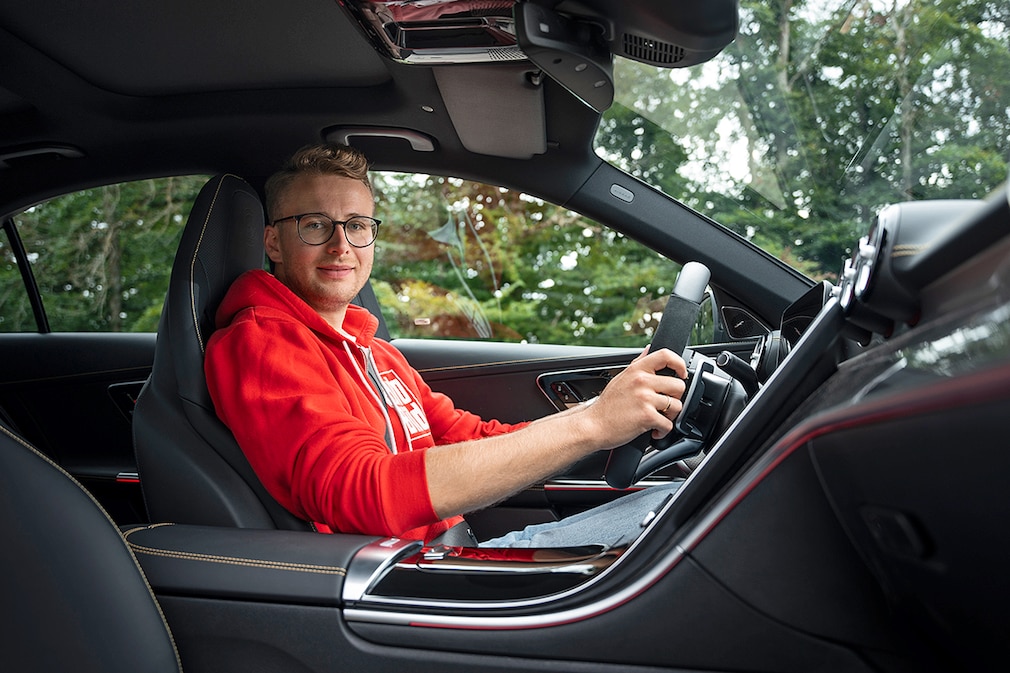 How much will the new C 63 S cost?

Finally, there is the question of the price for so much highly complex technology? Officially, AMG is not revealing anything yet, but we assume that the base price of the C 63 SE Performance will be in the six figures. For comparison: An Audi RS 4 Avant with 450 hp is available from dealers from 86,500 euros, the BMW M3 Competition xDrive costs at least 96,800 euros and has 170 hp less than the upcoming C 63 S. Incidentally, there will no longer be an entry-level model without an S . That's as much history as the V8.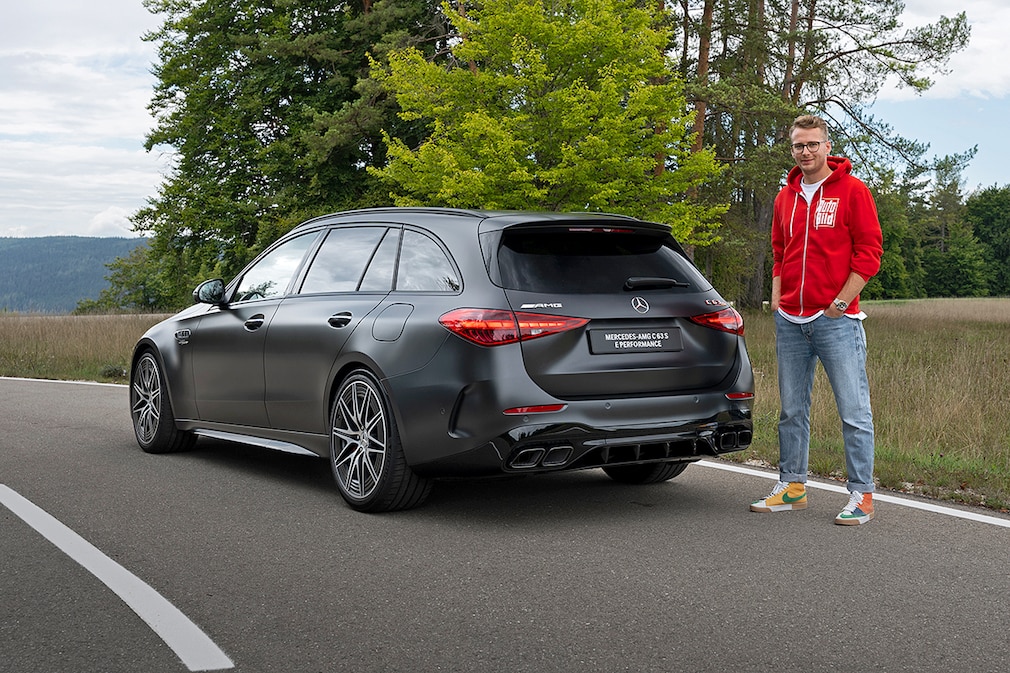 Conclusion by Jan Götze

Let's finally summarize: The new Mercedes-AMG C 63 SE Performance looks like a real C 63, feels like a real C 63 in the interior and has more power than ever! So everything the same? Not quite, after all, an AMG is naturally also about emotions, and the big question is whether they also come across with a four-cylinder. During the photo session, we weren't able to get an idea of ​​the sound, because the C 63 rolled back and forth electrically – quite unusually.