Cars
Mercedes-Benz SL 500 (R 231): extremely powerful tuning SL on eBay
If you are looking for a Mercedes for a really grand entrance, you should definitely read this article. An SL 500 of the R 231 series is offered for sale on eBay, which is much more than just a roadster with a star. The Daimler was extensively refined.
At first glance, some might think of the Mercedes SL as a classic car hung with chrome, which a grey-haired gentleman in a polo shirt likes to drive cautiously at vintage car rallies. Not so in this case! This SL, with its darkened, evil looks, would look much better outside a nightclub or in a music video.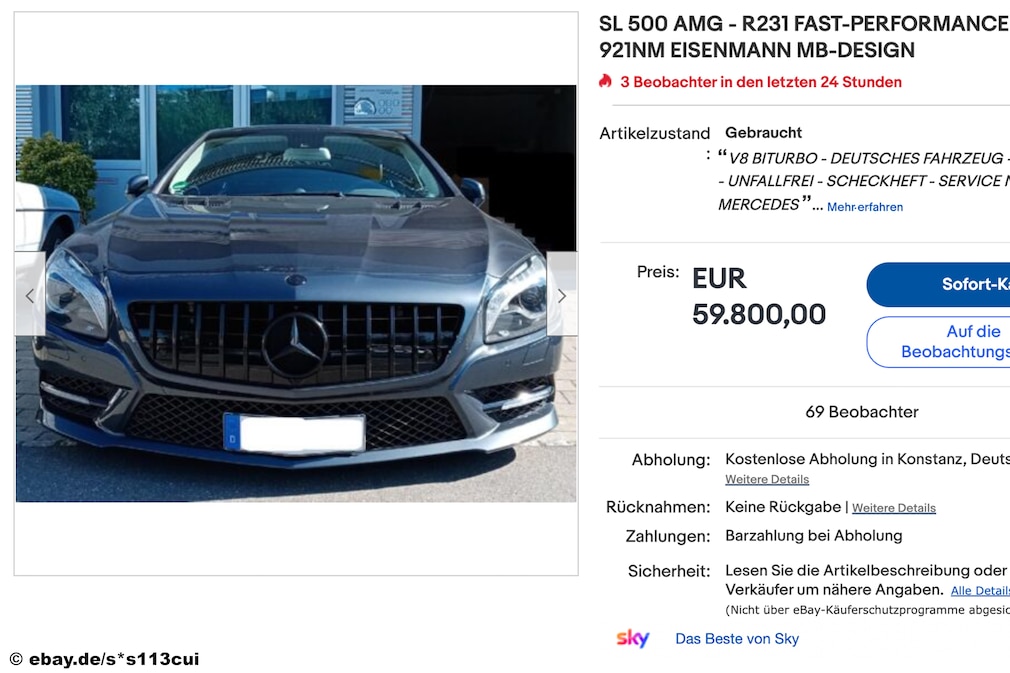 Not only is this SL unique, it appears to have been well cared for

According to the information, an AMG styling package with a front apron, side skirts, a rear spoiler and a rear apron is responsible for the unique look. In addition, the SL has been given a stainless steel exhaust system by Eisenmann. The V8 biturbo delivers 523 hp and has a torque of 923 Nm.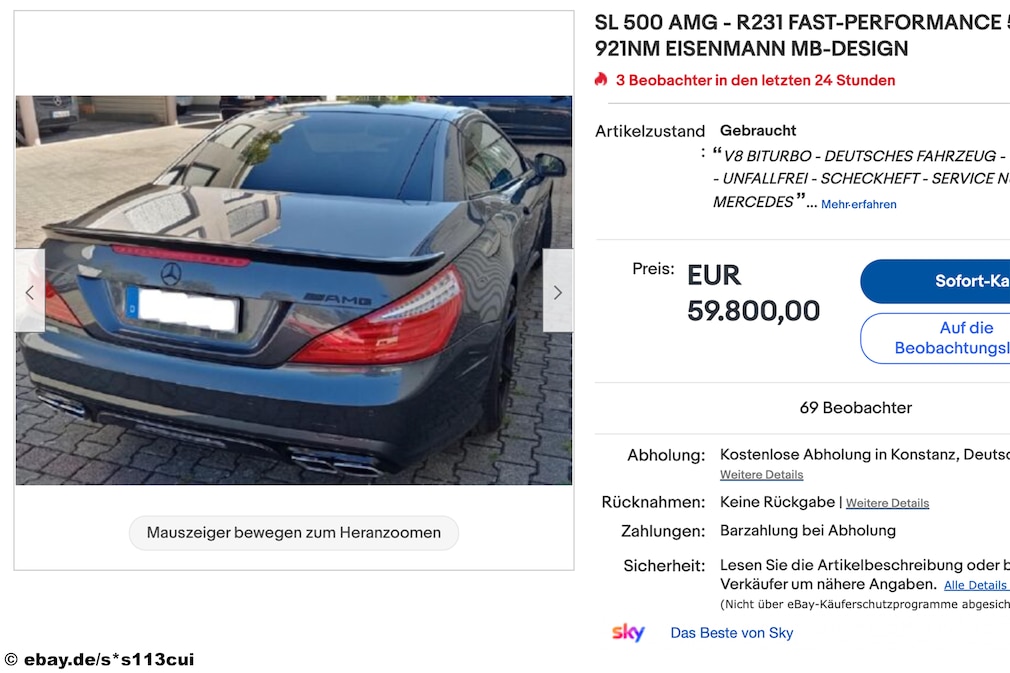 The seller describes the advertised Benz as very well maintained. It is a German first delivery with two previous owners and original letter. The Benz is accident-free and has apparently always been serviced by Mercedes. 96,000 kilometers are on the clock and there is a checkbook. Price: 59,800 euros.
You should know that about the Mercedes SL R 231

The video included (below) explains the most important things about the R 231 SL series. The sleek Daimler had one thing in particular at its market launch: slimmed down. SL originally stood for "Sport-Leicht" – and before 2012 nothing was light on the luxurious Benz anymore. Then the R 231 came along and showed that clever diets don't have to have anything to do with cutting corners when it comes to equipment.
The sixth generation of the Mercedes SL is not necessarily for those who appreciate delicate elegance. The 2012 SL comes across as quite massive and already indicates its power when stationary. In the interior he knows how to convince with soft leather and comfortable seats. Some have felt as safe as in Abraham's lap and didn't want to get out at all.

This SL is also a luxury car with complex technology on board. The electrics don't necessarily seem to be the chocolate side of beautiful Swabia. If you cross-read forum entries, it becomes clear that potential buyers should be particularly careful here. The same applies to the engine and transmission. The care that has gone into the powertrain should be apparent.
When making a specific offer, it should be checked exactly which modifications were carried out by whom and how professionally. This also relates primarily to the engine. The specified condition of the vehicle sounds attractive. But the machine has a few horsepower more than in the standard condition and a pretty heavy torque. At best, a professional should have been responsible for this.