Cars
Mercedes C 55 T AMG: used car test, station wagon, repair costs
–
Used car test: lust and vice with the Mercedes C 55 T AMG
As a youngtimer, the fast Mercedes C 55 T AMG is affordable. What good is the steam hammer at the polo price? The used car test.
S.
pass costs. This rule also applies to powerful used vehicles. Reduced to the sheer utility value, a C 55 AMG Estate can actually do nothing better than a 200 CDI from the same series.
Driving performance, image and exclusivity
instead set the tone. Our test vehicle cost a new one
once a proud 72,285 euros
– S-class level! Now he would be
for 14,900 euros
. But there is an athlete disguised as a family suit. Only connoisseurs will notice the elaborate
Front end extended by eight centimeters
and draw conclusions from the powerful four-pipe exhaust system about the 5.5 liter V8 vacuum cleaner with 367 hp under the hood.
While the current C-Class has arrived in the downsizing and hybrid age, 17 years ago the C 55 was unabashedly drawn from the full. The driving experience of the V8-C-Class is more spectacular than the bare performance data suggest. The Benz growls and picks up speed. 5.4 seconds are enough under full load to reach 100 km / h, Tempo 200 can be reached after 19.3 seconds.
A
C 55 T

can also be enjoyed in everyday life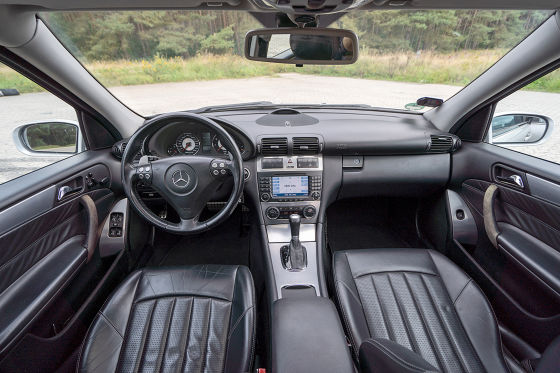 Classic C-Class cockpit with sporty AMG regalia. Ergonomics and material appearance are good.
© Kai-Uwe Knoth
In the fifth and last gear of the AMG Speedshift automatic, the reins are electronically applied at 250 km / h. But there are also unlimited vehicles on the market, the The speedometer extends prophylactically up to 320. In the high-speed range, the AMG-C-Class equipped with ASR and ESP does not feel unsafe at all. However, high rubber and fuel consumption are the order of the day. A new set of tires on the rear axle should be realistically planned for the torque monster per season. and under ten liters nothing works even with a gentle driving style. Still, you can get a C 55 T. also enjoy in everyday life. The sports seats fit like a glove, all built-in interior parts are remarkably hard-wearing.
Technical specifications
engine
Eight-cylinder / front lengthways
Valves / camshafts
4 per cylinder / 4
Displacement
5439 cc
power
270 kW (367 hp) at 5750 rpm
Torque
510 Nm at 4000 rpm
Maximum speed
250 km / h
0-100 km / h
5.4 s
Tank / fuel
62 l / Super Plus
Gearbox / drive
Five-speed auto / rear wheel
Length Width Height
4526/1728/1440 mm
Trunk volume
470-1384 L.
Empty weight / payload
1695/505 kg
This only applies to a limited extent to the sheet metal quality of the body. Although the 203 series became much more durable from the 2004 facelift, rust aging C-Class often on wheel arches and sheet metal seams. The rear axle carrier is particularly critical on the underbody, but Mercedes is accommodating in the event of rust problems.
Maintenance and repair costs are tough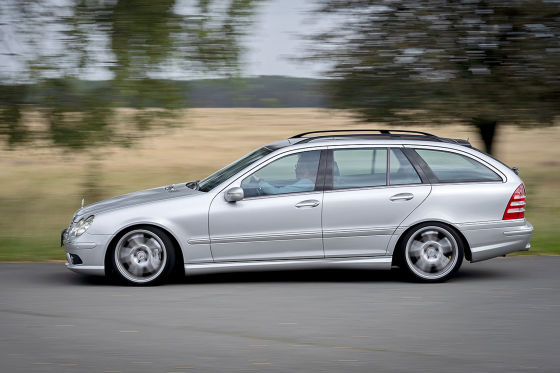 Noble exotic: only 595 units of the express station wagon were produced.
© Kai-Uwe Knoth
The space is roughly equivalent to a modern compact class station wagon. The fact that the suspension looked extremely uncomfortable in our test should also be due to the retrofitted accessory sport springs lie. Numerous AMG C-Classes experienced this and grosser tuning sins, what one careful examination before buying strongly recommended. A Paint thickness protocol is also useful to find out about possible previous damage. The passenger side of the photo vehicle was repainted due to scratches, and the roof was wrapped in black. On long journeys, the permanent low-frequency hum of the exhaust system can have a penetrating effect. Nevertheless, the C 55 T is an exciting exotic.
costs
Entertains
Test consumption
13.7 l SP / 100 km
CO2
293 g / km
inspection
500-900 euros
Liability (18) *
712 euros
Partially comprehensive (26) *
969 euros
Fully comprehensive (26) *
1753 euros
Motor vehicle tax (Euro 3)
371 euros
Spare part prices **
alternator
1322 euros
Starter
617 euros
water pump
779 euros
Timing belt
not applicable, timing chain
Silencer (duplex)
2955 euros
Front left fender, painted
732 euros
Brake discs and pads
710 euros
* Axa insurance online tariff: registration in Hamburg, drivers only policyholders and partners (25 years old), annual mileage 15,000 km, damage-free class 1; ** Prices including wages and 19 percent sales tax
That The price level is moderate compared to the successor model C 63 (W 204), but maintenance and repair costs are tough. An AMG retains its special position even in the advanced vehicle age.
Conclusion: The aged AMG station wagon beguiles with its monumental engine. The strong T-model is still relatively cheap, which is also due to the rust image of the series.
* Further information on the official fuel consumption and the official specific CO2 emissions and, if applicable, the power consumption of new cars can be found in the "Guide to Official Fuel Consumption", which is available free of charge at all sales outlets and from "Deutsche Automobil Treuhand GmbH" (www .dat.de).