Cars
Mercedes C-Class Estate (S 205) used: test
"Your lucky star on all roads" – that was the advertising promise for Mercedes vehicles all over the world for many years. And there might be something to that slogan. The C 220 d T model offered by the Autohaus in Bockel (Lower Saxony) is the prototype of the upscale but not aloof company car. After four years and three months, the no longer very young star should cost 19,480 euros.
First of all, there is a strikingly elegantly shaped mid-range representative with a spacious rear. This station wagon (Daimler jargon for station wagon) cost a whopping 49,224 euros new, including "avant-garde" equipment and a few goodies such as a navigation system, self-steering parking assistant, Distronic adaptive cruise control, LED light and heated seats. The mileage of 177,062 kilometers reads much more dramatically than it appears live. This well-kept C-Class has absolutely nothing to do with a used car.
Mercedes C-Class used: Euro 6 diesel engine shows good manners
Immediately after a cold start in winter, the Euro 6 diesel engine shows good manners and runs with pleasantly low vibrations. The nine-speed automatic transmission (from 2016), which can be controlled via a selector lever on the steering column, sorts the gears smoothly. When it comes to footwork, the C 220 d that rolled off the assembly line at the Bremen plant doesn't show any weaknesses either. Suspension and ride comfort are still among the most pleasant things this vehicle class has to offer. This is especially true if the optional air suspension has been ordered.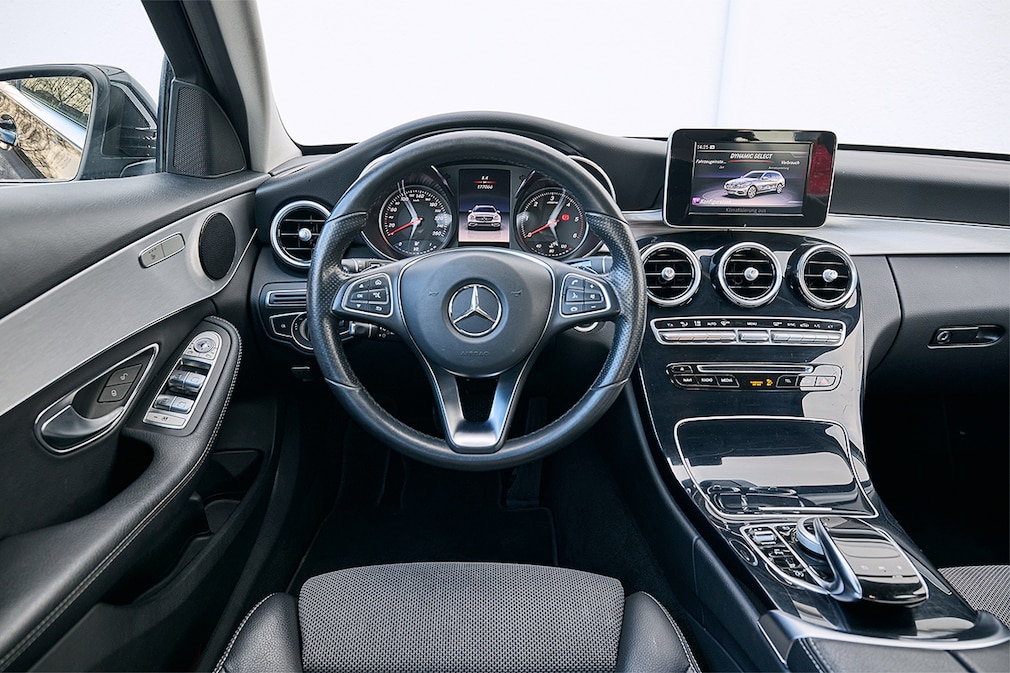 Background noise from worn axles, a very serious issue with older ones C classes of this type, are fortunately spared on the test drive. Signs of wear are more likely to be seen on the bonnet, which is covered with stone chips. This is a typical indication of frequent fast freeway driving.
Facelift in 2018 with new engine generation

The longitudinally installed OM 651 turbo diesel is an older model and was replaced by the new OM 654 engine generation for the facelift in July 2018. However, the older iron is not a bad choice. It helps the 170 hp strong
C class
to astonishingly dynamic driving performance if required. With 66 liters of diesel and 25 liters of AdBlue tanks, refueling stops are rarely necessary. Hectic is alien to the well-insulated Euro 6 diesel engine, but it is surprisingly willing to rev and the bottom line is that it manages a convincing balancing act between economy and driving pleasure. The latter occurs on board anyway, because the feel-good factor is perhaps high due to the lack of veneer wood elements.
Infotainment system no longer up to date

During processing, the
C class
after more than four round-the-world trips, little reason to complain. There are no rattling or crackling noises, the upholstery of the ergonomically perfect partial leather sports seats does not show the kilometer marathon. On the other hand, the scratch sensitivity of the high-gloss piano lacquer applications on the center console is annoying. And while we're complaining: for a premium product from the 2018 model year, the infotainment system no longer looks quite up-to-date, despite good computing power with its rather small attached screen without touch functionality. The lack of features like Apple CarPlay and Android Auto is also annoying.
125 kW (170 hp) at 3000 rpm
The preservation of the body is top
Apart from that, the fully family-friendly Daimler does its job really well. Except for a scraped front apron and worn brakes, we didn't discover any damage or problems on stage. The preservation of the body is top, and the exhaust system is still in good shape. In addition to the absolutely recommendable test engine, there was an almost confusing selection of drives with a gigantic power spread. The 1.6 liter entry-level diesel with 122 hp was supplied by Renault, the 510 hp V8 biturbo in the
AMG
In terms of dynamics and costs, the C 63 S outshines many large-caliber sports cars.
From the 2018 facelift, some 48-volt systems with belt-driven starters were installed. The C 300 h (until 2018) and C 300 de (from 2019) are two hybrid models that combine diesel and electric drives.
Fully comprehensive (23)*
Front left fender, painted