Cars
Mercedes EQV Marco Polo: the electric future of the camper
Mercedes has the market for Motorhomes rediscovered. The actual Marco Polo-Family has been able to live successfully in recent years, according to the Stuttgart-based company Camper market establish. They also wear numerous Base vehicles for Motorhomes a star on the bow.
Now stands for Daimler next logical step to: the linkage of the E-mobility with the motorhome industry. The first market-ready E-camper This already exists. The vehicle comes from Sortimo Walter Rüegg AG from Switzerland and is based on the battery electric Mercedes EQV.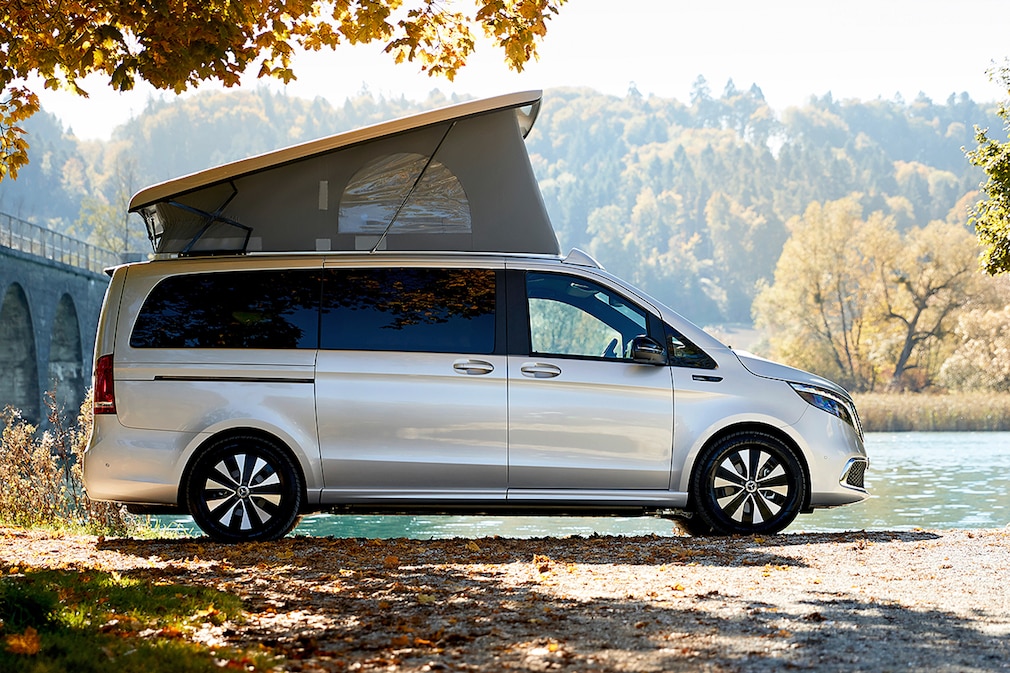 The Mercedes has solar modules for additional sustainability and self-sufficiency
Sortimo has expanded the Mercedes EQV modular designed. If you put all the crosses, you will get your vehicle with you Pop-up roof and Roof bed as well as with a Multifunction box included Kitchens– and Sleeping unitthat in Trunk Takes place. the Kitchen unit includes, among other things, a way to Wash, two gas powered Hobs and a cool box. Join in Drawers for cutlery, cooking accessories and supplies.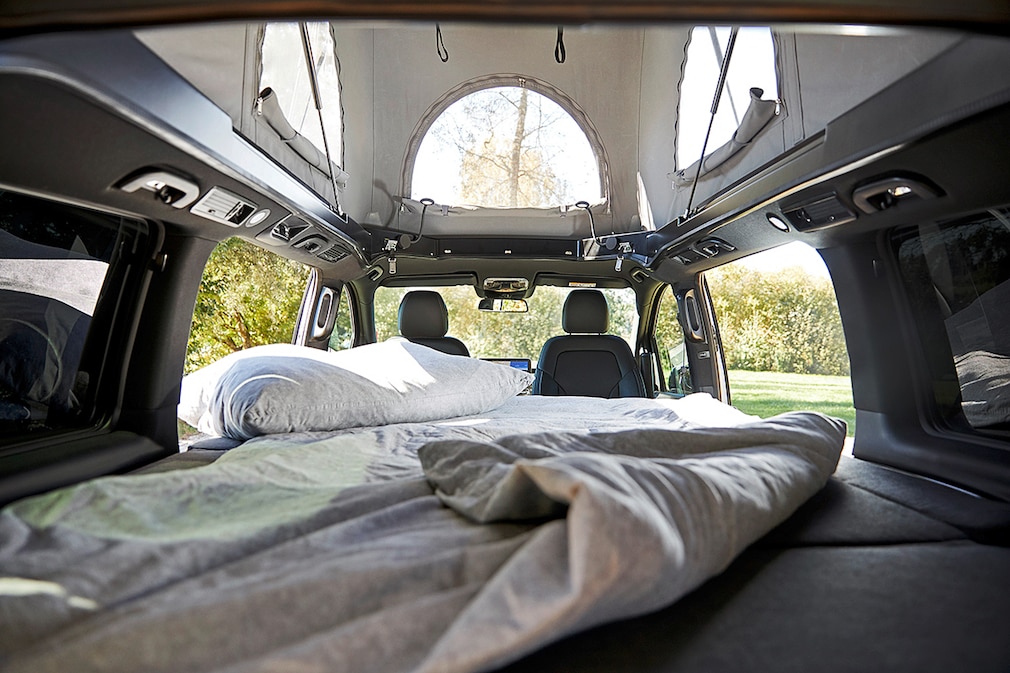 Above the Kitchen unit is this Sleep system assembled. If you unfold it, one is created Lying areawhich is exactly as wide as the interior of the EQV. As long as the sleep system folded up is, let the Seats in the Fund of the EQV normally. When designing the systems, Sortimo has specifically Lightweight construction respected.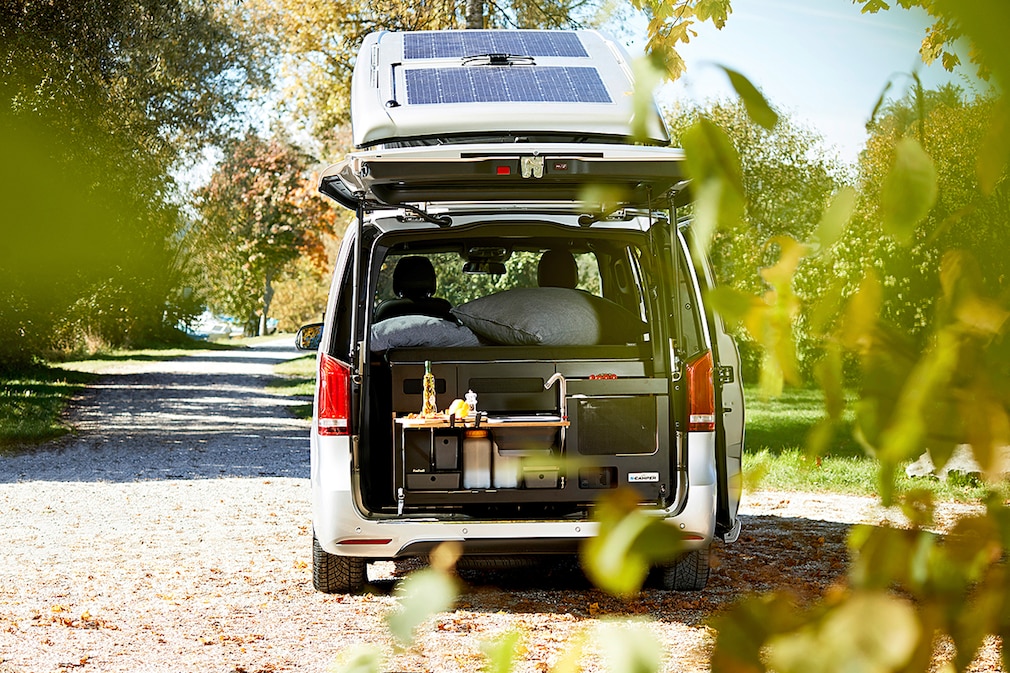 Reason: With an e-vehicle, every kilo saved means more Range. The ones available on request Solar panels come together to around 400 watt Power. You load the Starter battery and the Additional battery for camping.
E-cars for everyday needs: these 7 are good
Selected products in a tabular overview

| | | |
| --- | --- | --- |
| BMW iX | RRP from EUR 77,300, savings: up to EUR 14,932 | |
| Kia EV6 | RRP from EUR 44,990, savings: up to EUR 14,519 | |
| Mercedes EQS | RRP from EUR 97,807, savings: up to EUR 6152 | |
| Hyundai Ioniq 5 | RRP from EUR 41,900, savings: up to EUR 12,683 | |
| Audi Q4 e-tron | RRP from EUR 41,900, savings: up to EUR 12,950 | |
| Skoda Enyaq iV | RRP from EUR 34,600, savings: up to EUR 12,860 | |
| Mazda MX-30 | RRP from EUR 34,490, savings: up to EUR 13,733 | |
The EQV is an integral part of the portfolio of electrical Mercedes–Transporter. He's the one powered by electricity Counterpart the Mercedes V-Class. Mercedes has the EQV with them two different Battery sizes on offer: The EQV 300 has a 90–kWh–battery pack and comes up with one, according to Mercedes Range from 323 until 363 Kilometers. At the Fast charging station he fills his battery in around 45 Minutes from 10 on 80 percent on. Serves as the central control unit MBUX. The Mercedes EQV 250 has a 60–kWh–battery pack and comes up 213 until 236 kilometre Range.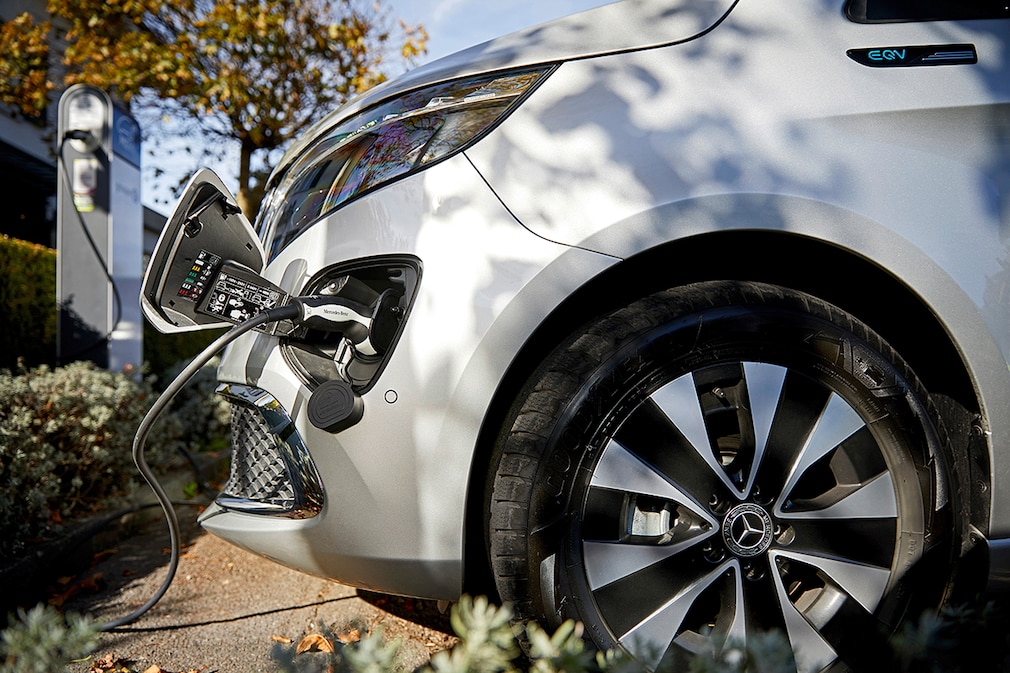 in the Two-invoice transaction the electric camper is already available with the Sortimo expansion. Two-invoice transaction means that the van and body are ordered and billed separately. In this case, each manufacturer is responsible for service, guarantee and warranty.