Cars
Mercedes GLC / GLK in the used car check: strengths and weaknesses
The two Mercedes SUVs GLC and GLK are good, sought-after and therefore expensive. They achieve top ratings from the TÜV, even if they are not free from compromises. The most important information for used car buyers from the AUTO BILD TÜV report!
Mercedes GLC

Construction time: 2015 until today
Engines: 163 hp (200 d) to 510 hp (AMG 63 S)
Price: from 28,900 euros
Euro NCAP crash test (2015): 5 Stars

That's him: Rounder than its striking predecessor, massive appearance without appearing huge. It offers sufficient space and trunk volume, high-quality, but not always completely crackling-free processing, numerous assistance systems, but only halogen light as standard until the 2019 facelift.
He can do that:
Giving you the feeling of sitting in a higher-lying C-Class instead of an SUV. It offers comfort and above all an expensive, excellent air suspension. Instead, the priority is less on sport. There is only all-wheel drive and no manual gearbox anymore, exclusively automatic with mostly nine, initially seven gears. Large selection of engines with the well-known four- and six-cylinder of the
C class
as well as the V8 racing car from
AMG
, plus a plug-in hybrid. The new, clean miracle diesels (OM654 / 656) moved under the hood from 2019.
That causes trouble: Wishbones that wear out quickly and squeak first, then rumble. The AUTO BILD suggestion box reports frequent failures of touchpads in the Comand system and the calibration-sensitive assistance systems. Artico artificial leather tends to crack.
Mercedes GLK

Construction time: 2008 to 2015
Engines: 143 hp (200 CDI) to 306 hp (350)
Price: from 10,000 euros
Euro NCAP crash test (2010): 5 Stars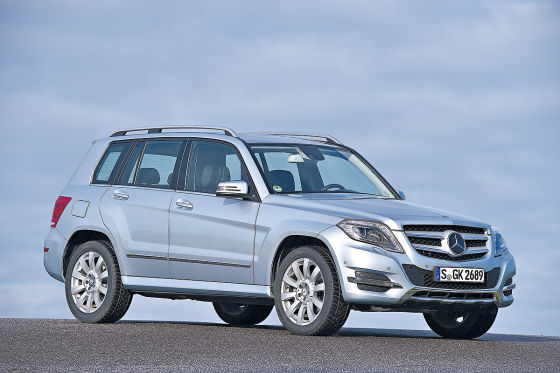 That's him:
An angular homage to the G-Class, technically one
C-Class (W204) with 4Matic
.
200 and 220 CDI
also with pure rear-wheel drive, lots of space, upright seating position, nice and clear, 450 liters of storage volume. If you fold it down, you get 1550 liters. Workmanship: very solid, but somewhat sober material. A facelift in 2012 made for slight curves, but still a beefy look. The engines have been revised, the automatic selector lever is now on the right-hand side of the steering column.
He can do that: Let five adults travel in comfort. There is also good driving comfort, low interior noise. Typical for Mercedes: a long list of options and a generous range of engines from 143 to 306 hp. No AMG, but an off-road technology package for more traction. Either six-speed gearshift (rare) or seven-speed automatic. May pull braked up to 2.4 tons.
TÜV judgment
landing gear
the GLC only fails once in all disciplines: the axle suspensions of the five-year-olds exceed the average of the comparison vehicles by three times. But that's it, otherwise you can GLC 0.0 are at fault. the GLK is similarly robust, with him the springs and dampers of the seven-year-olds weaken too often.

light

The joy is this chapter. Headlights and their settings, taillights, turn signals –
GLC
and
GLK
provide well below average cause for criticism.
Brakes
Here has the
GLC
one step ahead. Zero complaints in all categories except for the brake discs, but the criticism is minimal when compared to the odds. At the
GLK
The function of the parking brake is criticized above average, which is due to its infrequent use. Not so
GLC
: Here the electric handbrake applies automatically. It falls with age
GLK
also due to increased defects in the brake lines.
environment
The ecological balance of the
GLC
is exemplary, as is the predecessor's exhaust system. Only the eleven year olds
GLK
suffer more from oil loss, and the AU becomes an obstacle for the seven-year-olds.