Cars
Mercedes S 123: electric conversion with Tesla batteries for sale
Cool idea or unforgivable sin? This Mercedes 123 T model, which at first glance appeared to be standard, was quickly converted to electric drive in the course of a complete restoration. The station wagon is now for sale. The price? No bargain!
The idea of ​​giving popular classic cars a second life with an electric drive is not new. Fueled by the ongoing restomod boom, there is now a whole series of automotive icons from which the combustion engine has been snatched and swapped for an electric heart.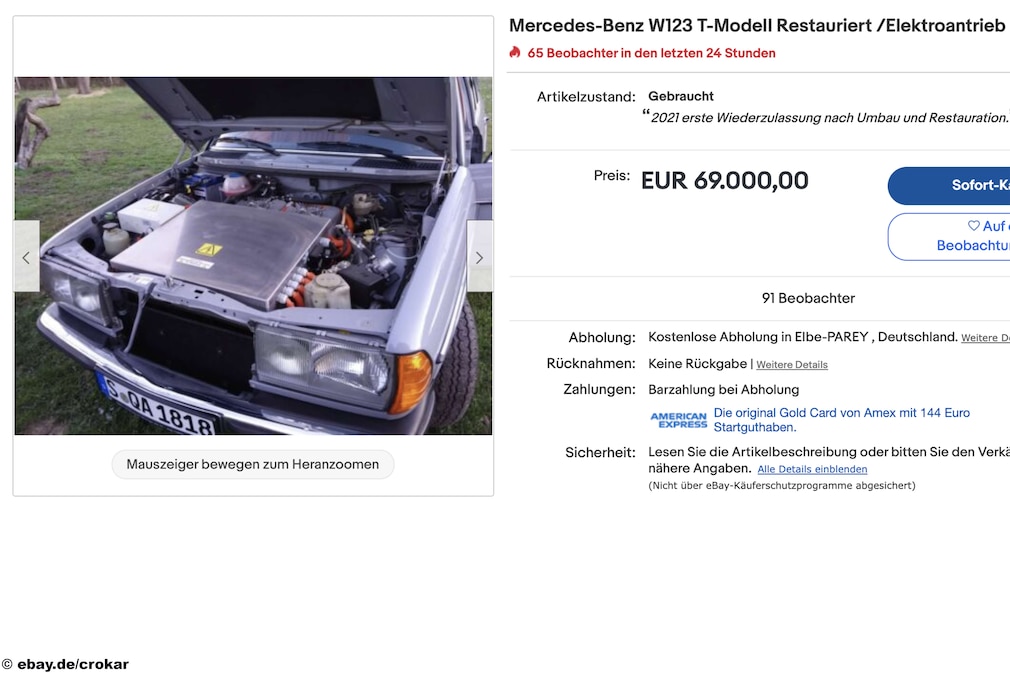 We haven't seen an electrified Mercedes 123 – until now. A Mercedes S 123 from 1983, which was subsequently converted into an electric car, is currently being offered for sale on eBay.
At first glance, the gray station wagon appears to have been perfectly restored, but a look under the hood is likely to send a shiver down the spine of classic car fans and traditionalists. Instead of a combustion engine, there is an asynchronous double motor, which consists of two 53 kW electric motors and transmits the power directly to the cardan shaft. The engine power is given as 106 kW (144 hp).
200 kilometers electric range

Particularly interesting: The lithium-ion batteries come from Tesla and have a capacity of 63.6 kWh, which should be enough for a manageable range of around 200 kilometers. The charging time should be a long seven hours.
The complex conversion was carried out by the company eCap Mobility, which has already equipped a DeLorean DMC-12, an Amphicar and a DKW with an electric drive.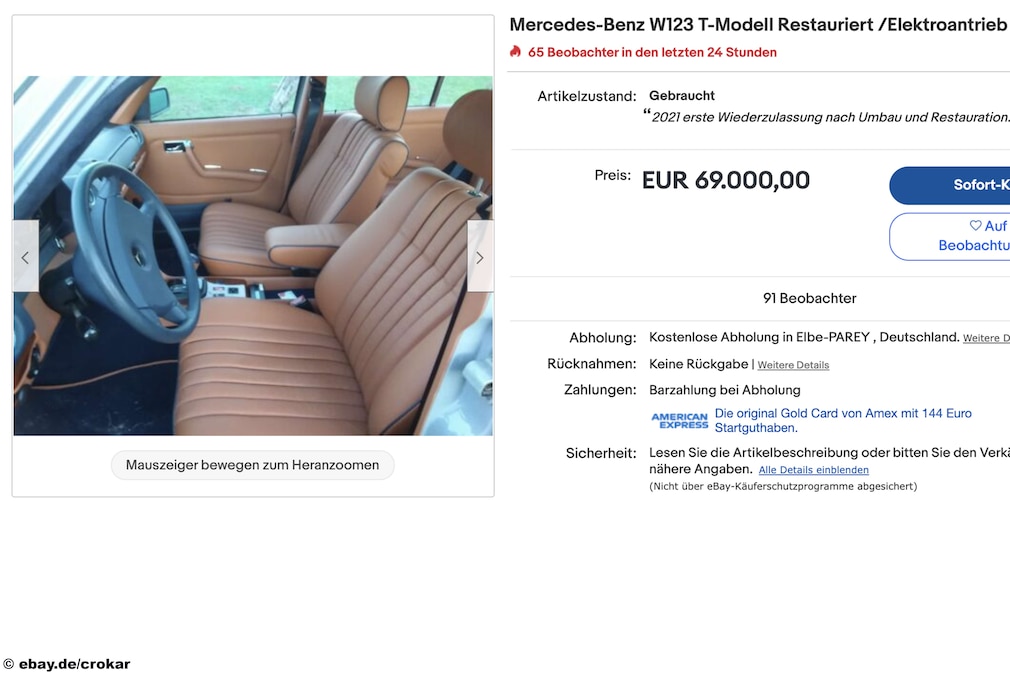 On the positive side: The Elektro-123 already has new papers and can be registered immediately – even with an E license plate. Visually, the station wagon, which was driven more than 210,000 kilometers before the conversion, makes a great impression. But that's no wonder, because the 123 was completely disassembled and the body was coated in an immersion bath.
The interior has also been revamped. The interior was upholstered in brown leather, as were the door panels and headliner. Only the radio with an extendable touchscreen destroys the overall picture and doesn't want to match the otherwise stylish interior.
Finally, the question remains as to why the provider would like to sell the electric S-123 again – even though the station wagon was only completed in 2021 and has hardly been used since then. The starting price of the auction is 20,000 euros, interested parties can strike directly for 69,000 euros. If you consider that there are neat 123 station wagons for about a fifth of the price, the premium is heavy. It's not a bargain to be a pioneer.