Cars
Mick Schumacher: "I don't just want to take part"
Mr Schumacher, we are close to the end of your first Formula 1 season. How satisfied are you with your performance so far?
I think I can be satisfied. We showed good races and kept improving.
What many fans might not understand: that all cars are different and that ours is unfortunately the slowest. Despite this initial situation
it wasn't all bad. I fux308; feel extremely comfortable in the team and in the car.
In the meantime, your team boss has criticized you relatively harshly for one or the other training crash.
The criticism didn't affect me negatively in any way. On the contrary: The performance that came after that also has a bit to do with it. Because one should learn from criticism. And I prefer to make such mistakes now than when it comes to the sausage.
The team duel against Nikita Mazepin was also quite intense.
Internally it was actually a less tough duel. But it was new and unusual for me to be so open about certain topics in the media. In the end, however, I didn't really bother with it, I just did my thing
continued.
You also did your thing on the track and proved that you can prevail – not just against Mazepin …
I especially enjoyed the duel with Max (Verstappen; editor) in Budapest. I showed that I mean
Elbow can extend.
You are close friends with Sebastian Vettel. Where could he help you?
I had a lot of questions at the beginning. And he answered all of them for me. He knows my dad very well and has therefore become my first point of contact in Formula 1. He's had so much experience and gone through all kinds of situations.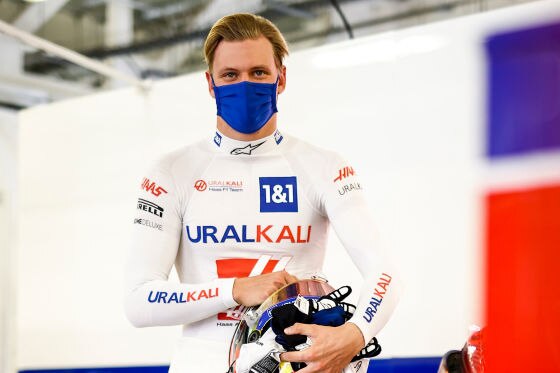 The Formula 1 paddock is a shark tank. Can Vettel help you politically?
Let's put it this way: I hope that his advice will save me a few mistakes.
You last said that the learning curve you are going through should eventually enable you to fight for the world title. From the current perspective, is that a realistic goal?
In any case. Otherwise I would be in the wrong sport. I already have the feeling that one day I can become world champion. If I didn't have that feeling, I would take someone else's car to just roll along. I strive for success in Formula 1.
How are you now even more aware of what your father has achieved?
I have a lot of respect for what papa has achieved. Although that was already quite clear to me when I started. Because the road to Formula 1 alone is tough, involves a lot of work and a lot of overtime. And when you arrive in Formula 1, it won't be less, but you have to do twice as much. The fact that my dad managed this with so much success over so many years makes me proud and encourages me.
Your next step is to move Haas into midfield. How do you go about that?
Every driver has a different approach. Some prefer to work for themselves. I am someone who wants to grow with the team and tries to get the best out of everyone. I believe that in the medium to long term this will also help the team move forward.
Do you want to be targeted by top teams like Ferrari next year?
My focus is on 2022. I want to do well there, show my talent and willingness to work, and prove that I have what it takes to be one of the frontrunners. But I also realize that I have to take the next step

Formula 1 on TV
Formula 1 will run at Sky in 2021. The station is setting up its own TV station for the new era: Sky Formula 1. Here there is motorsport 24 hours a day. All training sessions, all qualifying sessions, all races always live and without commercial breaks. Sky also broadcasts the Formula 2, Formula 3 and Porsche Supercup races. The program also includes historical races and special programs. You can find more information here