Cars
Monocam: This cell phone speed camera catches everyone!
The photographic evidence is clear: a driver has her smartphone in her right hand on the steering wheel and is reading something on it. A man is on the phone with his cell phone while driving, another is obviously typing on it.
Mobile phone holders in the test

Selected products in tabular overview

test winner

Cocda universal mount

9.99 EUR

Well

Beikell Car Phone Holder

12.99 EUR

Well

Baseus Osculum Type Gravity Car Mount

11.52 euros

Well

UNBREAKcable Car Mount Holder

16.14 euros

Well

Eono Magnetic Car Vent Mount

12.99 EUR

satisfying

Lamicall Car Holder

9.99 EUR

satisfying

Eono Dashboard Car Phone Mount

8.99 EUR

satisfying

Tsumbay smartphone holder

10.99 EUR

satisfying

Urgreen Phone Mount for Dashboard

16.99 EUR

satisfying

Floveme Car Phone Mount

14.99 EUR

sufficient

Urgreen Gravity Phone Holder

13.99 EUR

sufficient
The three incorrigibles were caught in June 2022 by a new mobile phone speed camera. Monocam is the name of the system that comes from the Netherlands and is being tested for six months in Rhineland-Palatinate in a pilot project that is unique in Germany. The Trier police are currently on duty, later it will be the Mainz police's turn.
Where is the monocam camera?

The new camera is placed on a bridge, from where it monitors the flow of traffic in real time. With the help of artificial intelligence (AI), it looks for objects in the hand and the corresponding posture of the person – and triggers automatically when it detects a driver with a cell phone in his hand.
The images are then evaluated on the computer by trained police officers. It is only saved and penalized if the image produced clearly shows a violation.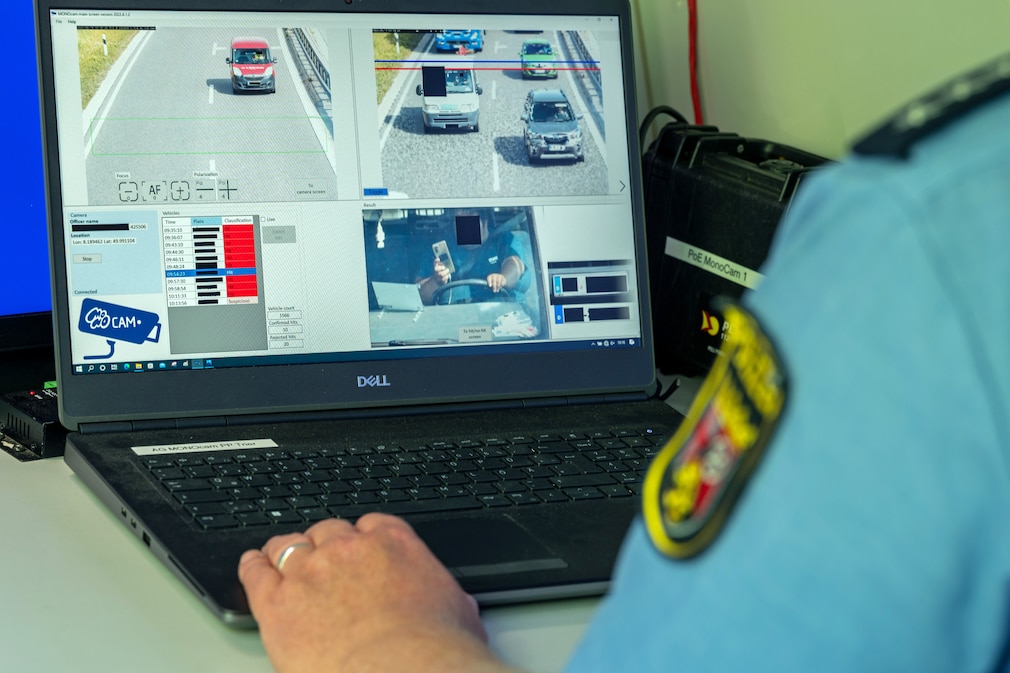 Comprehensive use planned from 2023

From 2023 there should be continuous operation throughout Rhineland-Palatinate, says police officer Matthias Emmerich from the Trier police force. Ten devices are required for this. With the new technology one has for the first time an automated possibility to record mobile phone offenders. And in such a way that the material would stand up in court: "Now we have objective evidence." Incidentally, the interest of other state police forces in the results of the project is very great, according to Emmerich.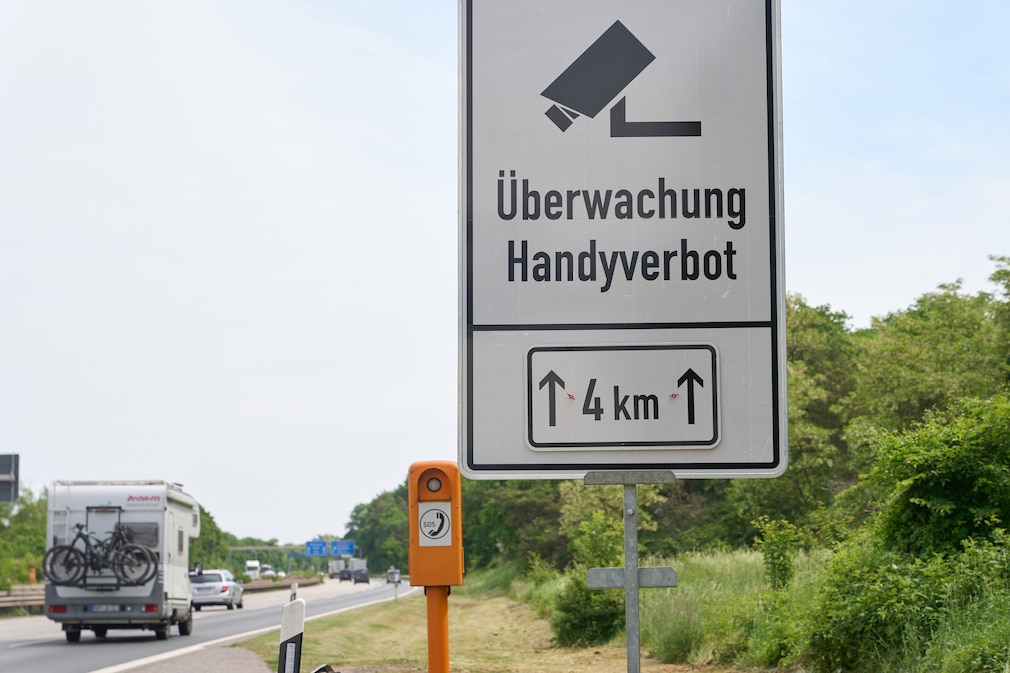 Cell phone speed cameras in Australia and the Netherlands

While the police in Germany still need diligence, creativity and a high level of personnel expenditure to hunt down mobile phone perpetrators, they have made much more progress elsewhere Speed ​​camera system for chasing road users with smartphones.
Camera looks into the cockpit from above

The high-tech device uses two cameras. One captures the number plate from the front, the second looks through the windshield into the cockpit from above. The material is also evaluated with artificial intelligence: If the algorithm detects a crime, an official checks the photos and, if necessary, sends a ticket. And that could be steep: Down Under there is a fine of 344 Australian dollars (211 euros), in the vicinity of schools even 457 dollars (280 euros). There are also penalty points.
Long blind flight even at low speeds

Surveys show that understanding of the issue of "mobile phones at the wheel" is falling, especially among young people (read a comment on the topic here). A dangerous ignorance: If you look at your cell phone for five seconds at a speed of 50, you are flying blind for almost 70 meters.
What are the penalties for mobile phone offenders?

The penalty for using a mobile phone while driving is 100 euros and one point in Flensburg. If other road users are endangered, it is 150 euros, and if property is damaged, it is even 200 euros, as well as two points each and a one-month driving ban.
Cell phones prohibited when the engine is on
What many people don't know: When the engine is switched on, reaching for a smartphone is forbidden, even in a stationary car on the side of the road. "While the engine is running or only switched off with the automatic start-stop system, drivers are not allowed to hold any electronic devices in their hands or look at or operate devices installed in the vehicle for so long that they look at the device for a long time," says traffic lawyer Uwe Lenhart Frankfurt am Main.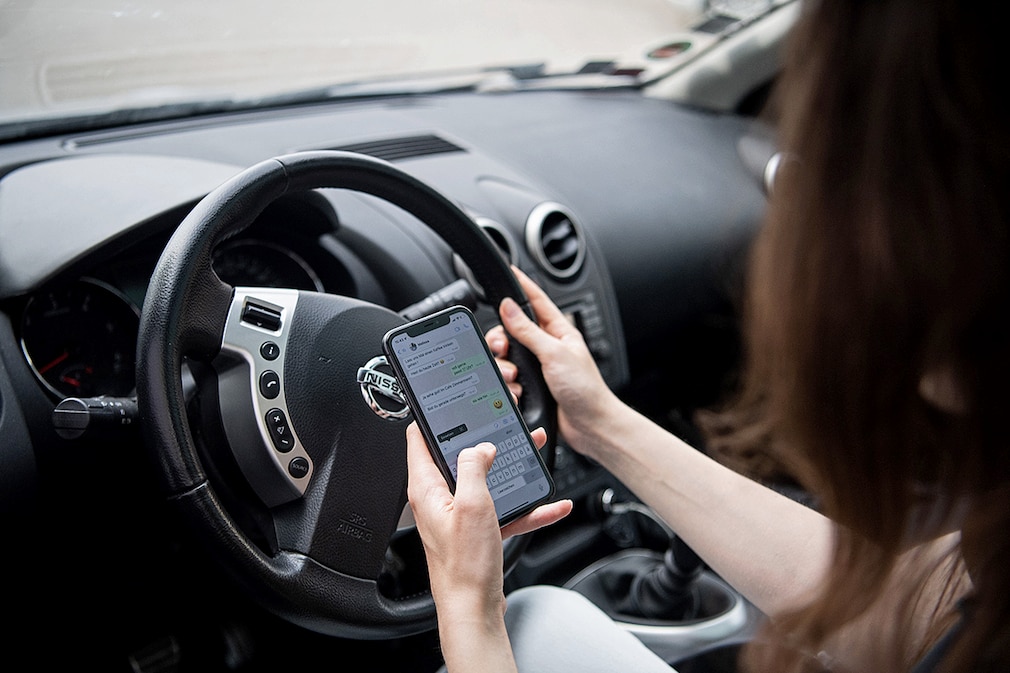 Tips from the traffic lawyer

Lenhart basically advises motorists during a traffic check: "Keep calm and remain friendly. This usually shortens the procedure. Talk as little as possible and only as much as necessary. If you are made a specific accusation, do not comment on the matter ; we often talk about head and collar." If you justify a speed violation with haste, you acknowledge intentional behavior. The result is a doubling of the fine.
What if you get a fine? Lenhart: "Use the opportunity to appeal against the fine notice. Perhaps the court will drop the proceedings. You can withdraw the appeal at any time."
The best thing, however, is undoubtedly not to let it get that far in the first place and simply not to touch the cell phone while driving.
With material from dpa