Cars
Morelo Palace alcove 94 l: test
What an alcove! One would like to be a child again and snuggle up in this comfortably padded nest up here. Play to your heart's content, watch the adults doing the interesting things they do in the kitchen or in the seating area.
And when you've had enough of that, just draw the curtain and dream of adulthood. Oops, digressed. You will forgive it, dear readers. The test car we're driving today is so comfortable that it can even happen to us. But now to the facts!
Morelo Palace Alkoven: The price starts at 236,000 euros

That's him: A motorhome in a class of its own – extra large, extra comfortable and unfortunately also extra expensive. The Morelo Palace Alkoven 94 L starts at 236,000 euros. There are four other layouts (from 221,000 euros), two of them with a seating area in the rear. But the 94 L has one in the bow. In contrast to other alcove models, this is only interrupted by the passage to the cockpit when required. To do this, two cushions are put aside, a sliding door is opened and the alcove bed is folded up. It then goes down two steps because the body rests on a raised double floor. This creates storage space, space for tanks and technology and keeps the entire running area flat.
The kitchen, which is directly connected to the seating area, is practical. There is plenty of storage space and the sink is just as big as the tap. The back wall is backlit for optimum light when snipping. Opposite are the buffet and refrigerator as well as the microwave, followed by a floor-to-ceiling pantry. A gently running sliding door leads to the bathroom from here. This is so big that it doubles as a dressing room.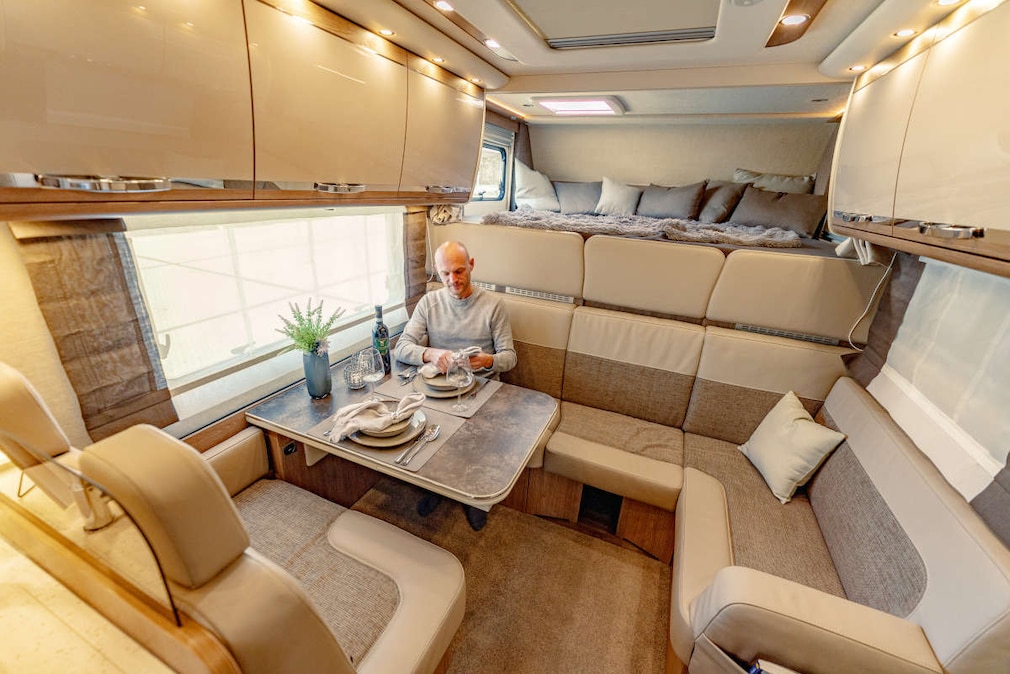 Conveniently, there is also a huge wardrobe here, which is adjoined by the washbasin with four drawers, mirror and plenty of storage space. On the other side are the toilet and the shower cubicle with glass doors, in which a small squeegee hangs ready for use. All the rest is – of course behind another sliding door – reserved for restful sleep. And it comes naturally, because the mattresses are extremely comfortable.
Approval for up to six people

He has: In addition to the spacious interior, there is also plenty of space for luggage. In the rear storage space, for example, a scooter and several bicycles can easily travel with you, as well as some furniture for outside in the double floor. That fits, because the admission goes up to six people (1790 euros). In this case, the alternative seating group with a single-column lifting table is practical, which comes with other extras in the "Wohnwelt Novel" and can be converted into a double bed (5590 euros). Oh, and the dishwasher (2290 euros) might also be worth considering.
empty weight ready to drive/load (test vehicle)
Trailer load (braked/unbraked)
Wall/roof/floor thickness
Insulation wall/roof/floor
Fresh/grey/black water tank
154 kW (207 hp) at 3000 rpm
Eight-speed automatic transmission/rear
170 l/diesel + 30 l AdBlue
Gas, 3 burners + microwave with convection and grill function
from 236,000 euros/317,270 euros
It is pleasing that the standard equipment includes goodies such as the permanent tank toilet, suspension seats or a keyless, code-secured cabin door in addition to the hot water heater with engine heat recovery, floor and towel radiator. A useful extra for our test car was the "Energy LithiumPower" package. Among other things, it contains a lithium battery with 210 Ah including an inverter and can be combined with various solar systems (from 1990 euros).
Optional safety package brings helpful assistance systems

This is how he drives: Unspectacular once you get used to the dimensions. However, our test car also had the helpful driving safety package (7690 euros) on board, which includes adaptive cruise control, emergency braking and lane departure warning. In addition, there was the chassis package (12,990 euros) with a 207 hp engine, automatic transmission, differential lock, navigation system, etc. The rear axle has air suspension as standard, which enables the vehicle to be level regardless of the load.