Food & Drinks
Mounir's vegetarian kebab from Chef Toub: Delicious Arabic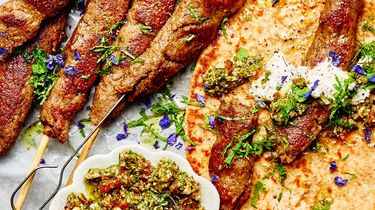 Mounir Toub believes that Arab cuisine does not get the credits it deserves. With his book Chef Toub: Nice Arabic he changes that. This cool cookbook is full of tasty and easy recipes that prove that Arab cuisine is more than falafel and hummus. The recipe for this vegetarian kebab is a good example of this.
Ingredients
For 4 persons:
50 grams of pine nuts
50 grams of unsalted cashew nuts
50 ml of olive oil
250 grams of mushrooms, swept clean and quartered
250 grams of mixed mushrooms (depending on season), wiped clean and cut into pieces
2 red onions, in small cubes
3 garlic cloves, minced
salt and freshly ground black pepper
2 eggs
50 grams of Parmesan cheese, finely grated
150 grams of breadcrumbs
Additional
baking dish
baking pan
sieve
food processor
skewers
Mounir: "Do you want to surprise vegetarian friends? Then this kebab is definitely recommended. The Parmesan cheese ensures the salty taste and the binding of the dish. "
This is how you make the vegetarian kebab
Preheat the oven to 180 ° C. Roast the pine nuts and cashew nuts in the baking dish for about 8 minutes until golden brown in the oven and let them cool.
Heat the olive oil in a frying pan and fry all the mushrooms on high heat for about 4 minutes until golden brown. Add the red onion and garlic and fry for 2 minutes. Brilliant taste with salt and pepper.
Spoon the mushroom mix into a ball sieve, squeeze the moisture out well and let it drain and cool in the sieve. Put the cooled mushroom mix with the pine nuts and cashew nuts in a food processor and grind them finely. Season with salt and pepper. Mix in the eggs and Parmesan cheese.
Add just enough breadcrumbs to this until the mixture no longer looks moist. Let the mixture stand for at least 5 minutes, so that the breadcrumbs can absorb the moisture. If the mixture is still too wet, you can add some breadcrumbs.
Divide the mixture into four equal portions and wrap each portion around a thick skewer. Heat a frying pan over low heat, pour a dash of olive oil in it and fry the vegetarian kebabs alternately for about 5 minutes until golden brown.