Cars
MZ TS 150: this MZ was rebuilt in 2021 as a crosser
Many products from the GDR era are cult – especially the good ones. No wonder, then, that MZ brand motorcycles are cherished and cared for by their fans with a lot of heart and soul. MZ was the only motorcycle manufacturer in the GDR. The Saxons built reliable, handy and durable motorcycles that were extremely successful in Enduro racing.
There is an MZ TS 150 for sale on eBay which could be a perfect match. Her owner turned her into a cross motorcycle and apparently had her rebuilt during this transformation – now he's calling for a very manageable tariff.
The ad says that the TS engine and transmission have been overhauled in a workshop. Battery, ignition, carburettor, cylinder, piston and piston rings are said to be new. The retrofitted breaker ignition was adjusted by a workshop. Finally, the machine has a new original air filter. The 150 cc single cylinder delivers twelve horsepower.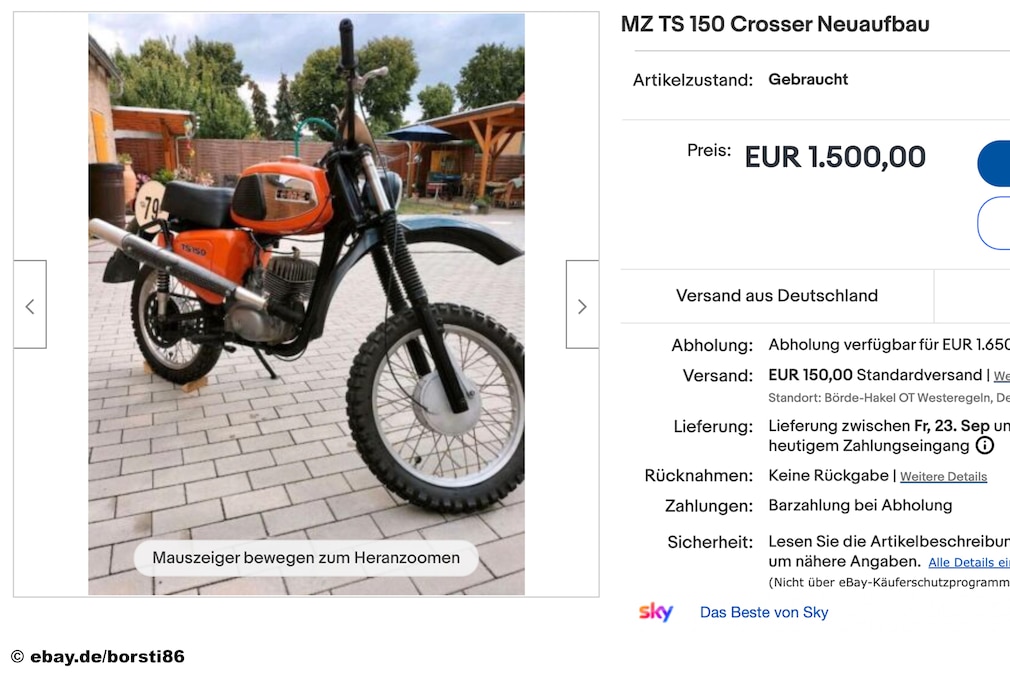 The footrests have been strengthened and a stronger chain with tensioner has been installed. The mudguards are welded on the inside to prevent heavy soiling when used off-road. The tires are new, the telescopic fork is 15 centimeters higher than the standard part. The paint and the seat were also done. The price tag says 1500 euros.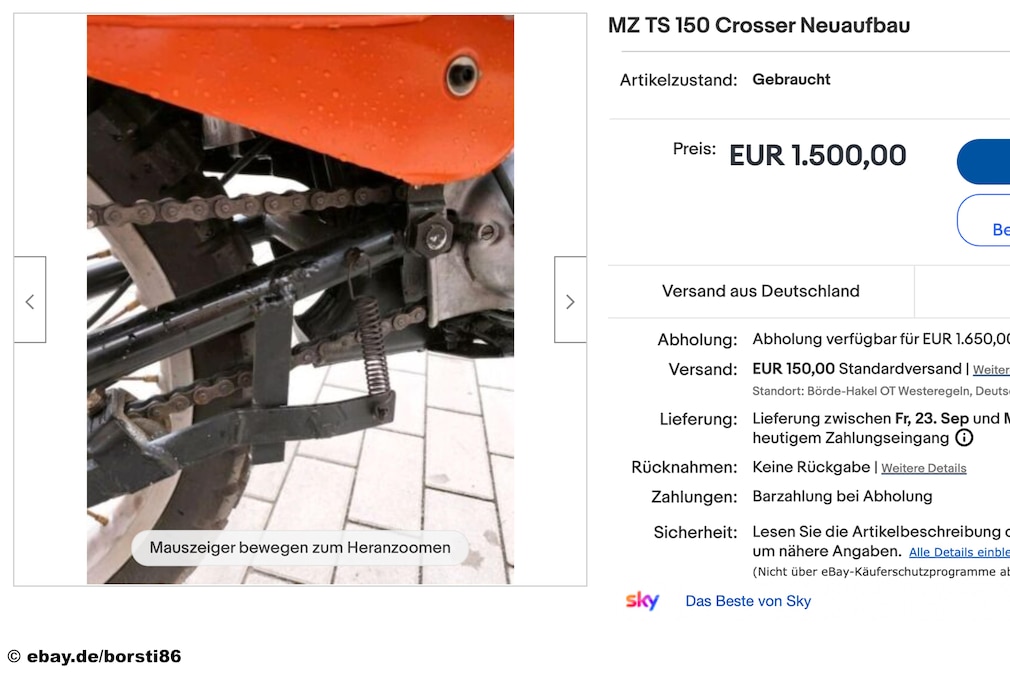 Potential buyers of this MZ should bear this in mind

A few things should be considered when purchasing this MZ: It starts with the statement "undocumented" in the ad text. These two words require a detailed discussion with the seller and possibly an expert. If the machine is only to be used on the cross course, there will probably be no problems. If it is to be on the road, the MZ needs mirrors, indicators – and approval. And whether that is possible must be clarified.
MZ beginners are advised to buy a ready-made machine that is demonstrably in good condition. Information about MZ is easy to get, there are enough enthusiasts. Replacement parts are best purchased from a recommended source. The quality of aftermarket parts is not always the best.
If you want to get to grips with the MZ subject first, you can do so directly at the old MZ production site in Zschopau, for example. There are three museums dedicated to the brand in the tranquil little town on the edge of the Ore Mountains.