Cars
Nissan Qashqai 2021: purchase advice – AUTO BILD
When a model ranks high in the statistics for decades, it usually means two things. First: those responsible did a lot right and very little wrong. Second: The pressure increases with each new edition, with each subsequent generation, for which customers are sometimes longingly waiting. One model to which these two things apply quite well, you guessed it, is the Nissan Qashqai. The success story of the Japanese starts in 2006, and takes its name from a small tribal association in the south of Iran. Unlike this association, which is mainly known for its carpet production, the Japanese compact class vehicle shines primarily through its low entry price as well as his extensive range of engines, optionally all-wheel drive and, if required, a seven-seater variant, known under the simple name Qashqai + 2. With the generation change in 2011 to the J11 series, the seven-seater was discontinued. The fact that two seats are missing probably affected very few, after all, the extensive range of engines, off-road suitability and an attractive entry-level price remained.
The qashqai grows a few inches in all directions
Eight years later, the J12 series finally rolled out to dealers. Later than originally planned, actually it should already be so far in 2020, but then the corona pandemic came. As far as the lines are concerned, the Japanese remains true to itself, stands unmistakably there as a Qashqai, but with a new brand face. A few more centimeters in all directions ensure a befitting appearance. Entering the car is particularly appropriate, especially in the rear.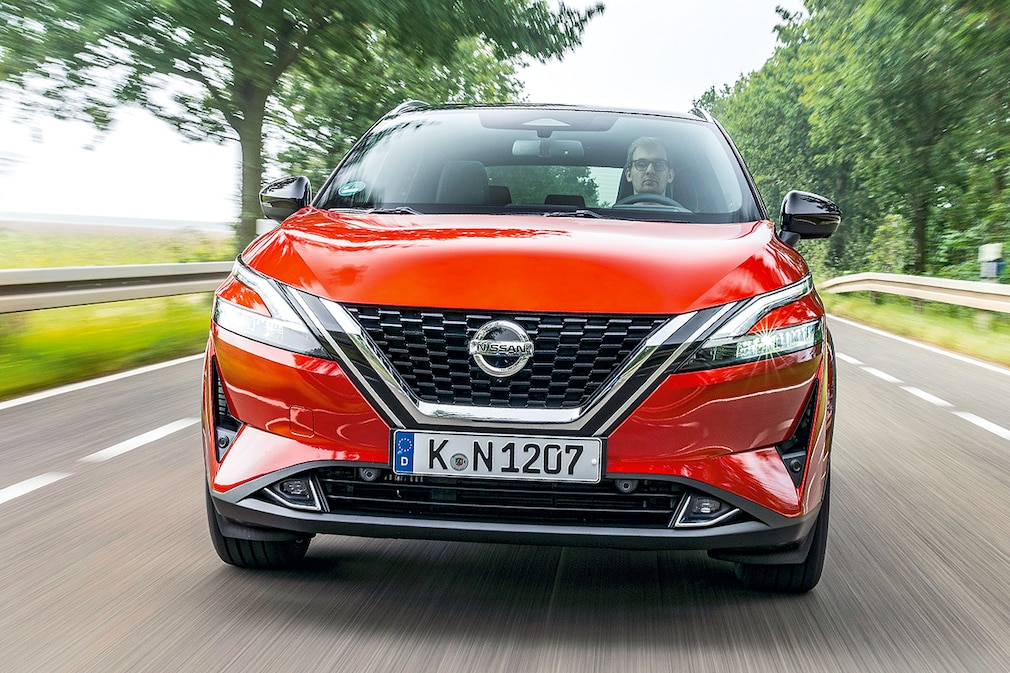 here open the doors at an angle of 85 degrees. This not only makes getting in easier in general, but also helps parents in particular who want to put their offspring in the second row without any problems, optionally together with the seat. Children and smaller adults sit here without much difficulty, But if you are above average, you can find a lot more comfortably with other candidates in the class. In the front, Nissan scores with seats that offer good comfort. A sixth and seventh seat are not celebrating a comeback in the Qashqai, for example to steal the Tiguan Allspace or Mitsubishi Outlander from customers who do not want to switch to a van yet. In-house there is the option of switching to an X-Trail, which starts at 29,135 euros, but is also getting on in years, and only comes off the production line with a 1.3-liter four-cylinder petrol engine.
Standard consumption (mix)
Exhaust CO2 • Exhaust standard
1.3 liters of displacement sound like little and also do little below 2000 tours. Despite the support from the mild hybrid system, the unit appears weak. The manual transmission is much better than the one in the predecessor, but the shift travel should be a bit shorter.
6-speed | continuously variable transmission (Xtronic)
128 | 125 g / km • Euro 6d
32,130 euros | 34,030 euros
More power with the same displacement and a little more torque give the sporty driver hope. Nissan is now offering a continuously variable transmission (CVT) that not only simulates steps in Sport mode. A certain rubber band effect cannot be concealed by this either.
– | continuously variable transmission (Xtronic)
In connection with the all-wheel drive (around eleven percent market share in Germany), Nissan is canceling the manual transmission. Power is supplied to the rear axle via a new direct clutch – it works absolutely flawlessly. There will be no diesel or plug-in hybrid with all-wheel drive. Trailer load? 1.8 tons.
Active driving assistance is included from the first equipment line
Back to the Qashqai. Compared to its predecessor the trunk volume increases by 49 liters to at least 504 liters. With the rear seat folded down (60:40) you are standing 1593 liters at your disposal. For better load securing, you will find the Flexi-Board (free of charge) from the N-Connecta line. Once it is set up, little things from the hardware store or the weekly shopping no longer go on trips without being asked. But you have to balance all of this with one Loading sill with a full 78 cm. Unfortunately, this device is not available for the Visia and Acenta lines below. What is there and what is not in the new Qashqai is determined by them as a whole five lines Visia, Acenta, N-Connecta, Tekna and Tekna +. Here we have to praise Nissan because Active driving assistance such as blind spot assist, adaptive cruise control, emergency braking and front collision assist are included from the very first equipment line. Nissan turns the tables, wants its customers the make higher lines palatable through increased comfort.
A good step, because security should always come before comfort in the list of priorities. You don't have to miss it, Line Tekna offers a good compromise between price and performance at 36,840 euros. Conveniences that most of us dream of come with us. The classics such as seat and steering wheel heating, full LED headlights and a few handsome 19-inch models are on the list, plus fine extras such as a head-up display (without plastic discs), digital instruments, a touch display with nine Inches in the diagonal and a fabric-leather combination for the chairs. Tekna + (additional 4090 euros) sits enthroned with massage and electric seats for two, full leather interior with diamond quilting, Bose sound system and panoramic glass roof.
The N-Connecta line is worth a closer look
That the Qashqai improved in many ways we also provide at the logical operating concept fixed. A correct control for the volume, speed dial buttons under the display, a button to switch the steering assistant on or off and a climate control system as it is in the book prove that Nissan is not riding the wave of touch. Incidentally, the infotainment leaves only a few questions unanswered. You can use Apple CarPlay and Android Auto from the Acenta lineIn addition, Nissan donated its own navigation system to nine, no longer eight or seven inches, and CarPlay works without cables. Japanese manufacturers traditionally think little of free choice when it comes to extras, and that applies equally to Nissan.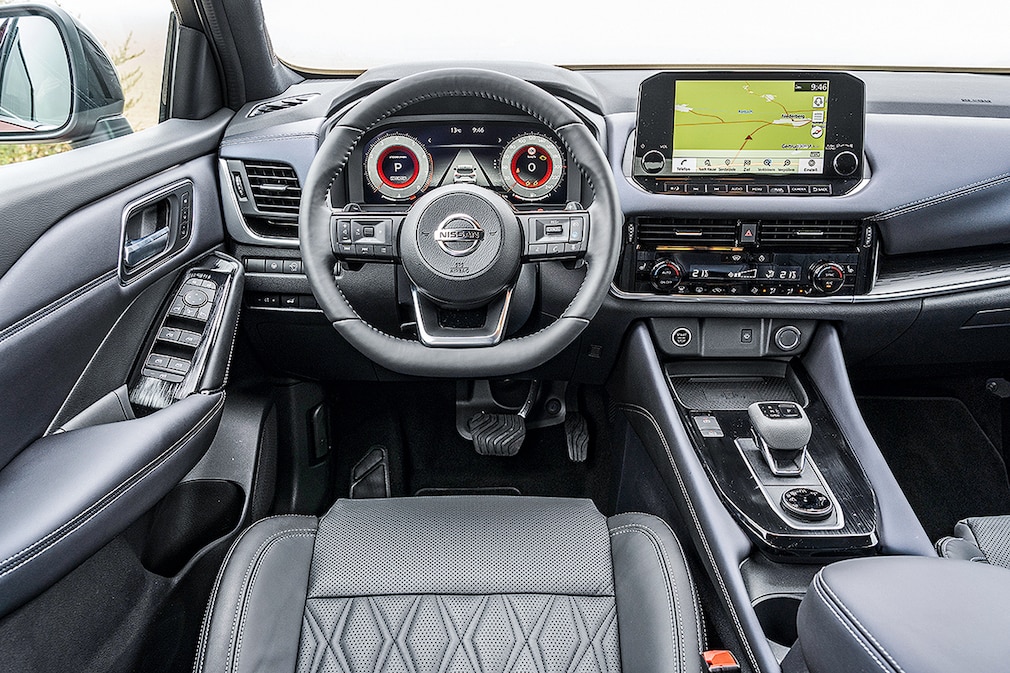 But there is one fine, albeit small, selection of extras like that Technology package for a fair 950 euros. In conjunction with the N-Connecta line, the package combines the large head-up display and the bright full-LED headlights. A little more generosity would not have hurt with the winter package. Those interested in the two lines below, Visia and Acenta, have to upgrade to N-Connecta to get seat, steering wheel and window heating. You will find niceties such as the fully digital instruments as individual options for 550 euros. We recommend that you take a look at the N-Connecta line, since the equipment is already very extensive here and Nissan is releasing a large part of the options for an additional charge that are only available on the Tekna and Tekna + lines.
Alternative drives are not on the program
At the beginning of this purchase advice, we spoke of the pressure that is on Nissan for the third generation of the Qashqai to mature into a guarantee of success. When it comes to propulsion, it has to be shown whether that works. Alternative drives are not on the agenda following Qashqai ePower relies on a purely electric drive, but the batteries are charged by a gasoline-powered generator. Alternatively, there also remains the self-igniter is omitted without replacement, only the 1.3-liter mild hybrid with 140 and 158 hp. The manual transmission knows how to convince, even if the first gear is very long and the distances from alley to alley are also quite long. The CVT transmission harmonizes well with the mildly hybridized gasoline engine, simulates speed levels with sensible and pleasant coordination. In the chassis section, the Qashqai also likes it pleasant bounces comfortably, rocks reliably over long waves, only tends to roll slightly more when cornering. It always starts with 17-inch tires, followed by 18 and 19-inch tires, and for the Tekna + line there is even a choice of 20-inch tires for 500 euros.