Cars
Nürburgring: Tips from the tire professional for tourist drives/track days
Matthias Meyer is a tire expert at Michelin. He has many decades of motorsport experience. Among other things, he supports road shows and track days. He knows all the tips and tricks to bring the tire to the right operating temperature.
AUTO BILD: Two or three laps on the Nordschleife in the tourist drives – what should you consider with the tires?
Matthis Meyer: "For two or three laps, I can only recommend not changing the tire pressure at first. But after the laps, check the tire pressure on all tires before you go home."

A weekend track day on the Nordschleife, 10 to 20 laps. Are the tires up to it?
"A newer tyre, no more than four to six years old, in good condition will easily do the trick. You can use them on your way home afterwards. That's not a problem if you take care of the tyre. Of course, if you really put your tires to the test, you can too Take an extra set of tires for the race track and change them."
Do I have to change the air pressure on a track day?
"The first laps you should look at the track and get an idea of ​​the condition of the asphalt. That works with normal pressure. Only then should you gradually adjust the tire pressure by lowering it, because the heated tire now has too much pressure.
But beware: If you lower the pressure too much, you can damage the tire at low temperatures on the curb. It doesn't break straight away, maybe half a year later on the Autobahn. If you have had hard contact, you should keep an eye on this tire and watch out for blisters on the flanks.
Important! Beginners often make this mistake: After the track day, be sure to increase the air pressure to the specified value before you go home. This is essential!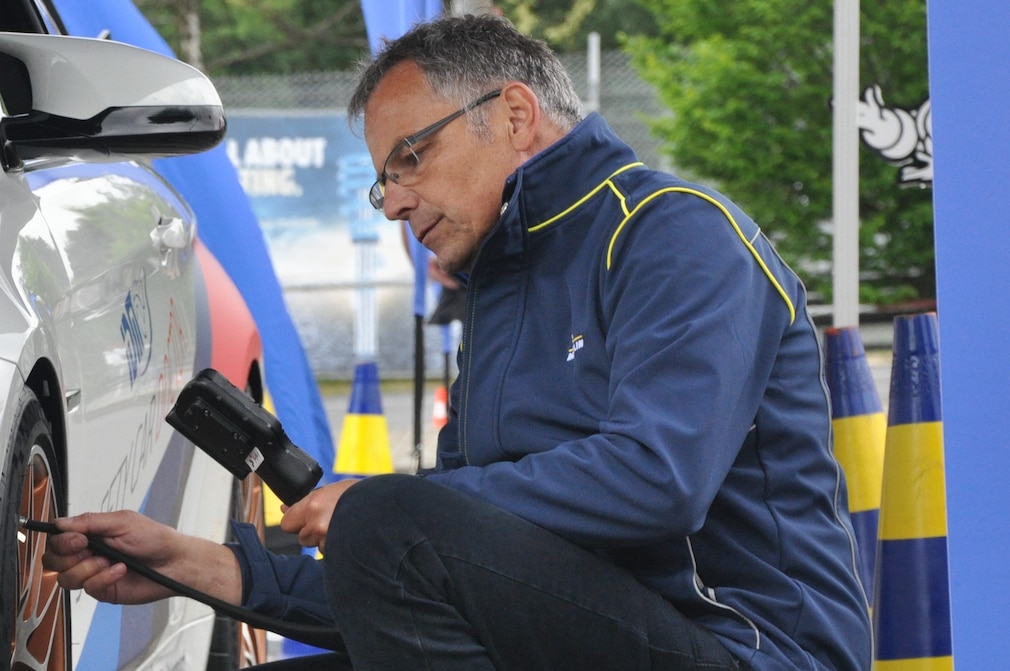 Tip: Driving in a wavy line usually does little to bring the tires up to temperature quickly. Brutal frequent braking already more. However, I cannot recommend this during the ongoing operation of a track day."
For race track addicts: A week on the Nordschleife with up to 100 laps. When are the tires worn out?
"Of course, if you drive that intensively, you have to change the tyres. But other components, such as the brakes, don't keep up with you over the entire period."
What tires should pros always have with them?
"Air pressure gauge, jack, torque wrench, air compressor and also a heat meter are recommended for a successful track day."