Cars
Opel Astra L OPC: all-wheel drive and 300 hp plug-in hybrid?
In addition to various gasoline and diesel engines, the new Astra is also available with two plug-in hybrid variants. The more powerful one has 225 hp, comes from the Grandland X and, like the other engines, only drives the front wheels. A possible Astra OPC would also use a Grandland drive, then the one from the Hybrid4. Means for the Astra: At least 300 HP system power, 450 Nm torque and all-wheel drive by an additional electric motor on the rear axle. With that he would be well equipped to withstand Competitors à la Golf GTE and Cupra Leon e-Hybrid to compete. The achievement comes through Combination of a 1.6-liter gasoline engine and two electric motors conditions. The eight-speed automatic from the Grandland would also make sense. The all-electric range is at full 13.2 kWh battery probably around 60 kilometers. (There will soon be no more funding for these plug-in hybrids.) With a sports model, however, the driving performance is more important. A sprint time of less than six seconds to 100 km / h should be feasible 250 km / h top are also realistic.

With 300 PS against the Golf GTE and Cupra Leon eHybrid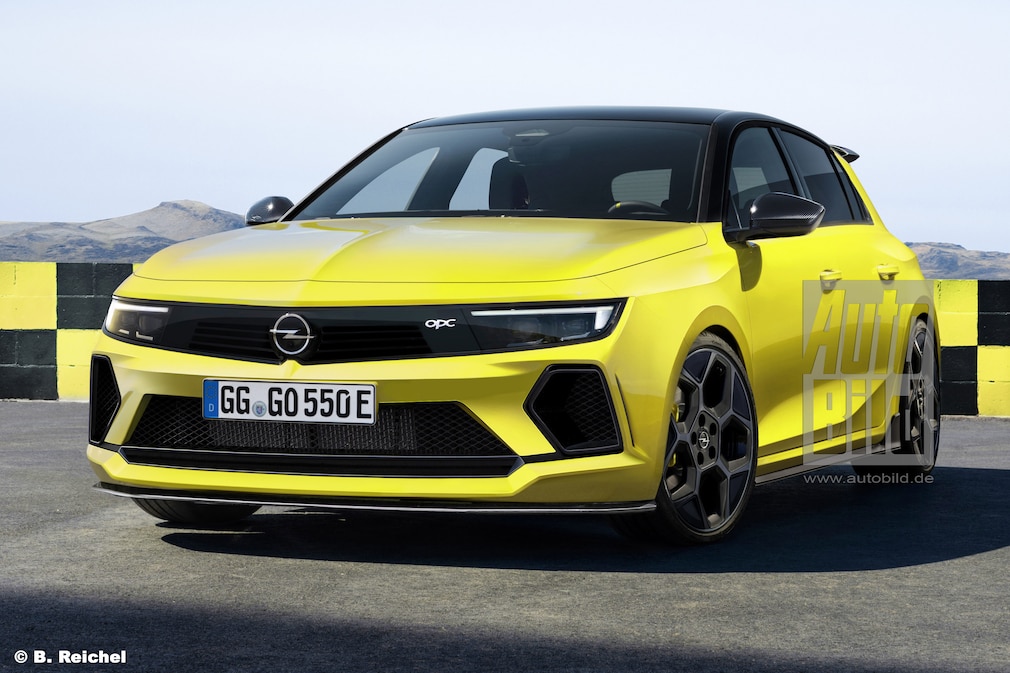 And his Potency should also be seen in the compact. According to our illustration, the OPC gets a voracious front apron with splitter, large lower air inlet and two diagonal struts. Above it, the glossy black "Vizor" band emblazoned with headlights with sharply drawn daytime running LEDs. Painted brake calipers and the OPC logo should of course not be missing as identifying features. The body of the OPC should be lowered by around 15 millimeters.
Of the new Astra shares PSA's EMP2 platform with the Peugeot 308. The Rüsselsheim compact will be launched on the market at the beginning of 2022, and it will be available to order in autumn 2021. Prices start at 22,465 euros, which is exactly the same as the predecessor. The OPC version is likely to crack the previous 36,750 euros base price of the Astra J OPC. A Starting price of just under 40,000 euros but seems realistic. Market launch for a possible Astra L OPC should be in the second half of 2022 be. Perhaps, however, Opel will not even name its Sport-Astra OPC – it will uses the abbreviation "GSi" return.