Cars
Opel Meriva B: used car test – autobild.de
–
This family friend comes with an unusual door trick
The second generation of the Opel Meriva is now easily available for less than 10,000 euros. What do you get for it?
C.
Levere family cars don't have to be expensive. Opel succeeded in proving this with the second generation of Meriva from 2010 onwards.
With a length of just 4.30 meters, the Rüsselsheim-based company created a compact van with an individual look.
The technology was down to earth and (almost) free of experiments, it was largely supplied by Astra and Zafira. But how fit is the model with the peculiar kink in the sideline after almost eight years?
The Opel Meriva has many smart details to offer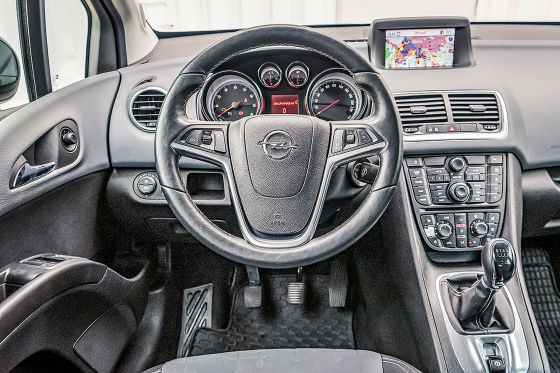 Cockpit with aluminum accents. The navigation is outdated and there are too many buttons.
© Olaf Tamm / AUTO BILD
Our test vehicle from the Franz Pohl dealership in Hamburg was first registered in November 2013. It drives up with a completely sufficient 120-horsepower turbo gasoline engine in fine innovation thread. According to Schwacke, a hefty 24,750 euros were due for exactly this configuration. But the equipment leaves little to be desired, even from today's perspective: aluminum rims, multifunction steering wheel, heated seats, sat nav and air conditioning are on board. In general, the Meriva B In addition to an elevated seating position, there is comfortably space for four people and numerous smart details: The good ideas on board range from a longitudinally movable center armrest with various storage areas to a variably designed rear bench with a sliding and folding mechanism and a horizontally divided trunk compartment.
Technical specifications
engine
Four-cylinder / front cross
Valves / camshafts
4 per cylinder / 2
Displacement
1364 cc
power
88 kW (120 PS) at 4800 rpm
Torque
175 Nm at 1750-4800 rpm
Maximum speed
188 km / h
0-100 km / h
11.5 s
Tank / fuel
54 l / super
Gearbox / drive
Five-speed manual / front wheel
Length Width Height
4288/1812/1615 mm
Trunk volume
400-1500 l
Empty weight / payload
1393/522 kg
The unusual doors offer no additional use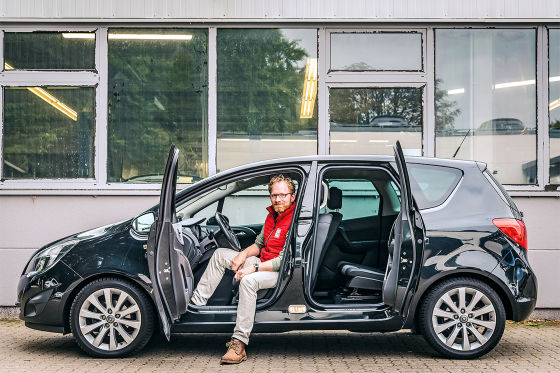 Exotic insight: its rear door concept makes the Meriva B exciting. Portal doors and huge opening angles are otherwise known from Rolls-Royce.
© Olaf Tamm / AUTO BILD
The rear-hinged rear doors are an eye-catcher: Opel called them FlexDoors back then. Except for an unusual appearance, however, they hardly offer any additional benefits. On the contrary: the enormous 84 degree opening angle quickly creates unwanted paint smacks on the door edges in everyday life. Despite the sometimes simple plastics, the other long-term quality knows how to please. The softly tuned chassis does not rumble, nor does the interior crackle excessively. With the exception of peeling soft paint on some buttons and infotainment that is out of date, the interior still looks fresh today. In 2014 the Meriva a subtle facelift with a revised front and refreshed engines. In 2017, production started in Zaragoza, Spains. In the AUTO BILD long-term test it was shown Meriva 2014 not only clever, but also solid: In the end it was enough for a 2–.
Conclusion: The charm of the second Meriva has not faded even after eleven years. Used it is not a bargain, but still interesting. Its maintenance costs are moderate and the concept is ideal for smaller families.
Cost: Opel Meriva B 1.4 Ecoflex
Entertains
Test consumption
6.7 l S / 100 km
CO2
139 g / km
inspection
250-500 euros
Liability (18) *
563 euros
Partially comprehensive (16) *
602 euros
Fully comprehensive (18) *
947 euros
Vehicle tax (Euro 5)
86 euros
Spare part prices **
Alternator (AT)
492 euros
Starter
614 euros
water pump
353 euros
Timing belt
not applicable, timing chain
Rear silencer
392 euros
Front left fender, painted
729 euros
Brake discs and pads
696 euros
* Online tariff of the HUK24 insurance: registration in Hamburg, drivers only policyholders and partners (25 years old), annual mileage 15,000 km, no-claims class 1; ** Prices including wages and 19 percent sales tax
* Further information on the official fuel consumption and the official specific CO2 emissions and, if applicable, the power consumption of new cars can be found in the "Guide to Official Fuel Consumption", which is available free of charge at all sales outlets and from "Deutsche Automobil Treuhand GmbH" (www .dat.de).