Cars
Opel Rocks-e: test, electric, price, battery, range
In the past, in the shrill 80s, we village rockers aged 16 and over had the choice:
Yamaha
DT in the off-road trim or RD for the road, both 80 cubic meters, both very loud. Before, when there weren't any "Fridays for Future" demonstrations, we filled up with twelve liters of Super and drove to freedom. Now the youth live sustainably, and
Opel has the right mobile
:
Rocks-e
, a light vehicle with
8 hp electric motor
and a top speed of 45 km / h
.
(Important tips for buying a new car on the Internet)
45 things! You can do this with an AM
from 15 years
behind the wheel
to take one away. And don't get wet! Fortunately, because on our first tour in Mainz it is drizzling slightly. We asked Ivonne to step on the gas herself. Ivonne is 19 and is doing her Abitur next year. She has a driver's license, but seldom drives: "In our year, the driver's license is the exception," she says. Cars are considered to be harmful to the environment
no longer that
Status symbol
. Ivonne: "Either you come to school by bike, on foot or by bike
bus
. "But not with the car! How good that the Rocks-e is not one at all, but a – well, now what?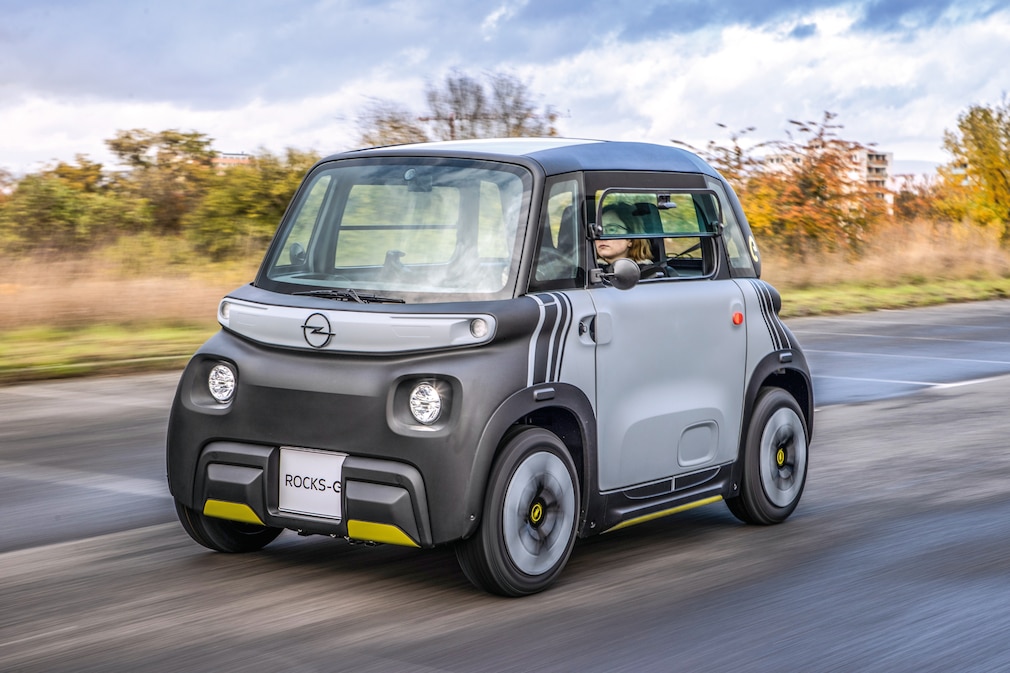 The range of the Rocks-e is 75 kilometers

Let's agree on Opelchen for people aged 15 and over Commuters with a commute across the city and never on country roads, because at a top speed of 45 km / h you could also say: Traffic obstruction! Ivonne gets in. Slidable seats with a rubber-like cover, you select the three speed levels (forwards, backwards, neutral) with a button on the left of the seat, release the handbrake, the load hisses silently away. After five minutes she comes back with a smile on her face: "It's pretty agile, really bustling." And pretty tight! The little Opel bounces like a rubber ball, renounces any comfort. Except for: You won't get wet!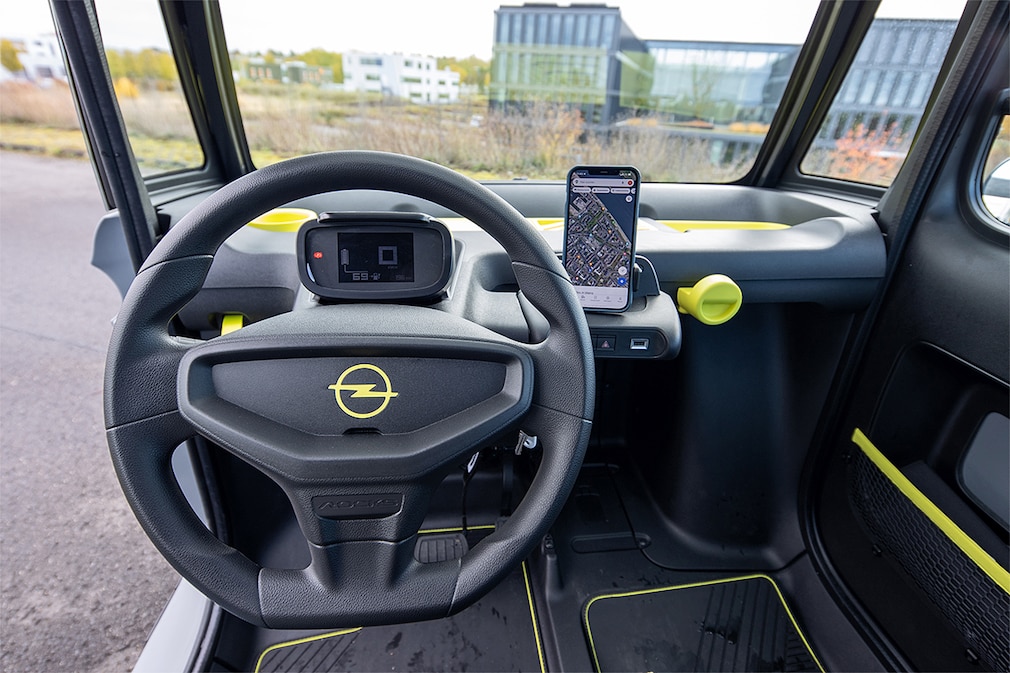 With a few extras, the price becomes sporty

Let's take a closer look at the Rocks-e: Front and rear bumpers identical, front with white LEDs, rear with red, Insurance license plate (always new from March 1st, less than 100 euros) comes at the back. The driver's door is hinged at the backthat for the front passenger; both are identical. Many identical parts lower the price, but the bottom line is 7990 euros, and if you want the Rocks-e with a bit of oomph like ours here, with yellow applications, hubcaps, mobile phone holder and shelf for the loudspeaker, then you pay 8790 euros. For 100 euros more there is also one Dacia Sandero. Okay, Opel could say now, but this is not a Stromer. (Calculate maintenance costs? To compare car insurance)
Well, we say from AUTO BILD: But this thing has airbags, and you can even use them on them
Highway
, and after 75 kilometers the tank is not empty even at full throttle.
But maybe you should be such an Opel
lease
: Should cost as much as a monthly ticket for public transport, so
50 Euros
. And you won't get wet!
Technical data Opel Rocks-e • Motor: electric motor in front • Continuous power: 6 kW (8 HP) • Drive: front wheel drive, automatic entrance • Length / width / height: 2410/1388/1525 mm • Wheelbase: 1730 mm • Empty weight: 471 kg • Load: 229 kg • Luggage compartment : 63 l (right footwell) • Vmax: 45 km / h • Range: 75 km • CO2 exhaust gas: 0 g / km • Battery capacity: 5.5 kWh • Charging time (0 to 100 percent): 3.5 hours • price 7990 euros.