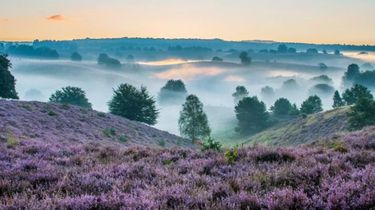 Due to the pandemic, you will most likely not be able to go on holiday abroad this summer. And to quote the words of Johan Cruijff again: "Every advantage has its disadvantage". After all, now you finally have time to discover how beautiful the Netherlands is. We have listed all National Parks.
From National Parks on our Wadden Islands to the Hoge Veluwe and the extreme south of our small country; The Netherlands is quite varied. Everywhere you encounter other nature and animals. View this overview for inspiration for a holiday in your own country.
1. National Park Nieuw Land – Flevoland
Size: 290 square kilometers
Special: Nieuw Land is the first National Park in Flevoland, the youngest province in the Netherlands. The nature reserve is located at the bottom of the former Zuiderzee and therefore actually symbolizes the whole of the Netherlands. It concerns an area with a size of 29,000 hectares, which was created by reclamation. The area is a combination of the Oostvaardersplassen, Lepelaarsplassen, Trintelzand in the Markermeer and the Marker Wadden. Nieuw Land is the newest National Park in the Netherlands. The park is in full development and should become a bird paradise. Read and view the complete master plan here.
2. National Park Lauwersmeer – Friesland, Groningen
Size: 60 square kilometers
Special: Rugged mudflats, water, many birds, orchids, Miss Ali's Land (orchid fields), Dark Sky Park (nighttime darkness comes into its own here).
3. National Park Schiermonnikoog – Friesland
Size: 54 square kilometers.
Special: Wadden Island, unspoilt, wide beaches, one of the most natural areas in the Netherlands, enormous variety of landscapes, plants and animals (including seals and birds such as the shelduck, harrier, wheatear, spoonbill and little egret, woodcock and collared redstart).
4. National Park De Oude Venen – Friesland
Size: 23 square kilometers.
Special: Peat moss reed beds, blue grasslands, buttercup grasslands, 500 species of tall plants, lakes, peat bogs, peat holes, vibrating bogs, reed lands, swamp forests, otters, amphibians, many more animals.
5. National Park Drents-Friese Wold – Friesland, Drenthe
Size: 61 square kilometers
Special: Darkest part of the Netherlands (extremely clear starry sky), forest, heather and shifting sands, many animals (pine marten, roe deer, stone marten, buzzard, hawk, raven, various woodpecker species, wasp thief worm, comb salamander, viviparous lizard, viper, smooth snake, grass snake), special plants (bell gentian, lavender heather, stinging claw, sundew).
6. National Park Dwingelderveld – Drenthe
Size: 37 square kilometers
Special: Largest wet heathland area in Western Europe, alternation of wet gullies and dry sand ridges, fens, flocks of sheep, Scottish highlanders, vipers, four heather species, variety of plants and shrubs.
7. National stream and esddorp landscape Drentsche Aa – Drenthe
Size: 100 square kilometers
Special: Sixteen villages and hamlets with a total of 10,000 inhabitants, brook, Hondsrug, originated in the penultimate ice age, boulder loam ridges, dolmens.
8. Weerribben-Wieden National Park – Overijssel
Size: 100 square kilometers
Special: largest contiguous peat bog in northwestern Europe, mosaic of landscape types and ecosystems such as lakes, ditches, canals, reedlands, hay meadows, meadows, swamp forests and vibrating moors. One of the National Parks in the Netherlands that attracts many international tourists and where it is now a lot quieter than usual.
9. National Park Sallandse Heuvelrug – Overijssel
Size: 35 square kilometers
Special: Haarlerberg, Holterberg, Noetselerberg, Koningsbelten, heather, forest, last population of grouse in the Netherlands, nightjar, lizard, sand lizard, roe deer, badger, marten, polecat, weasel, many trees, plants and shrubs.
10. National Park Veluwezoom – Gelderland
Size: 50 square kilometers
Special: Beautiful nature, forest, heather, large mammals such as red deer, fallow deer, roe deer and wild boar, small predators such as the fox, badger, ermine and the rare pine marten, birds such as the rare kingfisher, tree falcon, wasp thief, raven, nightjar, robin wheatear, skylark, green woodpecker and black woodpecker.
11. National Park De Hoge Veluwe – Gelderland
Size: 55 square kilometers
Special: beautiful nature, forest, heather drift sand, like Veluwezoom also large mammals and small predators, exotic trees, exploited without government subsidy, it is the only National Park in the Netherlands where the sale of entrance tickets is an important source of income.
12. National Park Utrechtse Heuvelrug – Utrecht
Size: 100 square kilometers
Special: Multitude of landscape forms, of which the lateral moraine is the most eye-catching, but also moors, shifting sands and floodplains, more than a hundred breeding birds, many small predators, large resting area for animals.
13. National Park Dunes of Texel
Size: 43 kilometers
Special: Dunes, beach plain, walking routes, seal, gray seal, white-beaked dolphin, wading birds, many different nature reserves, wading birds.
14. National Park South Kennemerland – North Holland
Size: 38 square kilometers
Special: Calcareous dunes, rare plant species of songbirds, locomotive (rare grasshopper), large mammals such as fallow deer, roe deer, rabbit and fox, large grazers (including the European bison wisent), twenty butterfly species.
15. National Park Oosterschelde – Zeeland
Size: 370 square kilometers
Special: Largest National Park in the Netherlands, unique flora and fauna, seals, porpoises, popular among recreational divers, once a river arm with both fresh and salt water, special underwater life such as fan tube worms, anemones, Irish moss and sea cats.
16. National Park De Biesbosch – North Brabant, South Holland
Size: 90 square kilometers
Special: Wetlands, creeks, willow flood forests, river islands, sand and mud flats, a lot of fish, including eel, perch, bitter roach, roach, bream, carp, pike, pike-perch, three-spined stickleback and predatory duck (formerly also salmon, trout and sturgeon), breeding birds, unique animals such as the otter and beaver, 'jungle' of plants.
17. Border Park De Zoom-Kalmthoutse Heide – North Brabant (and province of Antwerp)
Size: 37.5 square kilometers
Special: Agricultural enclaves, meadows, woods, moors, dunes, fens, black-necked grebes, tree lark, nightjar, many special insect species.
18. National Park De Loonse en Drunense Duinen – North Brabant
Size: 41 square kilometers
Special: Dry sand drifts, coniferous forest, brook valley zone of the Zandleij, De Brand near Udenhout nature reserve, coppice forests, wet meadows, wetlands, "living" drifting sand, many amphibians and insects.
19. National Park De Groote Peel – North Brabant, Limburg
Size: 15 square kilometers
Special: High moor area, geological fault lines due to stresses in the earth's crust (including the Peelrand fault), loam layers, cranes, grebes, grebes, wild boars. Small area, but one of the most surprising National Parks in the Netherlands.
20. National Park De Maasduinen – Limburg
Size: 45 square kilometers
Special: Forest and heather area located on an elongated high sand ridge, longest river dune belt in the Netherlands, water, traces of the Rhine, many cranes perch in the many fen complexes in the spring and autumn.
21. National Park De Meinweg – Limburg
Size: 18 square kilometers
Special: For the Netherlands an extremely rare terraced landscape with steep transitions between these terraces, created by the erosion of the water of the Meuse and Rhine and three fractures in the earth that run through the National Park, many reptiles, mammals and birds.
NewsABC.net