Cars
Paint layer measuring devices: 10 products in the test
Glossy paint can dazzle not only laypeople, but also professionals. Because what is hidden under the polished, outer layer is not always immediately apparent without tools. Coating gauges give it away. Coating thickness gauges have been used professionally for decades, and no vehicle appraiser can do without them. But private classic car fans are also increasingly turning to the devices so as not to be fooled when buying classics. AUTO BILD tested ten paint layer measuring devices.
Winner of the AUTO BILD paint layer measuring device test: Q-Nix 5500
The Q-Nix 5500 is an excellently processed professional device that is easy to operate with one button. It shows very precise measurement results on the test panels and is also easy to read – our reference device. Its interchangeable probe, which is available for a measuring range of up to 5000 μm, is a sensible option for anyone who regularly measures paint layers on classic cars, because layer thicknesses of more than 800 μm are quite common practice in restorations with shaping adjustment work. In the test, the Q-Nix 5500 achieved 443 out of 460 points and thus a grade of 1.1 (very good).
Price-performance winner Phynix Paintcheck Plus FN
The Phynix Paintcheck Plus FN delivers exact measurement results and can be operated intuitively with a button, and is also very compact. Solid housing in haptically pleasant rubber coating. In the test, the Phynix Paintcheck Plus FN achieved 377 out of 460 points and thus a grade of 2.0 (good).
How AUTO BILD tested it
We wanted to know: What layer thicknesses are typical on body surfaces of old cars? How exactly do the paint layer gauges work? Master body builder Oliver Grubbe and vehicle painter Željko Sturbek from Hamburg supported us in this test. In order to determine how precisely the devices measure defined layer thicknesses, we measured the layer thicknesses of special plastic control surfaces with all devices. These were included with the devices from Q-Nix, Sauter, Phynix, BGS, KS-Tools, Busching and Etari in ten thicknesses from 48 to 1006 μm. We have evaluated and color-coded any measured values ​​that deviate from the defined layer thickness.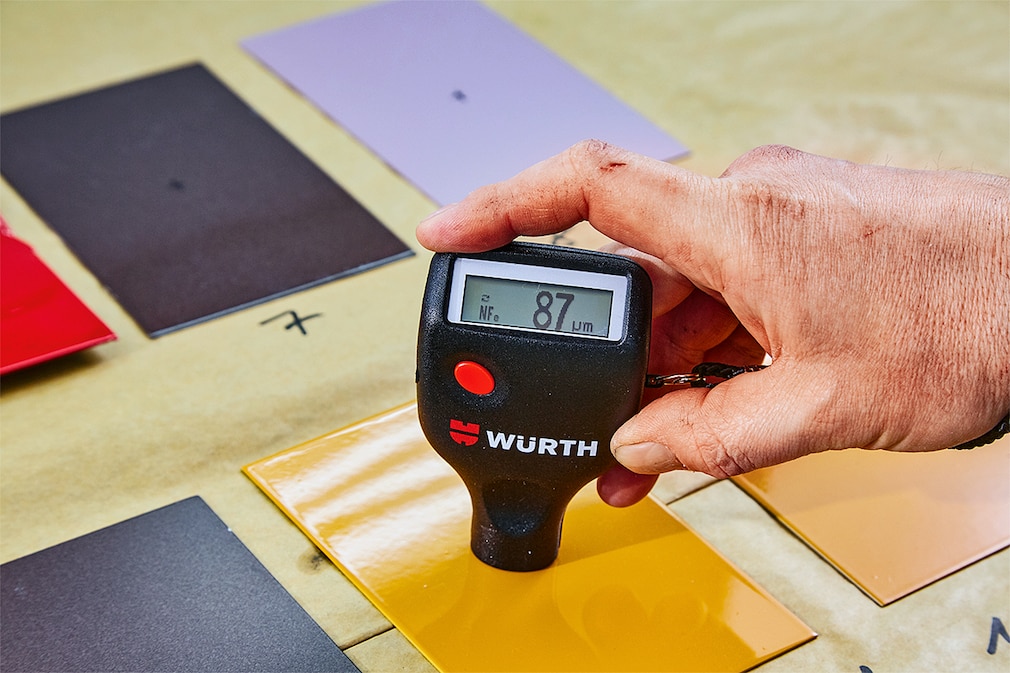 The Q-Nix 5500 device achieved the highest number of precise measured values ​​in the measurements on the control surfaces and therefore serves as a reference device for further measurements on panels specially made for this test. We didn't measure the layer thickness of an oldie with an unknown paint structure, but commissioned the vehicle painter Sturbek to produce a total of 22 panels with car-typical surface coatings.
The test results at a glance

AUTO BILD KLASSIK tested ten models in the price range from 129.95 euros to 909.16 euros. What all devices have in common is their ability to measure layer thicknesses on ferrous, magnetic surfaces (Fe) as well as on non-magnetic, metallic surfaces (Nfe). The devices measure the distance between the surface of the paint and the substrate, usually sheet steel or aluminum. The applicability to magnetic and non-magnetic metals is also important for someone who only wants to measure steel bodies: Because only with an NFE-capable device can spots on a steel body that have been repaired with tin, for example, be located.
The common unit of measure used by all measuring devices is the micrometer (μm, pronounced "mu"). The functioning of the devices is very similar: Although most are already calibrated at the factory, it is advisable to calibrate them on the metal plates supplied before use. It works like this: switch it on, place it flat on the measuring point and press a button to carry out a measurement. Practical: A device under test is the only one in this test field that not only delivers the measured value itself but also its interpretation. The NexPTG Professional, which costs 150 euros, works with an app for iOS and Android and is linked to the smartphone, a good idea for beginners with little experience. The Professional convinces in handling, equipment and price. Unfortunately not in terms of precision: In the measurements on the test panels, we determined deviations of up to 118 percent compared to our reference device. In most of the measurements, the NexPTG shows significantly lower layer thicknesses.
Conclusion on the paint layer measuring device test

Any paint layer gauge is better than none at all. Important for measurements on classic cars: Make sure that the measuring range is sufficiently large. The highly recommended devices from Q-Nix can be equipped with probes up to 5000 µm – layer thicknesses of this magnitude are quite common in restorations. Buying tip: Devices suitable for vintage cars should be able to precisely measure layer thicknesses on Fe and NFe up to 3000 µm.
What do the readings mean?
You need experience and specialist knowledge of vehicle generations and their typical paint structure in order to correctly classify measured values ​​for paint layer thicknesses. The information below can only be a rough guide. Important rule: The measured layer thicknesses on a vehicle should not differ greatly from each other. If, for example, a significantly higher measured value occurs on a right wheel arch at the rear than at the identical point on the left side of the vehicle, this is an indication that repairs have been carried out and that the paintwork has been repainted.
The total layer thickness measured is the sum of all functional layers; for example, it may consist of a zinc phosphate coat, electrocoat, spray primer, putty, spray putty, filler, base and clear coat, or one coat top coat. Factory paintwork is usually between 80 and 150 μm layer thickness, manual repainting above 200 μm. Even new vehicles can be repainted in the factory and thus have higher values. However, this is not a defect. In the case of restored classic cars, the values ​​can also be above 800 μm due to old paint layers and spatula – that does not mean a botch!
80-150μm: Original paint for water-based paints with acrylic clear coat
150-250μm: Original paint on old acrylic paints or new paint after removing the old paint
200-400μm: Repair painting on old paintwork, thin layer of filler
300-800μm: Repainting on spatula or tin and/or multiple coats of paint
over 800 μm: Putty/tin coats and repainting