Cars
Peugeot e-Expert: test, electric, van, price, range
–
The electric expert drives really well, just not as far as promised
Peugeot's little truck Expert uses a tried and tested electric platform – the one from 2008 and Co. He drives really well with it. But he doesn't get very far.
Charging with a conventional wallbox requires patience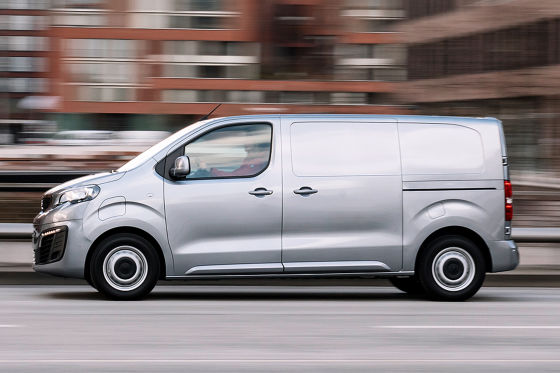 Three body lengths, two battery sizes and three equipment lines determine the prices for the e-Expert.
© Roman Raetzke / AUTO BILD
The typically heavy weight of the batteries is still there. Around two tons when empty, the electric van weighs around four hundred pounds more than a small diesel. Power between 749 kilos and just under a ton of payload – that's still okay for this size league. The box bumps away almost 1.2 tons in connection with an optionally increased payload (then 3100 kilograms permissible total weight). Also the loading time are in the middle. We kept the cable connection to an 11 kW wallbox for around seven hours to completely fill the car. At the Fast charging station (100 kW), the delivery van should recharge around 80 percent of its battery capacity in less than an hour.
Range: The e-Expert does not get as far as promised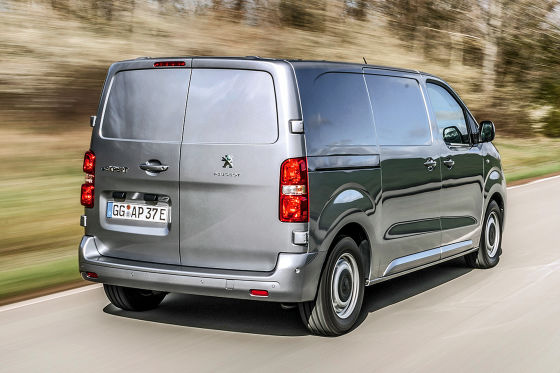 Instead of more than 300 kilometers, we only got 248 kilometers on one battery charge in the test.
© Roman Raetzke / AUTO BILD
In the Range we found the usual exaggerations according to WLTP. Instead of the promised over 300 kilometers, our experts are after 248 kilometers run out of electrons. Its radius of action shrinks even further, especially on the autobahn. With (determined by us) 32.1 kWh The battery would already consume electricity afterwards 200 kilometers at the limit. His driving spectrum is broad. Because the Expert can comfortably collect kilometers, bustle through the city or mime the heavy transporter on overland routes. Depending on which button the driver presses in advance. Because the different driving modes also allow different power outputs and torque developments of the e-machine. To 136 hp respectively 260 Newton meters In the best case scenario, the expert lets torque off the leash.
In addition, the driver can use different Recuperation levelspreselect the braking effect of the electric drive. The bottom line is that everything works in no time at all. The expert drives playfully, starts moving gently and also knows the typical smack of a powerful electric car.
The medium-length model with a large battery costs almost 50,000 euros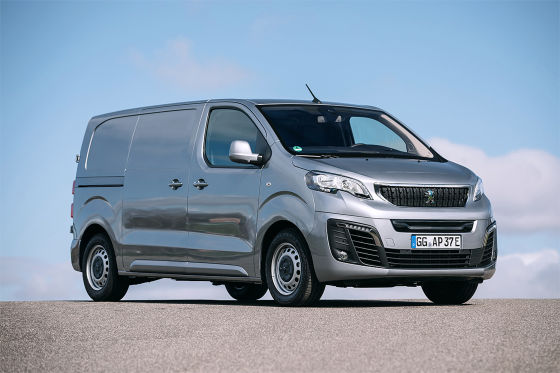 The e-Expert is available in three body styles. Our copy cost from 47,898 euros.
© Roman Raetzke / AUTO BILD
the Seats are comfortable enough in the upholstery, but they lack the adjustment range of the backrest (due to the partition wall to the cargo area). The cockpit in 3.5-inch color matrix version including extensive multimedia equipment, looks pleasantly modern and hardly like a commercial vehicle. Three body lengths, two battery sizes, three equipment lines determine the prices. Our medium-length model with a large battery (75 kWh) costs from 47,898 euros, with the small battery (50 kWh) and the short wheelbase, the e-Expert costs almost 7,000 euros less. Annoying: Side airbags as well as air conditioning are subject to a surcharge, and that Assistance range (Lane assistant, attention assistant, traffic sign recognition with speed display and high beam assistant for 480 euros) Peugeot only offers in connection with the 1500 euros more expensive Premium line at. Good: Consumption is hardly higher than that of a compact electric car. (Calculate maintenance costs? To the car insurance comparison)