Cars
Phoenix Top-Liner 8900: mobile home test – How To Cars
Albus Dumbledore, the popular wizard from the Harry Potter saga, also has a phoenix. His name is Fawkes and with his golden-red plumage he is not only beautiful to look at, but also a very loyal pet. And, as Dumbledore knows, he can carry immensely heavy loads.
The Phoenix that we drive on this sunny winter's day in Upper Franconia is not gold-red. But it can also float – thanks to air suspension. He is also very loyal – the self-supporting structure comes with a ten-year leakproof guarantee. And heavy loads are a piece of cake for him, the chassis comes from the MAN TGL.
The full name of this Phoenix is ​​Top-Liner 8900 BM-MB. This makes it one of the manufacturer's second largest series and has a queen-size bed in the middle of the rear. In front of it, its residents have access to a spacious bathroom with a corner shower, washbasin, permanent toilet (2390 euros) and linen closet. It is placed appropriately here, because the bathroom can be closed to the front and back, so it can also be used as a dressing room.
The kitchen follows further in the direction of travel. Its highlight is, in the truest sense of the word, the illuminated acrylic glass rear wall (450 euros), which really makes the mineral worktop shimmer. The transition to the cockpit is then closed by a large L-shaped seating group that incorporates the air-sprung pilot's chair.
Phoenix Top-Liner 8900: great attention to detail

That's him: Above all stable. Wherever the critical eye falls on this mobile home, whatever your hands touch – it looks massive. Water pipes are laid in the double floor, which are comparable to those of a house installation. The 4.2 cm thick aluminium-PU sandwich panels are reinforced with stainless steel at key points.
Homogeneous gap dimensions on the outside and inside testify to the attention to detail. And the furniture features thick multiplex panels with aluminum profiles, which is to be expected: the company founders Johannes and Oliver Schell are master carpenters with decades of motor home experience. This is also why the fulfillment of special requests for the family business, which has existed since 1997, is not a big deal.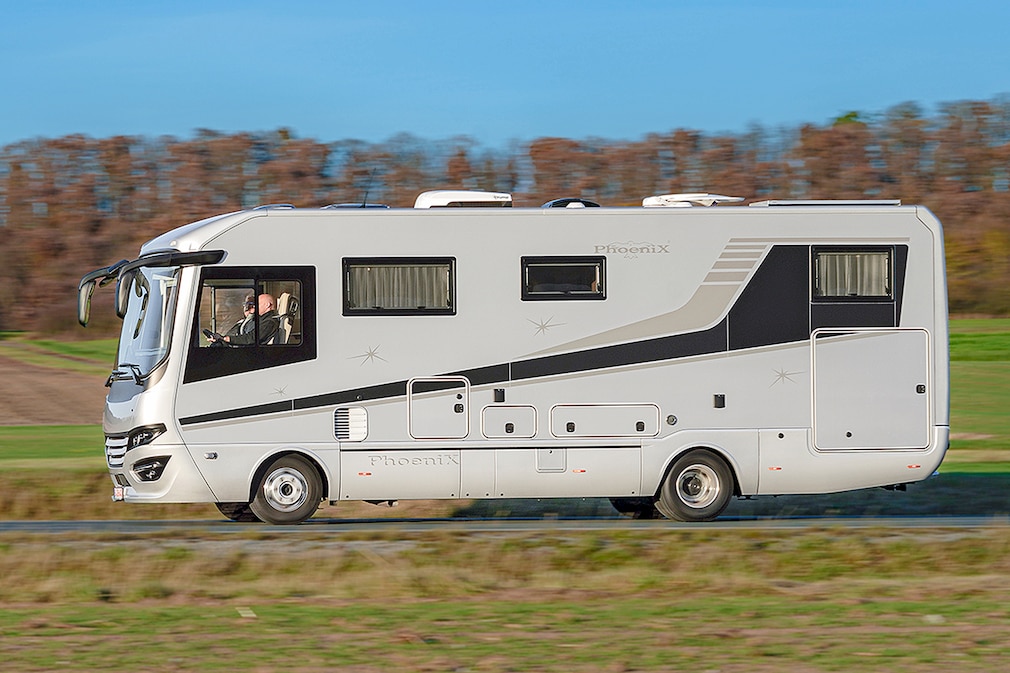 Appropriately, the effort involved in the construction of the body was recently ennobled by the chassis supplier MAN: Their currently valid body guidelines and standards are all audited at Phoenix. There are also Iveco base vehicles, and the Mercedes Sprinter is also available for alcoves (which account for the majority of Phoenix production).
Living feeling like in a house

He has: Actually everything that a house has. Only wheels are on the bottom. Above them is a lowered frame on which the 38.5 centimeter high double floor begins. It houses a lot of technology, but also storage space – all easily accessible via external flaps. A hidden basic carrier for two-wheelers can be pulled out of the rear bumper.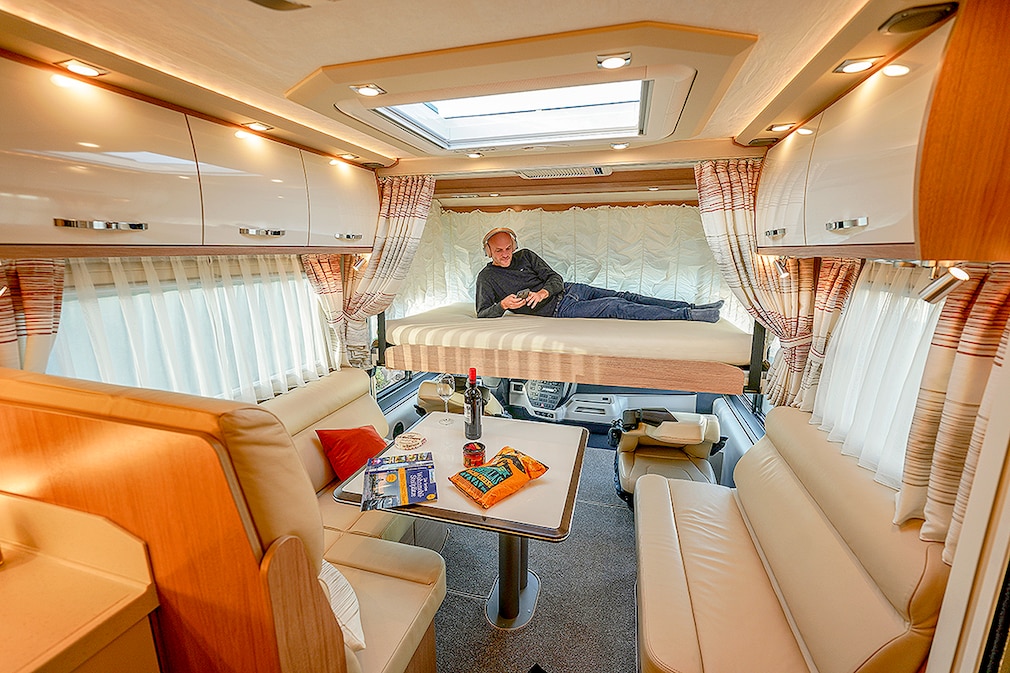 The continuously level running floor consists of glass fiber reinforced honeycomb panels, covered with PVC in oak decor. Matching linked carpets are also included loose. The breathable fabric used to cover the walls and ceiling is particularly pleasant and elegant, as is the suspended canopy in which spotlights and indirect lighting are elegantly installed.
Front fold-down bed can be pulled out to a width of 1.40 metres
The beds have visco-elastic foam mattresses, the front fold-down bed (2860 euros) can be pulled out to a width of 1.40 metres. And while convectors from the Alde hot water heating system are distributed throughout the structure anyway, there is also a towel radiator in the bathroom.
empty weight ready to drive/load (test vehicle)
Trailer load (braked/unbraked)
Wall/roof/floor thickness
Insulation wall/roof/floor
Lifting bed lying surface L x W
Fresh/grey/black water tank
162 kW (220 hp) at 2300 rpm
4578 cm3/850 Nm at 1400 rpm
180 l/diesel + 35 l AdBlue
Gas, 2 burners/induction 1 burner
2 x 11 kg/Alde 3020 HE + Eberspächer warm water parking heater
from 312,300 euros/416,658 euros
Multi-course dinners can also be conjured up in the fully-fledged kitchen, with a thermostatically controlled roof vent reliably dissipating odors that are too appetizing. So that it doesn't run out of juice so quickly, two 210 Ah gel batteries are standard – monitored by high-quality Votronic components.
The LI-Power package with two 210 Ah lithium-ion batteries including an inverter and additional sockets was installed in our test car (11,250 euros), which increases independence even more.
This is how he drives: It's more of a floating, we already had it. Due to the finely responsive rear axle air suspension and the comfortable suspension seat, the machinery feels a bit decoupled for the first few meters, but this settles down quickly and – thanks to the good overview, large heated mirrors and window surfaces – inspires a lot of trust. The assistance systems known from smaller vehicles, such as adaptive cruise control or automated transmission, can also help here.