Cars
Plug-in hybrid SUV: Hyundai Tucson vs. Hyundai Santa Fe
There are 800 kilometers between the US cities of Tucson (Arizona) and Santa Fe (New Mexico). And a few centimeters between the Hyundai cars: the Tucson is 4.50 meters long and 1.87 wide, the Santa Fe is 4.79 meters long and 1.90 wide.
Selected products in tabular overview

| | | | |
| --- | --- | --- | --- |
| | Hyundai Tucson 1.6 T-GDI PHEV | RRP from EUR 47,030, savings of up to EUR 10,496 | |
| | Hyundai Santa Fe 1.6 T-GDI PHEV | RRP from EUR 64,650, savings of up to EUR 12,178 | |
Even the Tucson has a surprising amount of space, even in the surprisingly airy rear. Sure, the Santa Fe adds something to it, but that's not a class difference. In the trunk of the Tucson fit a maximum of even 1721 liters, in the Santa Fe 17 liters less. In the rear, the thick one offers a split sliding rear seat and, if desired, a third row with two folding child seats. However, hidden in packages, for example in the "Prime package Seven" from 7550 euros.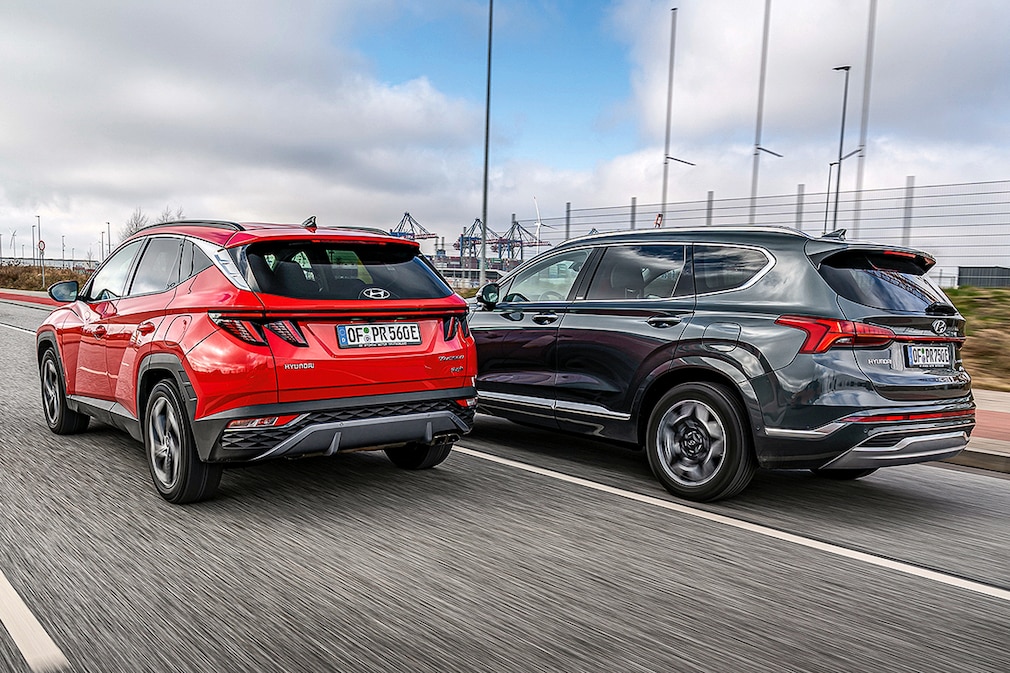 Both drive here with the identical plug-in hybrid before, the system returns 265 hp. And they are not only on paper, if necessary, things move forward quickly, the Tucson is always slightly ahead. Purely electrically, both create almost 60 kilometers. When the battery runs out, and that happens, for example, on the Freeway fast, reports the rough and always present petrol engine under load, the six-speed automatic shifts rather drowsily. Both have sufficiently direct steering, which, however, feels artificial. And both spring rather bumpy, with the heavier Santa Fe being a touch calmer.
Test consumption (60/40%)
Tank capacity/ battery capacity
Four-cylinder, turbo petrol engine plus electric motor
Four-cylinder, turbo petrol engine plus electric motor
The Tucson 1.6 T-GDI plug-in hybrid starts at 42,350 euros, including automatic and four wheel drive. With useful trend equipment (including with GPS, 10.25-inch touchscreen, type 2 charging cable) it comes to 47,030 euros. The Santa Fe plug-in starts at 55,750 euros. Here are GPS, Type 2 cable, electric front seats and much more series. The luxurious signature equipment starts at 64,650 euros.