Cars
Porsche 911 GT3 R: Porsche's new 911 for the GT3
Porsche showed its new 911 GT3 R during the Spa 24 Hours. From the 2023 season, customer teams can use the racing car at motorsport events based on GT3 regulations worldwide. This includes, for example, the DTM. The racing car is based on the current 992 generation.
Compared to the previous model, the new 911 GT3 R has a larger engine with up to 416 kW (565 hp), more constant aerodynamic performance and an optimized vehicle balance. Cost: 511,000 euros net.
"The new 911 GT3 R is following in big footsteps," says Michael Dreiser, Head of Sales at Porsche Motorsport. "His predecessor has won just about everything there is to win in the GT3 scene in four seasons since 2019. His successes include overall victories in the 24-hour races at the Nürburgring and also here in Spa-Francorchamps. Our customers clinched class wins at the 24 Hours of Daytona and the 12 Hours of Sebring. The new model looks forward to an even broader range of work in the hands of our customer teams."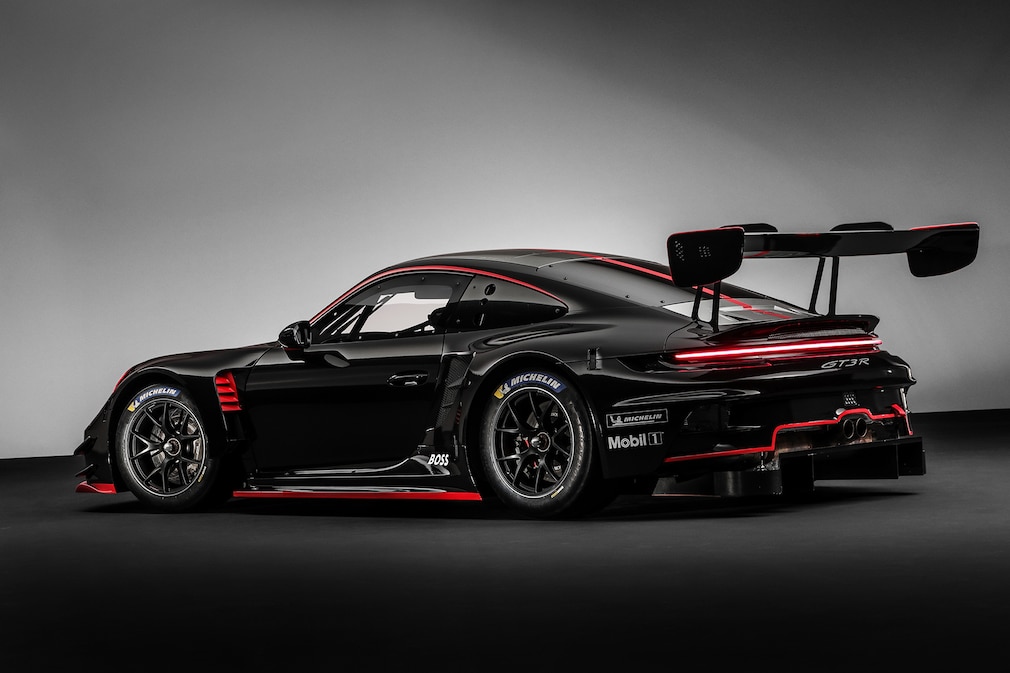 After the GT3 class was announced in the North American IMSA series as a professional category, the FIA ​​World Endurance Championship WEC is following suit: From 2024, GT3 racing cars such as the new 911 GT3 R will be allowed to start at the 24 Hours of Le Mans for the first time walk.
"We hit the bull's eye with the extremely successful previous model. The bar for the successor is correspondingly high," emphasizes Sebastian Golz, Project Manager 911 GT3 R at Porsche Motorsport. "Our task was not so much to make the new 911 GT3 R even faster – the classification in performance windows by the BoP quickly compensates for this advantage. For us, it was primarily about our customers being able to drive the racing car faster for longer. Consistency is required. That's why we focused primarily on improved drivability. This can now be seen in the new 4.2-liter engine's rev range that can be used more widely, more stable and constant aerodynamics and less strain on the rear tires, which in this way can tap their potential more evenly."
One of the key elements of the new racing car is the near-series engine based on the 911 generation 992. Like the previous model, it is a water-cooled six-cylinder boxer with four-valve technology and direct fuel injection. Above all, the displacement is new: like the 911 RSR, the new 911 GT3 R increased by a good five percent from 3,997 to 4,194 cm33 to. This has increased the engine's peak output to around 416 kW (565 hp). First and foremost, however, Porsche has optimized the torque and power curve over the entire speed range. The new 4.2-litre six-cylinder engine is therefore particularly suitable for gentleman drivers.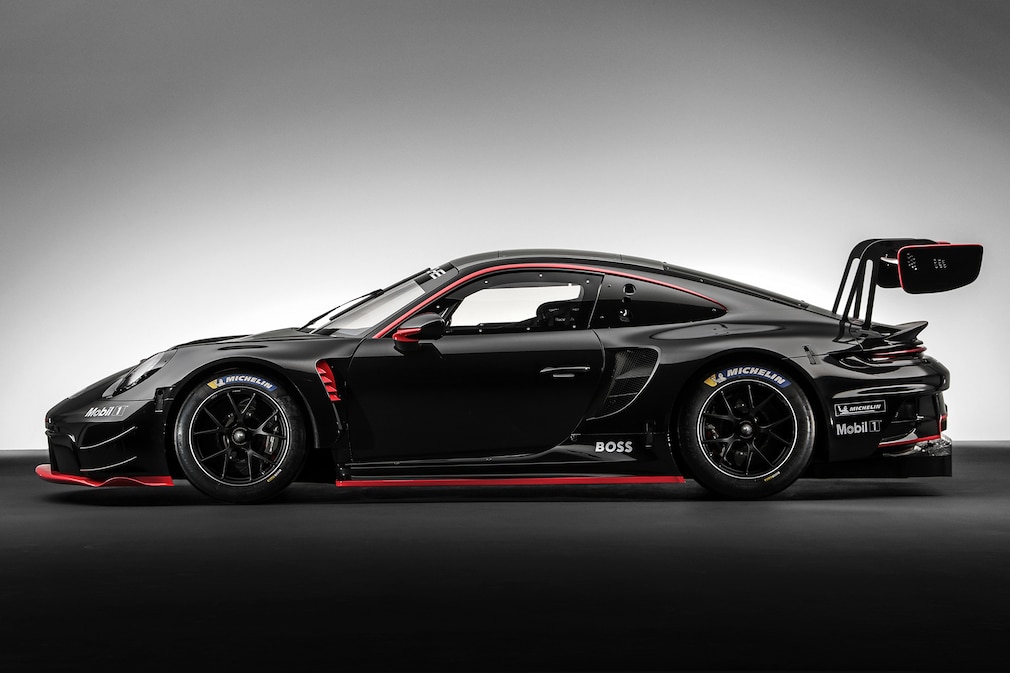 The high-revving six-cylinder still manages without turbocharging and is traditionally located in the rear, where it has a positive effect on traction and braking behavior. The sequential six-speed constant-mesh gearbox is derived from the current 911 GT3 Cup. The steering wheel paddles control an electronic shift drum actuator that enables particularly fast and precise gear changes.
After the 911 GT3 Cup, the new 911 GT3 R is the second racing car developed by Porsche Motorsport to be based on the current 992 generation. Its lightweight body in intelligent aluminium-steel composite construction is based on the series, but has been heavily modified for use in the 911 GT3 R. Including the front and bonnet, doors, side panels, rear wing and roof, almost all body components are made of lightweight carbon. Aramid is used for the wheel arches.
Technical data Porsche 911 GT3 R (992) model year 2023
concept
• Single-seat customer race car; homologated for GT3 class; Homologation basis: Porsche 911 GT3 (model series 992)
weight / dimensions
• Basic weight: approx. 1,250 kg (depending on BoP rating); Wheelbase: 2,507mm
• Length: 4,619mm; Width: 2,039 mm (front axle) / 2,050 mm (rear axle)
engine
• Water-cooled 6-cylinder boxer engine, rear arrangement; displacement
4,194cc, stroke 81.5mm, bore 104.5mm; maximum speed 9,250 rpm; Output: around 416 kW (565 hp); four-valve technology; individual throttle valve system; direct fuel injection; electronic engine management Bosch MS 6.6; Dry sump lubrication with oil-water heat exchanger; single mass flywheel; Racing exhaust system with twin tailpipes and DMSB-certified catalytic converter; Fuel quality Superplus unleaded up to E20 (min. 98 octane).
power transmission
• Sequential Porsche 6-speed dogbone gearbox; shift paddles on the steering wheel with electronic shift drum actuators; mechanical locking differential with variable preload system unit; 3-disc racing clutch (carbon).
body
• Lightweight body in intelligent aluminium-steel composite construction; recording lifting device; removable rescue hatch in the roof; welded roll cage; 6-bolt carbon racing seat according to FIA 8862-2009; Six-point seat belt for use with HANS®; sliding pedal box and adjustable steering column with steering angle sensor; Front cover with integrated quick-release fasteners, radiator exhaust air duct and central air intake for interior ventilation; Front fairing with extensions and spoiler lip; fenders with extensions; Rear fairing with integrated rain light according to FIA regulations; Doors, trunk lid and rear wing made of CFRP; rear wing with gooseneck connection; full polycarbonate glazing with hard coating; heated windshield; 4-ram air jack system, air lance valve can be mounted on both sides; 117 liter FT3 fuel tank in the front end.
• CFRP interior trim, multifunctional CFRP motorsport steering wheel with quick-disconnect clutch, shift paddles and illuminated pushbuttons; ergonomically designed digital control panel with colored backlight; Window and center net according to the latest FIA safety regulations; integrated CFRP side impact protection; driver's seat with seat cooling; Fire extinguishing system with electronic trigger unit.
landing gear
• Forged aluminum handlebars and top mounts, optimized for rigidity; Heavy-duty spherical bearing with dust cover; wheel hubs with central lock; Five-way adjustable racing shock absorbers, motorsport-specific valve design and blow-off function; Suspension adjustment via shims; adjustable sword stabilizers on both sides; travel potentiometer; tire pressure control system.
front axle:
• Double wishbone suspension, adjustable in height, camber and toe.
• Electro-hydraulic power steering.
• One-piece alloy wheels 12.5 J x 18; Tires 30/68-18.
rear axle:
• Multi-link suspension, adjustable in height, camber and toe.
• Racing cardan shafts with tripod flanges.
• One-piece forged alloy wheels 13.0 J x 18; Tires 31/71-18.
braking system
• Two separate brake circuits with brake pressure sensors for the front and rear axles, adjustable by the driver via a balance beam system; racing brake pads; optimized brake air routing; brake temperature sensors; Ergonomic brake pedal positioning for right and left brake users.
• Race ABS Generation 5 from Bosch
• Front axle: One-piece 6-piston aluminum racing brake calipers with "anti-knock-back" piston springs; internally ventilated, multi-part steel brake discs, diameter 390 mm, cross-section 35.7 mm; Aluminum brake disc pot.
• Rear axle: One-piece 4-piston aluminum racing brake calipers with "anti-knock-back" piston springs; internally ventilated, multi-part steel brake discs, diameter 370 mm, cross-section 32.1 mm; Aluminum brake disc pot.
electrics
• 992 EE Motorsport architecture; new Porsche toolset with simplified handling; current generation electronic components from Cosworth; Porsche logger unit; Porsche Power Box, 10.3 inch Porsche
Color display with integrated RLU, data recording via USB stick; leak-proof LiFePO4 lightweight battery 12V, 40 Ah in the passenger footwell; 210A alternator; digital control panel with colored backlight; Single-arm windscreen wipers with direct drive (intermittent and continuous wiping);
• LED main headlights with integrated auxiliary headlights; Rear lights and rain light in LED technology.
• Preparation for Accident Data Recorder (ADR)