Cars
Porsche Panamera: used car test – AUTO BILD
Porsche reached the fourth dimension twelve years ago. The fourth model series from the Stuttgart-based company rolled out in 2009 with the first generation of Panamera. Such a Panamera
S.
was a 4.97 meter long sports yacht for the road back then
4.8 liter V8 direct injection petrol engine and 400 hp
. The model started in 2011
94,582 euros
. With extras such as Bose sound system, flap exhaust system, turbo-2 rims, air suspension and xenon light that was
120,000 euro mark
but quickly cracked.
After ten years, three previous owners and 144,741 kilometers
would be our photo vehicle at the Hamburg dealer WMP-Automobile
for 27,990 euros
. What can prospective customers expect for this course?
Porsche Panamera: The seats in rows one and two are also suitable for 1.95-meter giants
A decade has of course left its mark: Rock falls from fast motorway journeys have also left their mark Porsche Default. In our photo car, the sill panels, both bumpers and the right rear door are also one Case for the painter. In the past, the inspections in the Porsche-Center noticed. A fact that the Completion of a Porsche Approved guarantee favored. This costs a lot of money at 3625 euros for 36 months, but on the other hand the risk of repair costs due to unplanned damage decreases enormously.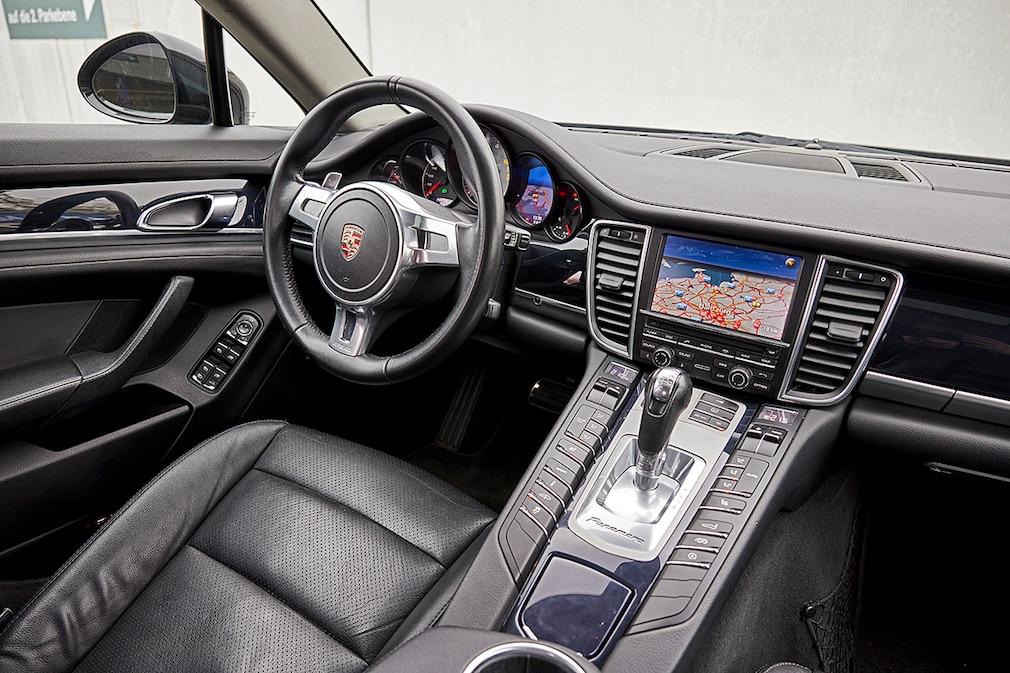 Opinions differ on the massive rear design of the sports sedan. She is reason for that
Nickname "humpback whale"
. The compensates for that
Panamera
with the
Functionality of a station wagon
. That
elegant interior is also exquisitely processed
and, apart from the infotainment, looks amazingly modern. Atypically GT, the space available in rows one and two also fits 1.95-meter giants. the
lush space
The tall ex-Porsche boss Wendelin Wiedeking had to suffice on the four perfectly upholstered leather seats. He also swallows
Panamera
445 to 1263 liters of luggage, can carry 605 kilograms!
Parade discipline is and remains the driving chapter:
Chassis set-up, steering and brakes are worthy of a sports car
. And the comfort is great as long as the air suspension works properly.
294 kW (400 hp) at 6500 rpm
Consumption: A cut below eleven liters is hardly possible

The stops at the gas pump are more painful: the V8 direct injection requires Super Plus. Less than eleven liters can hardly be made on average, 15 liters at a brisk pace realistic. But he sounds suspiciously goose bumps and is in a good mood: thanks to that perfectly coordinated seven-speed dual clutch transmission succeeds Sprint to 100 km / h in under five and a half seconds, The end is only then at 283 km / h. Who needs a used one Panamera Turbo?
Maintenance costs Porsche Panamera S

Partially comprehensive (30) *
Fully comprehensive (31) *
Front left fender, painted