Cars
Racing Unleashed: Tight championship fight now also from Zurich
Ready for take off! Racing Unleashed is now also taking off at Zurich Airport with its competition. Five pilots of the sim racing championship will take a seat in simulators in the newly opened lounge at Zurich Circle, directly opposite the airport of the Swiss metropolis.
The Racing Unleashed Competition is a sim racing championship that is held in high-tech simulators. The state-of-the-art cockpits are located in seven different Racing Unleashed lounges, in addition to Zurich also in Munich and Madrid. Round eight of the season starts on Sunday on the virtual Monza track.
The competition is divided into Racer and Challenger League. The Racer League is held without driving aids. Traction control and ABS may be used in the Challenger League. The races will be broadcast live on Twitch and here on F1-Insider.com on Sunday. Ex-Formula 1 team boss Monisha Kaltenborn is behind the project as CEO.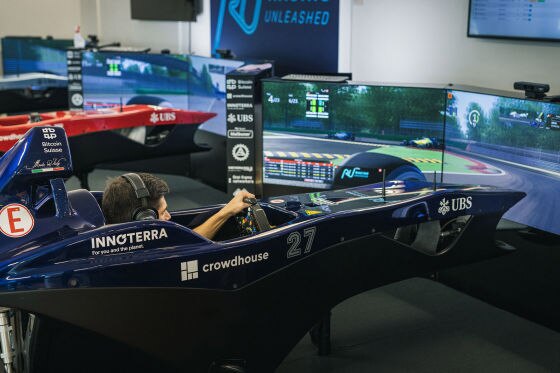 The championship situation in the Racer League is similar to the championship fight in Formula 1 between Max Verstappen and Lewis Hamilton. Alejandro Sanchez is just eleven points ahead of his rival Michal Smidl before the Mugello weekend. But the last races have shown that the tide can turn quickly. The championship leadership changed back and forth. The pressure on both drivers is great. There are around 5,000 euros in prize money waiting for the champion.
The best German in the Racer League is Angelo Michel. In the table he ranks 13th with 15 points. From his race prize money, he bought a driver's license and a Renault Twingo. For him, the races at Racing Unleashed are something special: "You sit in a racing car model that moves while you drive. The atmosphere is also very different than in the simulator at home. Spectators cheer, hold their breath in the event of a crash, cheer the winner. "
The championship leader Javier Loro was mostly celebrated in the Challenger League. His lead over his Spanish compatriot David Cid is 17 points. In the last two competitions, Loro has two second places to bag the title.
But the competition in Mugello is greater than ever. The Challenger League, for which anyone can register for free on the Racing Unleashed homepage, is celebrating a new record on the weekend. 29 racing game pilots will compete for positions on the virtual Mugello course. A total of around 50 drivers have even registered. A pre-qualifying on Saturday will decide who will be there on Sunday.
On Sunday you can follow the competition live on the Racing Unleashed Twitch channel (CLICK HERE). The broadcast begins at 10:45 am with the Challenger League warm-up.
The Mugello times at a glance
10.45 a.m. to 10.55 a.m .: Warm Up Challenger League
10.55 a.m. to 11.15 a.m.: Qualifying Challenger League
12 noon to 12.35 p.m .: Challenger League race
1:10 p.m. to 1:20 p.m .: Warm Up Racer League
1.20 p.m. to 1.40 p.m .: Qualifying Racer League
2.00 p.m. to 2.35 p.m .: Race Racer League