Cars
Racing Unleashed: Vettel brother with sim racing guest start
Debut time! Fabian Vettel, brother of four-time Formula 1 World Champion Sebastian Vettel, takes the wheel for the first time in the Racing Unleashed Challenger League. Along with auto YouTuber MRJWW, he'll be in on the action as a star guest starter.
Racing Unleashed – Beyond the Pinnacle (click here for the homepage) – this is the racing series in which the drivers in high-performance simulators chase a virtual 2022 Formula 1 model across the racetracks. 46-inch screens with a panorama-like view, carbon fiber cockpits with integrated sound system and original Formula 1 steering wheel make the races in the racing lounges at various locations in Germany, Switzerland and Spain an almost real Formula 1 experience.
The races will be live on Saturday and Sunday from 10:50 am on the Racing Unleashed Twitch channel and also here on this website. In total, the prize money is around 200,000 Swiss francs.
Fabian Vettel will start in the Zurich lounge and has already been able to train in the high-tech simulator. "Ever since I've been working with Racing Unleashed, it's been a dream of mine to compete in a race myself. I was able to do a few laps again and again and based myself on the times of the Challenger and Racer League pilots. By taking part in the race, I also want to prove something to myself," explains Vettel, who also works as a brand ambassador for Racing Unleashed. He has already tested for several hours on the virtual Barcelona course.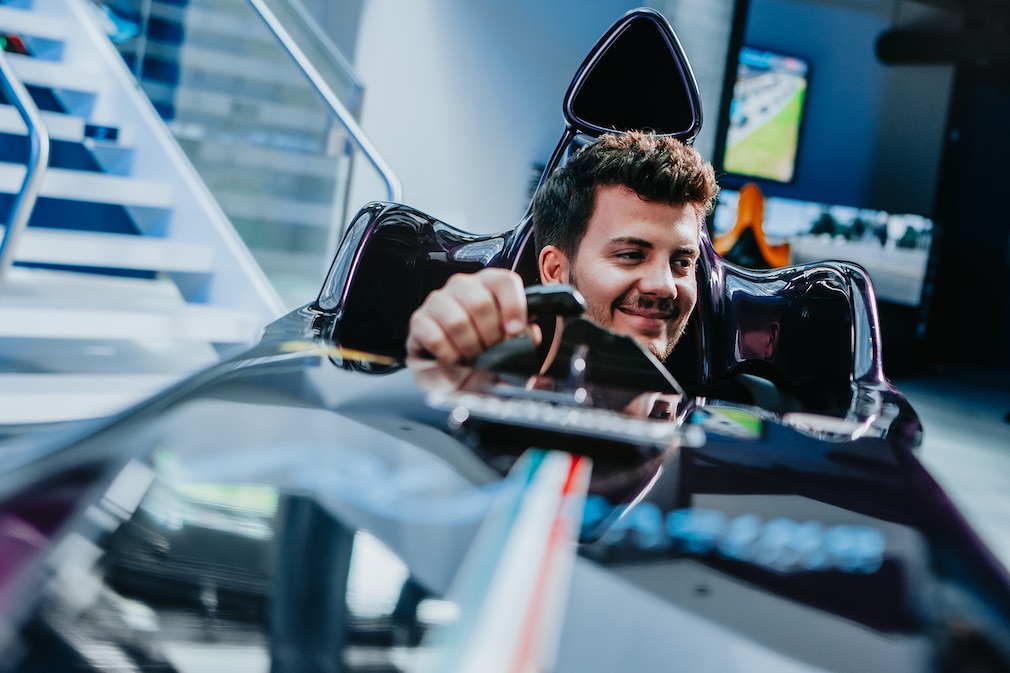 For the native of Heppenheim, sim racing has become an integral part of motorsport. "I used it myself for my race preparation and it was always part of my training. Simracing is also useful for learning routes you haven't driven on before," explains Vettel, who has competed in the ADAC GT Masters and the Audi Sport TT Cup, among others.
He knows both the real and the virtual motorsport world. "ESports have become an integral part of real motorsport. Simracing is for everyone and it should stay that way. Of course, this also comes with a cost, but it is much easier for the average Joe to gain a foothold in the field."
Vettel is also happy about the rapid technical development. "I used to have a steering wheel that didn't really feel real to drive. Nowadays virtual driving is very different, it is at a top level. Only the G-forces are missing in the virtual cockpit. But then you can drive at Racing Unleashed, which simulates them in a weaker form with an integrated motion system."
But to what extent can virtual racing also serve as a stepping stone to real motorsport? Vettel: "There are sim racers who are also strong in real cars. That's logical too, because they've developed a feeling for driving fast. They know how to corner, know the best braking points and so on. Simracing contributes immensely to the promotion of talent."
He's looking to outperform some of those talents in Saturday's Racing Unleashed Challenger League. From 10:50 a.m. the event will be broadcast live on this page.
Time schedule
Saturday (Challenger League):
11:20 – 11:50 Knock Out Qualifying
13:00 – 13:30 Race
Sunday (Racer League):
11:20 – 11:50 Knock Out Qualifying
13:00 – 13:30 Race